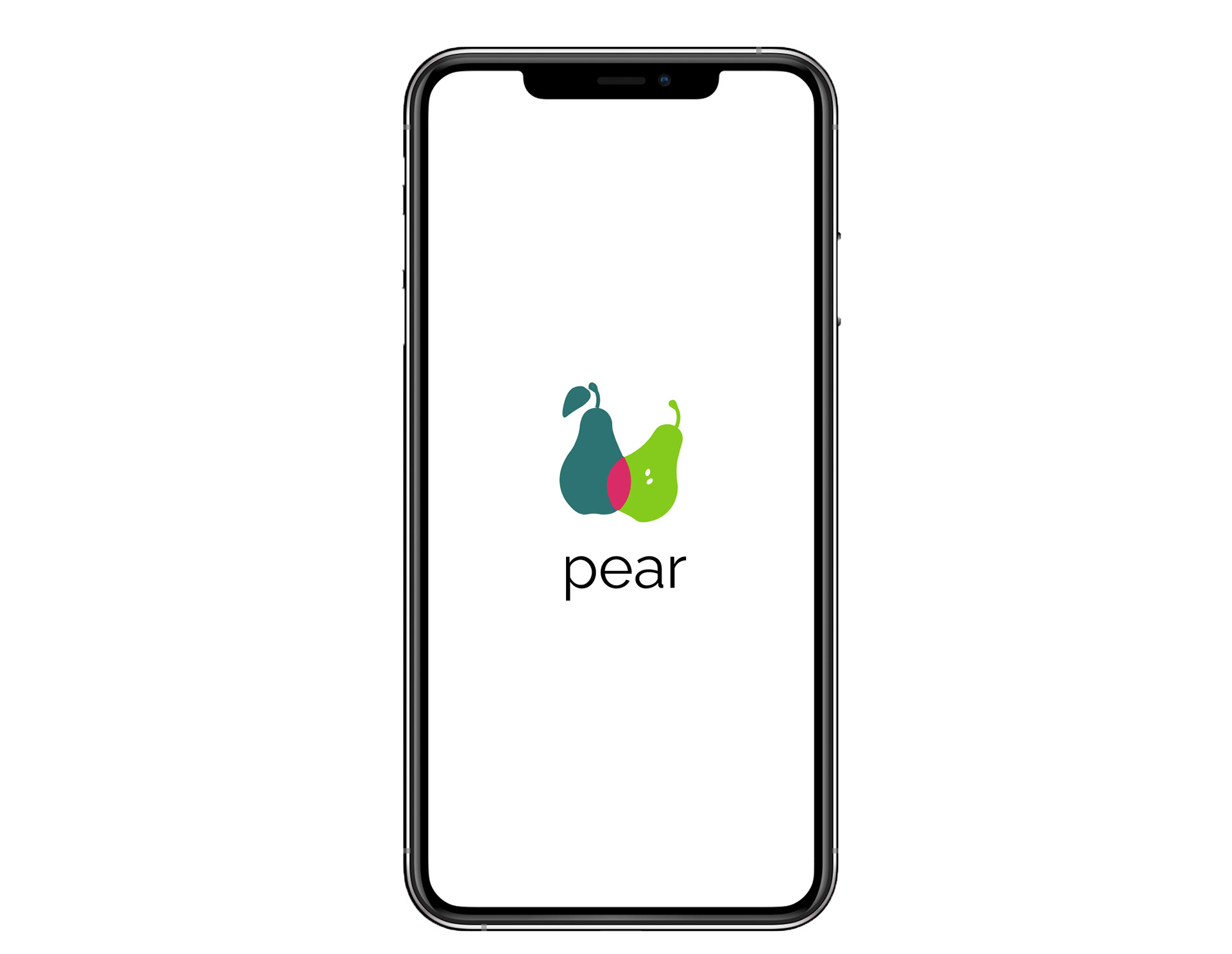 pear
is a concept for a dating app that focuses on creating positive, meaningful experiences–it considers users' current experience with dating apps and lets them focus on what matters most. This project was completed as a group, alongside Molly Surette and Jacqueline Truong. 
focus
ux research, brand identity, ui design
create a profile that represents
you
The pear app allows you to not only link your profile to your favourite apps, but also prompts you to pin items that will help others get to know you better. Share your own and see others' favourite movies, music, books, go-to late night snacks... breaking the ice was never easier.
bond with others by doing activities together
By being able to see others' interests, you might also find things that you can enjoy together! See that someone is into the same TV show as you? Invite them to a Netflix watch-party! Not sure how to break the ice? Play a friendly online game together.!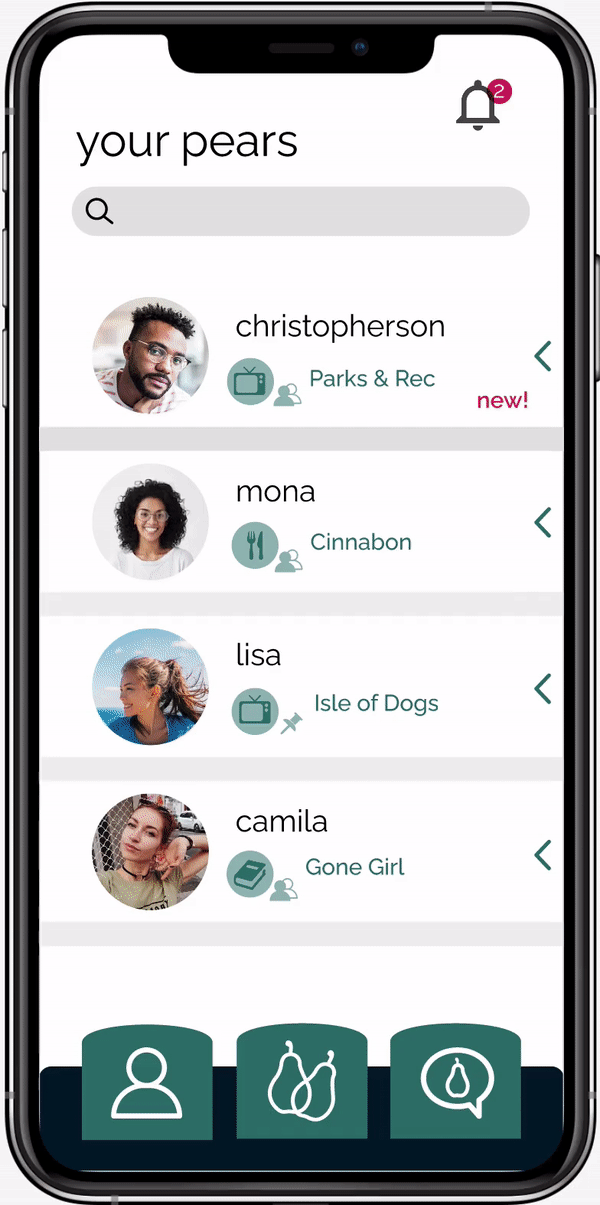 plan dates that match your needs
Planning a date can be exhausting, and often a logistical nightmare. Browse through date ideas that match both your interests, are geographically close to both of you, and align with any dietary or accessibility needs.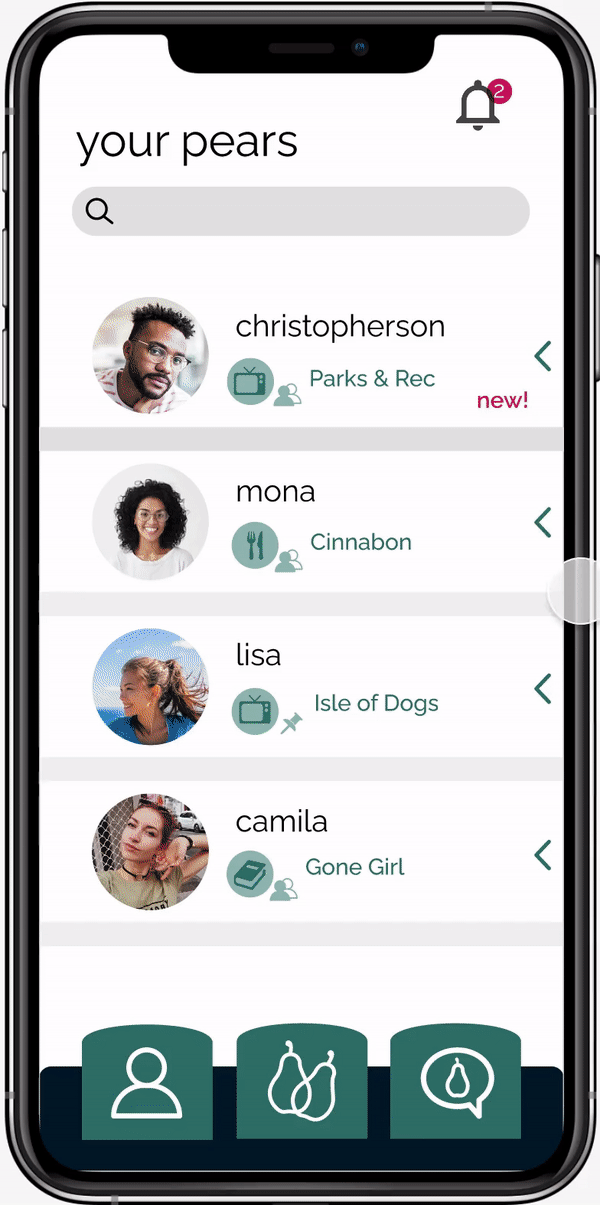 A series of interviews were conducted in order to better understand the problem area and scope. The data was then transcribed, analyzed, coded, and synthesized in order to uncover insights.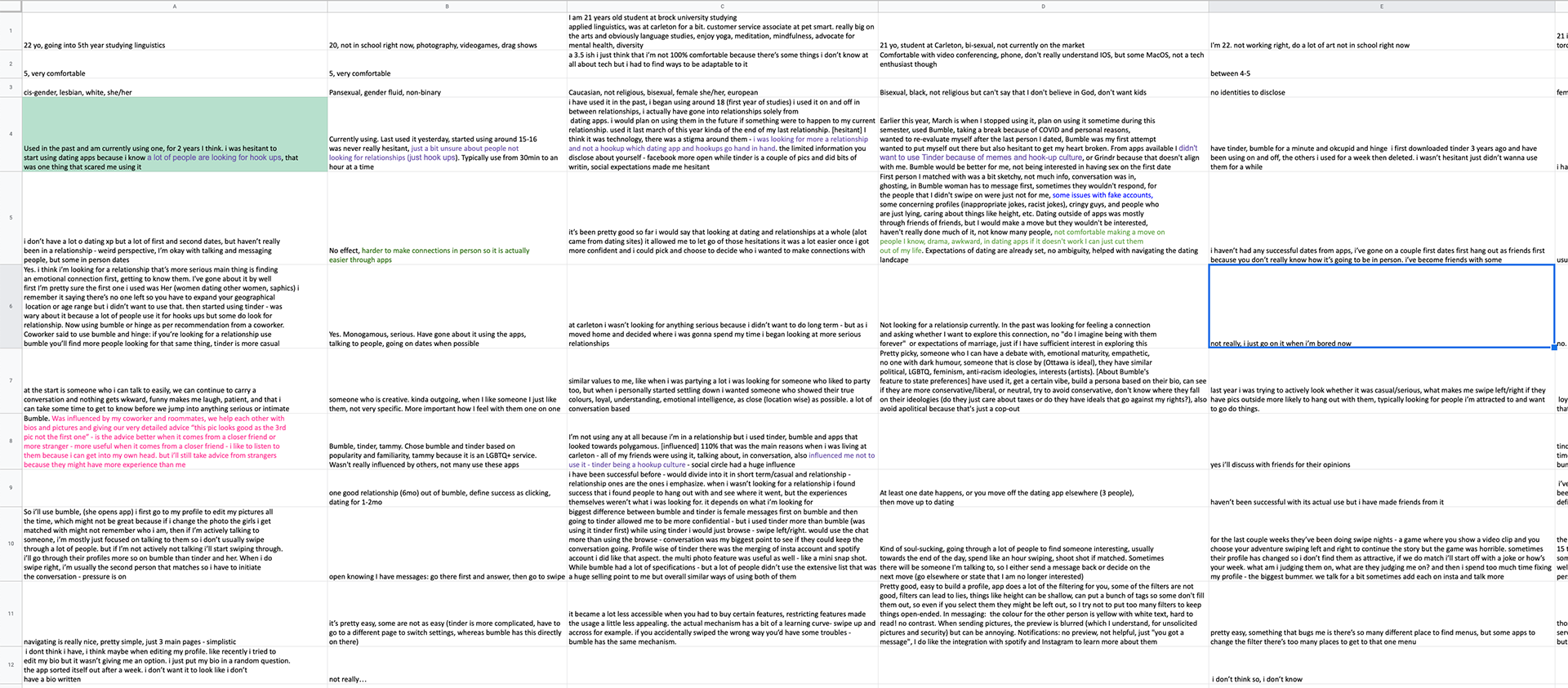 Based on key insights and determined by users' motivations, four distinct personas were created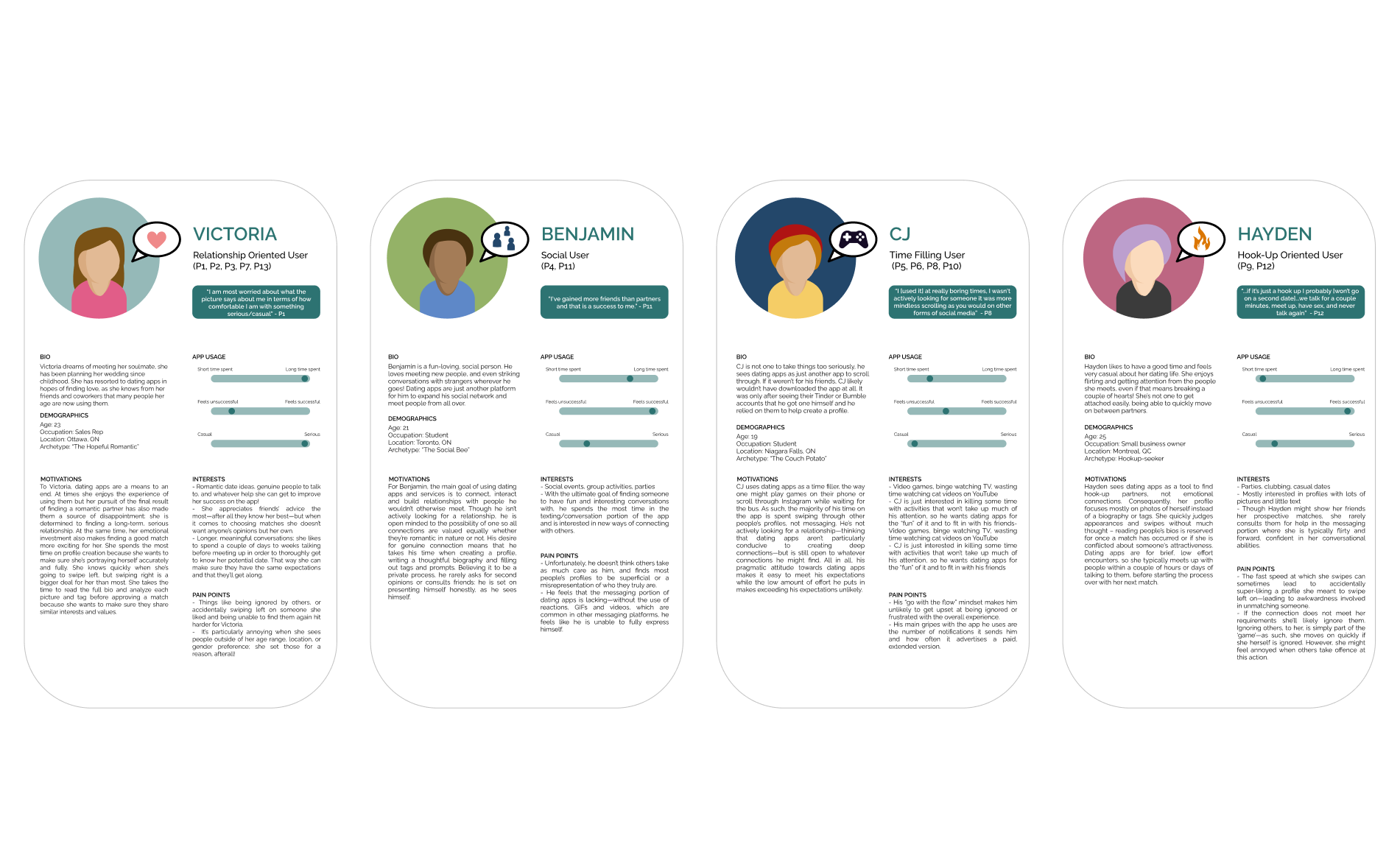 current-state journey map
User experiences on different dating apps were mapped out in order to identify and visualize where pain-points exist, and therefore where there may be opportunities for design.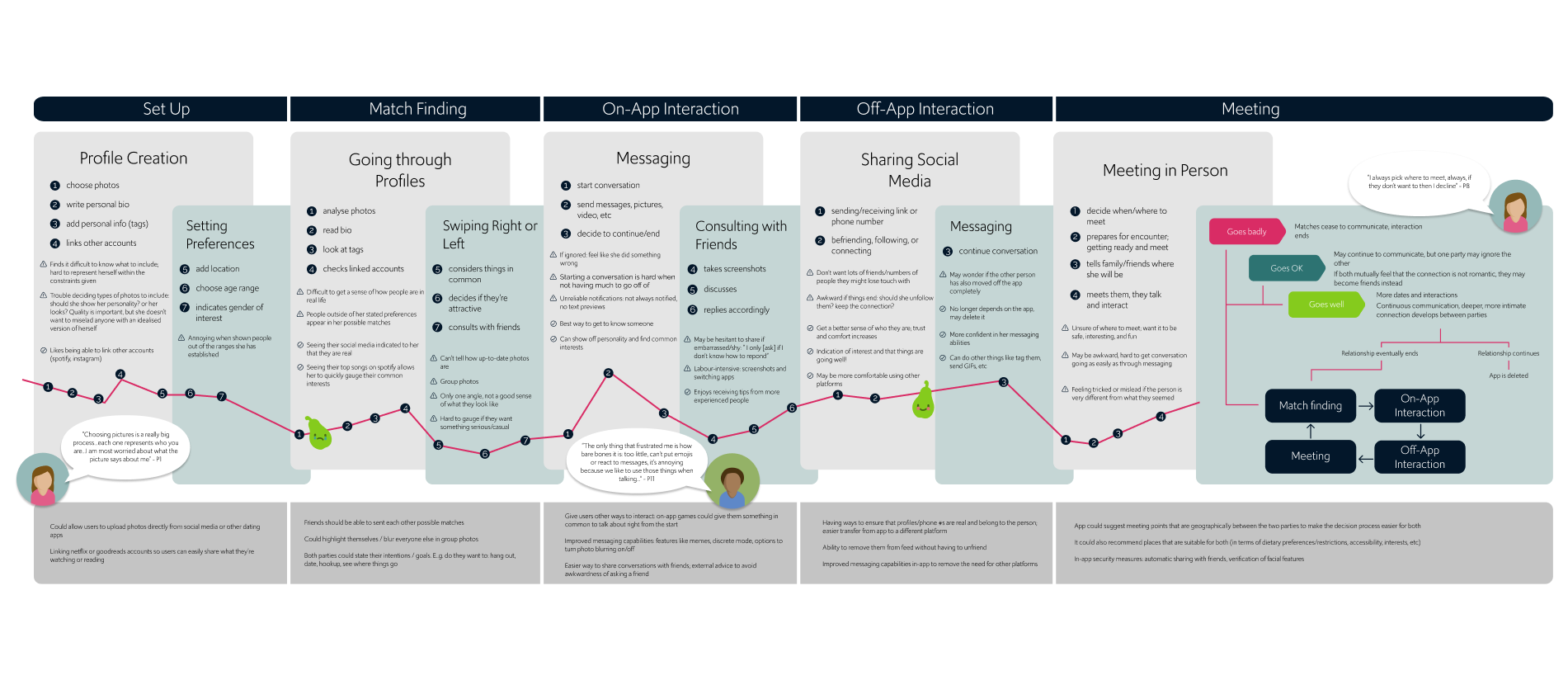 As a team, we brainstormed a possible structure for the app, resulting in a more comprehensive

information architecture

. From there, we began developing

user flows

that would show all the main features and uses for the app. Each screen within these flows underwent several iterations as we developed function, look, and feel.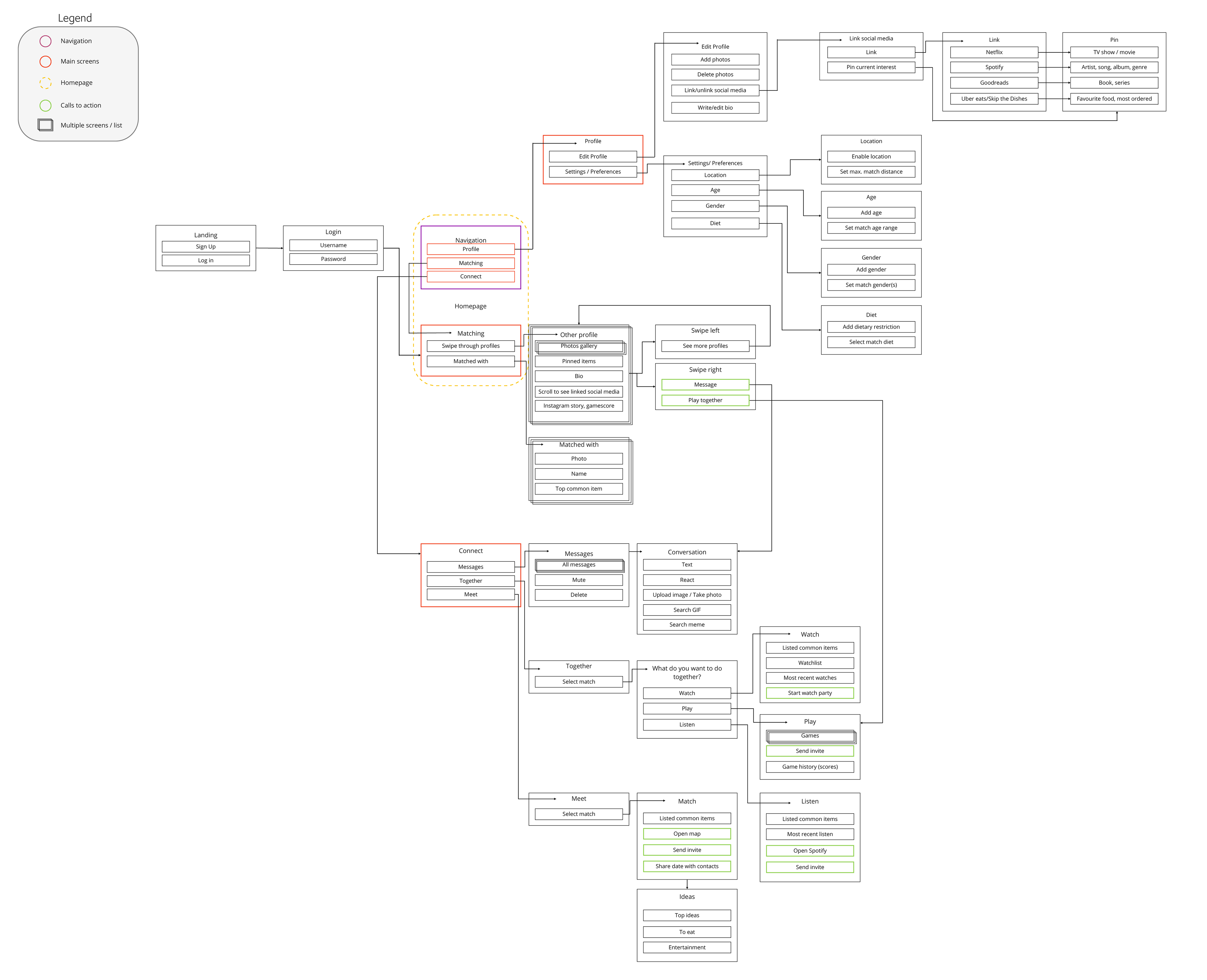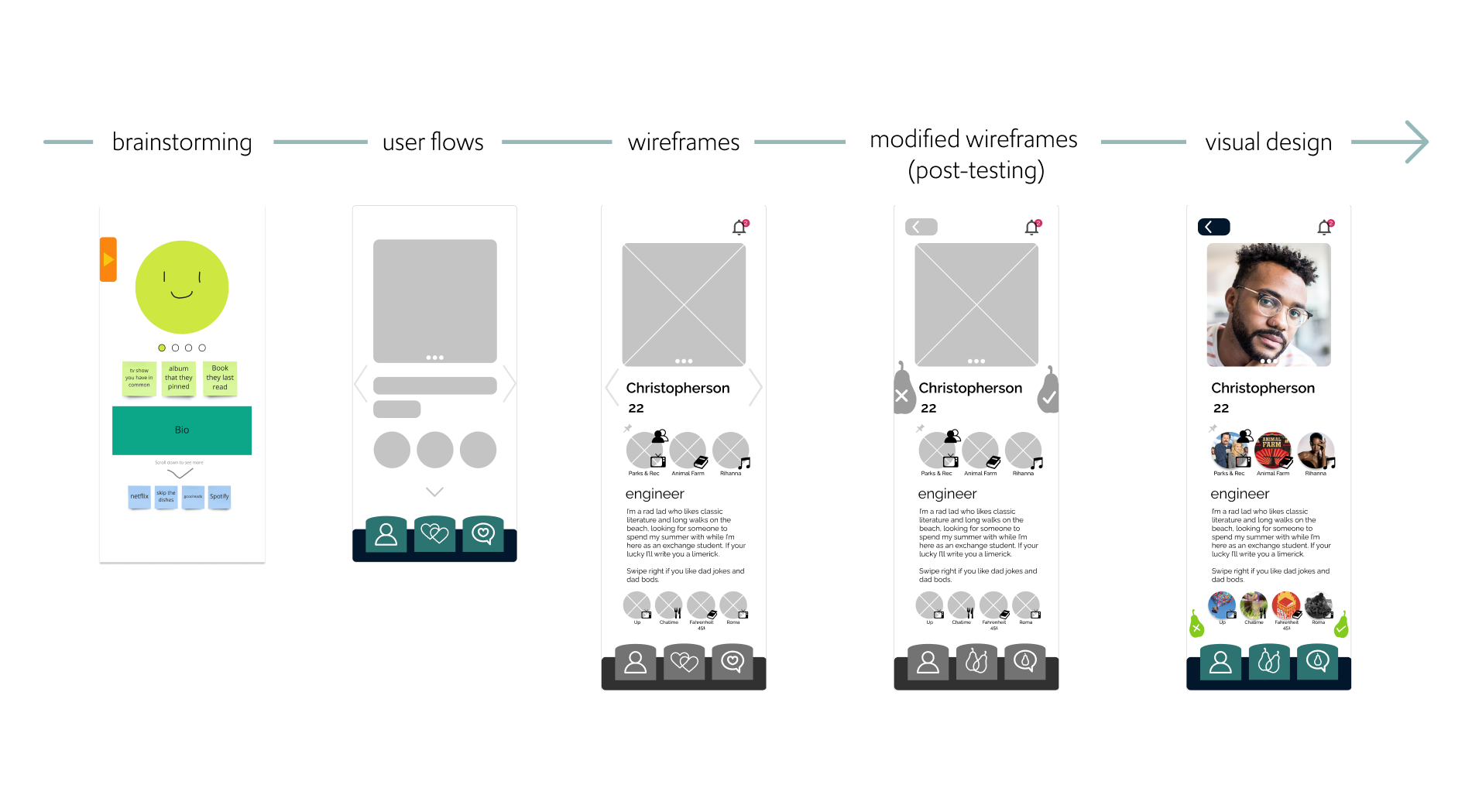 user flows, scenarios & user testing
Each user flow was created with a specific use case or scenario in mind. We chose what we considered to be the three main use cases that might occur when using the app, as well as the ones that made our dating app stand out: creating a profile, finding a match, and inviting someone to stream something together. This was later extended to include: planning a date. In an effort to divide and conquer, 

I focused on developing user flow 3 (inviting someone to stream something together), but assisted my teammates on their user flows as well.

We then tested these flows with

4 people.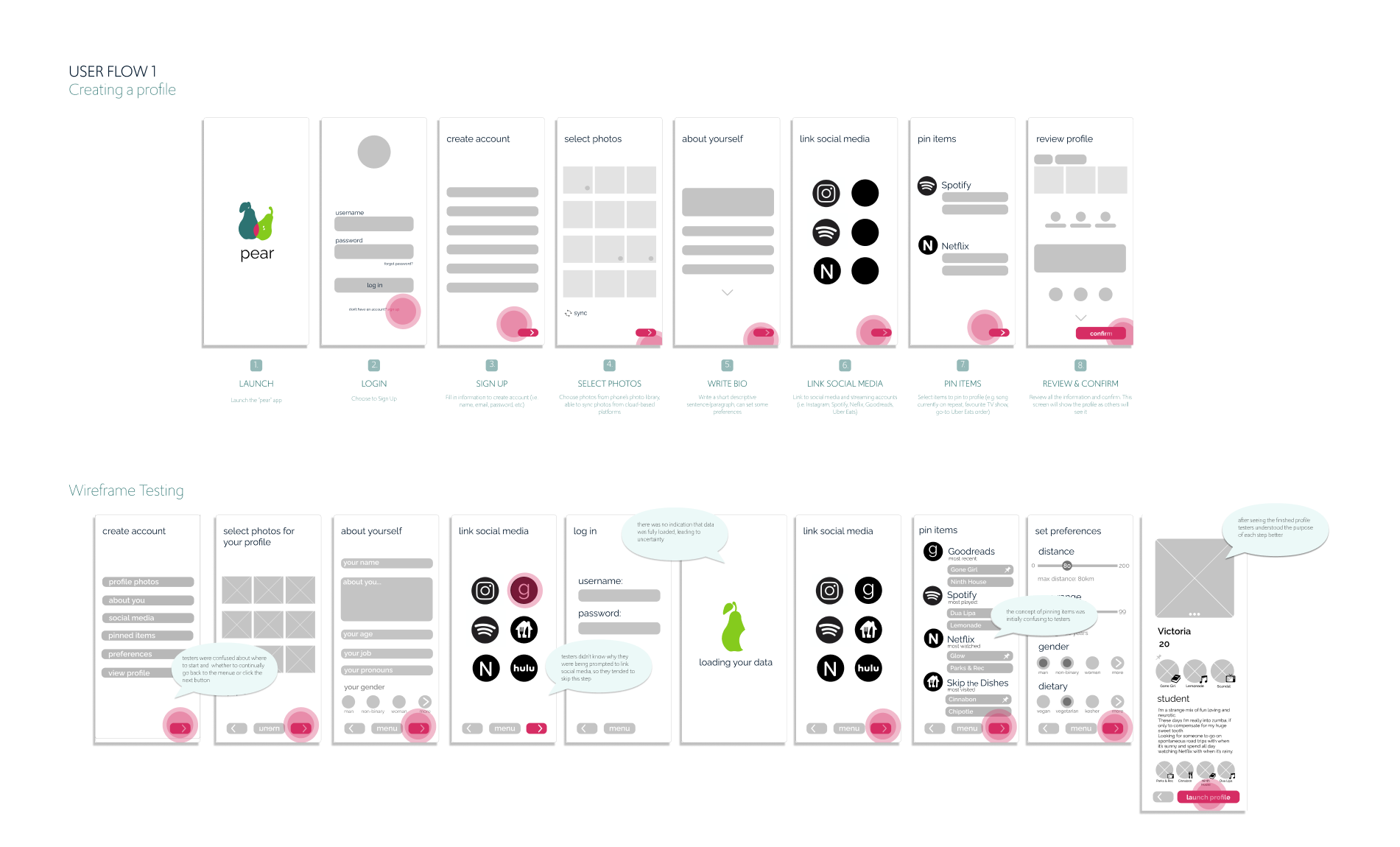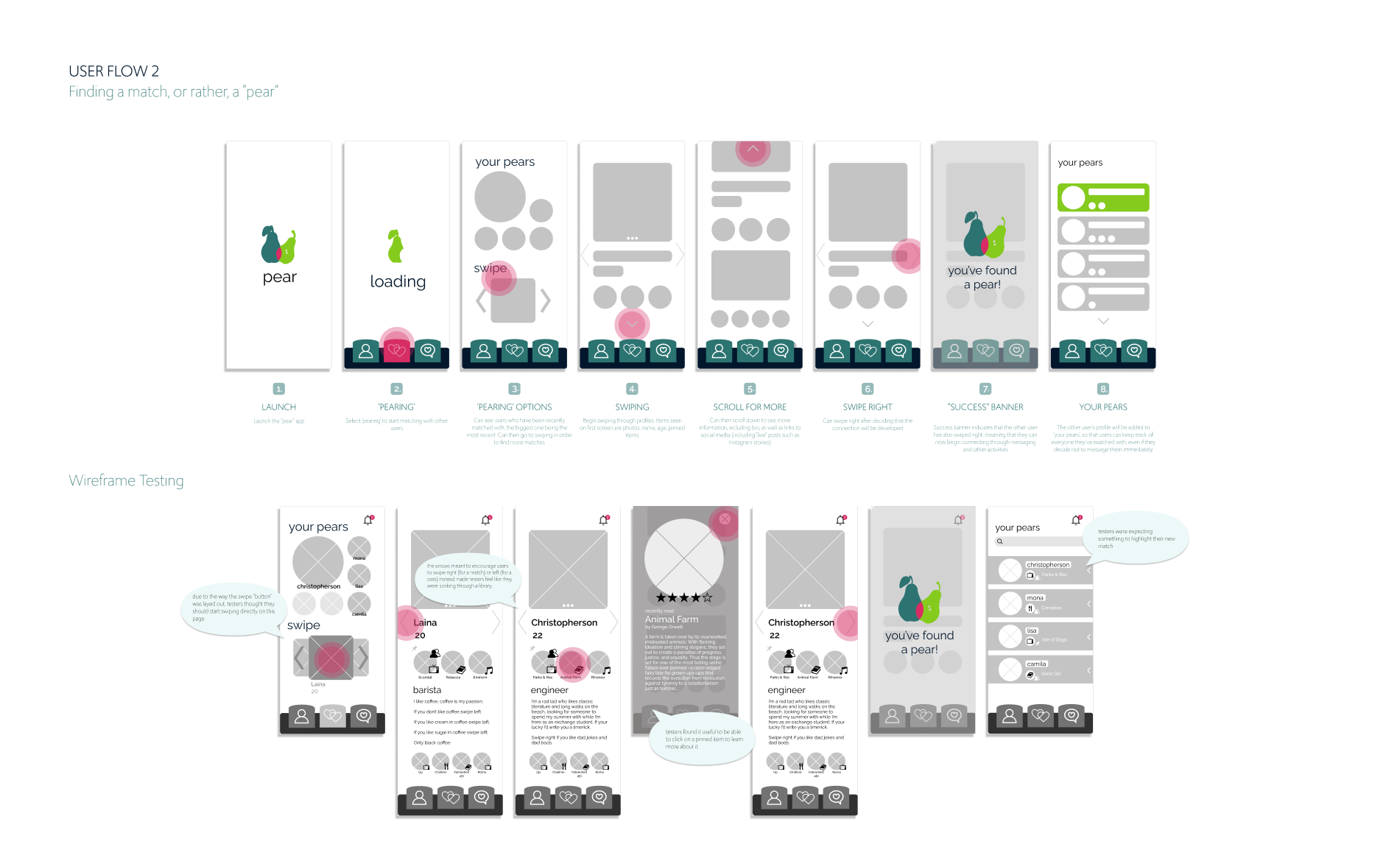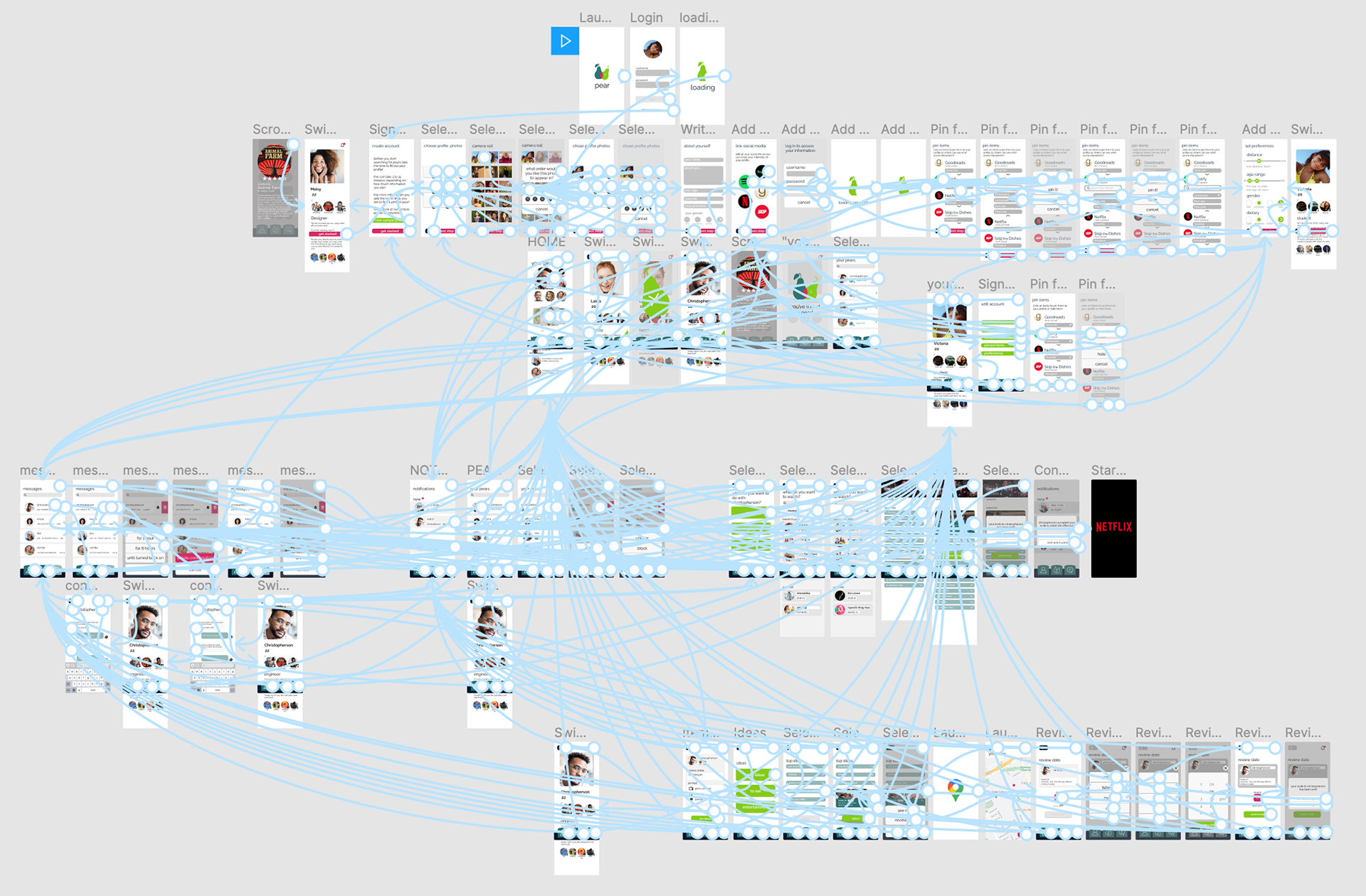 To illustrate how our app works–and to showcase its unique and interesting features–we laid out a journey map of a typical experience a user might have with the app.

brand identity, visual style & brand guidelines
Colour explorations, icon development, and brand guidelines were developed in order to create a strong and consistent visual style to reflect our brand attributes:
cute, wholesome, authentic, and playful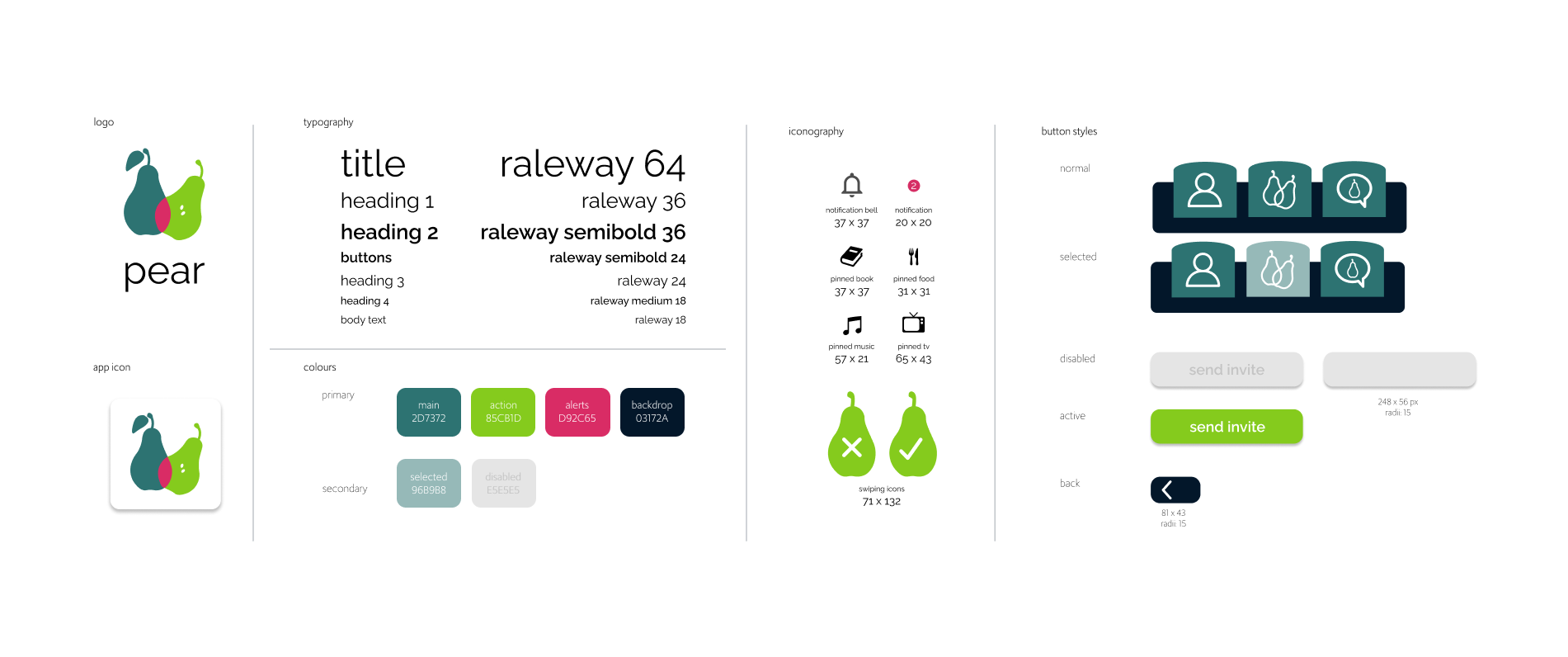 After applying our brand guidelines and adding different image and photo treatments, our app now has a look and feel. A figma clickable prototype is also available to showcase the full user experience.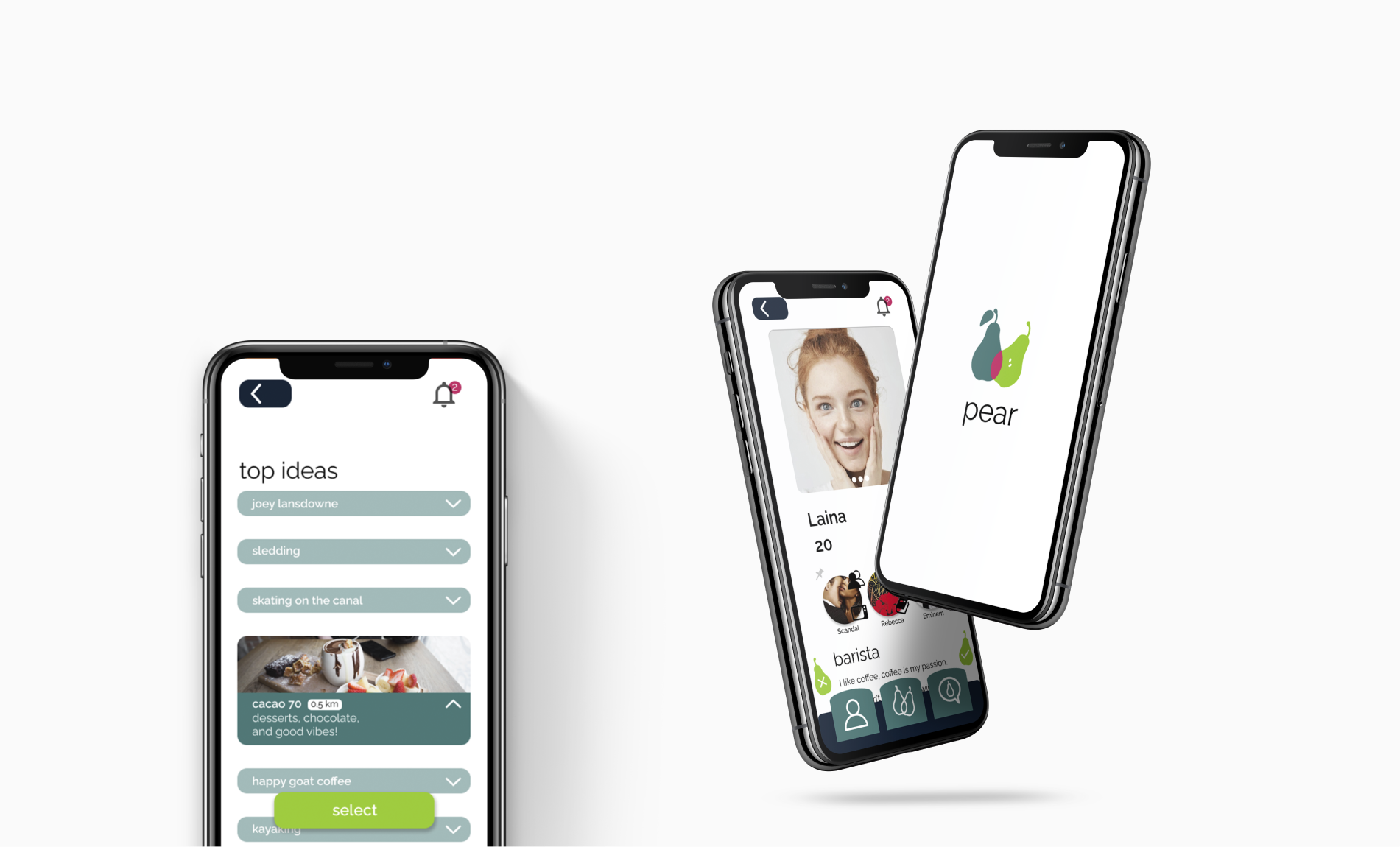 my learnings
I learned the ux process from beginning to end, and learned to work fast, broad, and collaboratively. I once again saw the importance of human-driven research, and found value in having conversations with real users and then taking those directly into the drawing board. I also learned the importance of branding and a consistent visual style, especially with dividing work with other people but aiming to create a consistent experience.