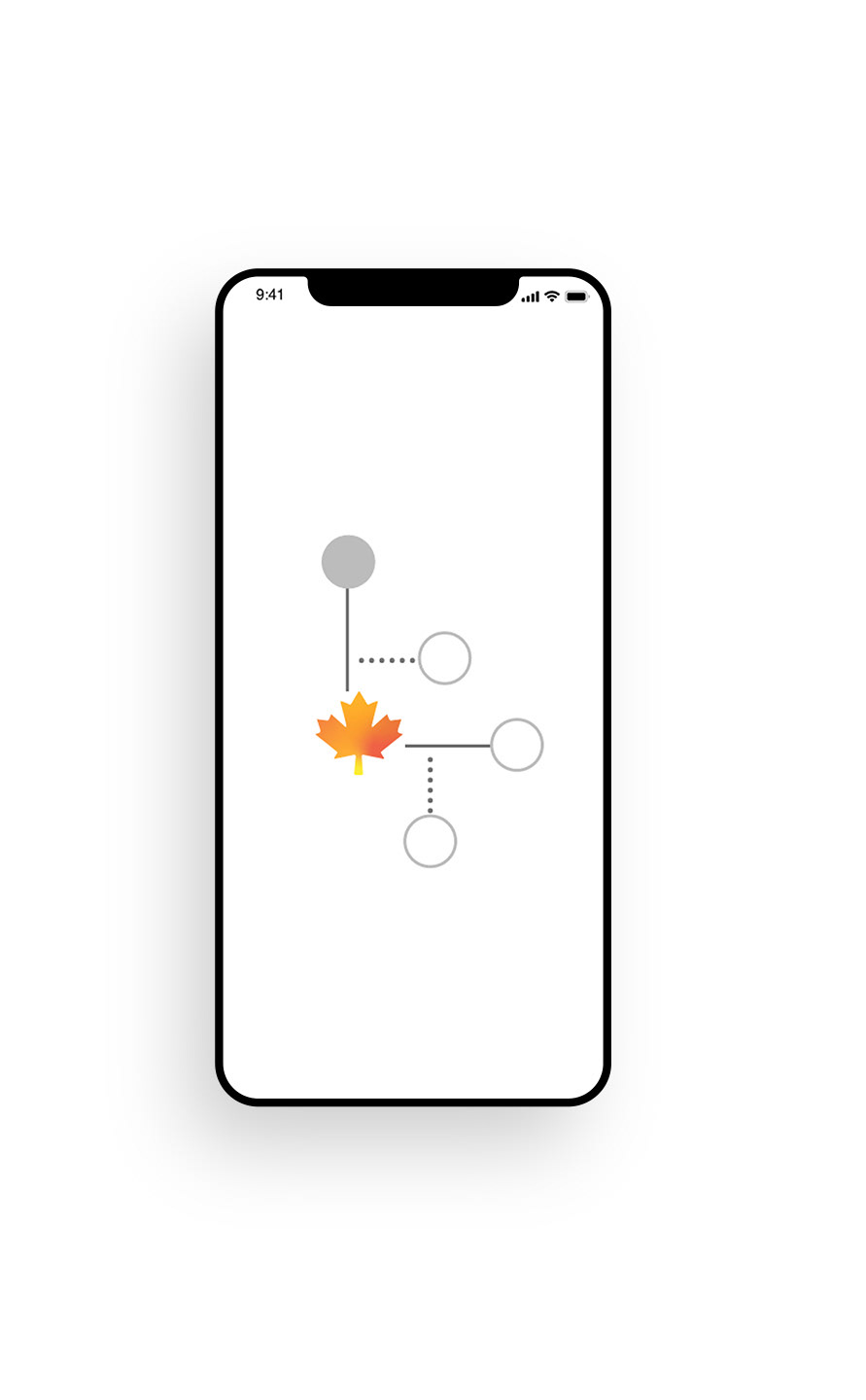 navigating canada
is a conceptual project completed during an apprenticeship with the

Treasury Board of Canada Secretariat

, under the supervision of Jana Sedivy. Through ux research, speculative thinking and design, I developed a digital solution that focuses on improving experiences for newcomers
focus

ux research, user interviews, data visualization, interface design
This project is very close to my heart, as I also once was a newcomer to Canada. In order to understand how arriving and adapting can be improved for all immigrants, I began by interviewing a range of people, with one main question in mind: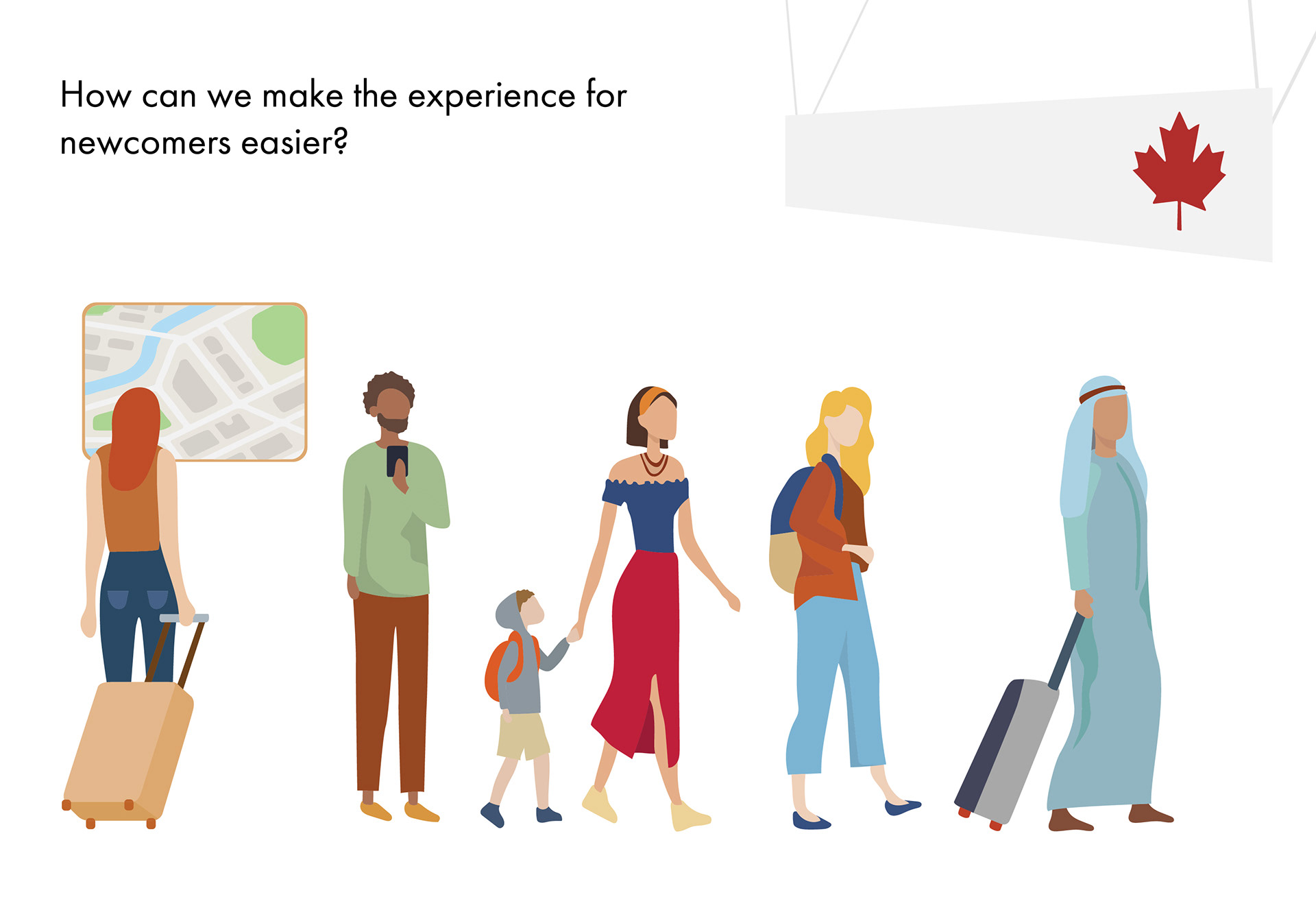 I believe that in order to design for people, we must work with them and try to understand their experience. In this spirit, I began by interviewing different people that had come to Canada. In preparation, I developed open-ended interview questions that would not only give me insight into the processes that have to take place, but also how they felt throughout the experience and what tools/services/people helped them in their journey.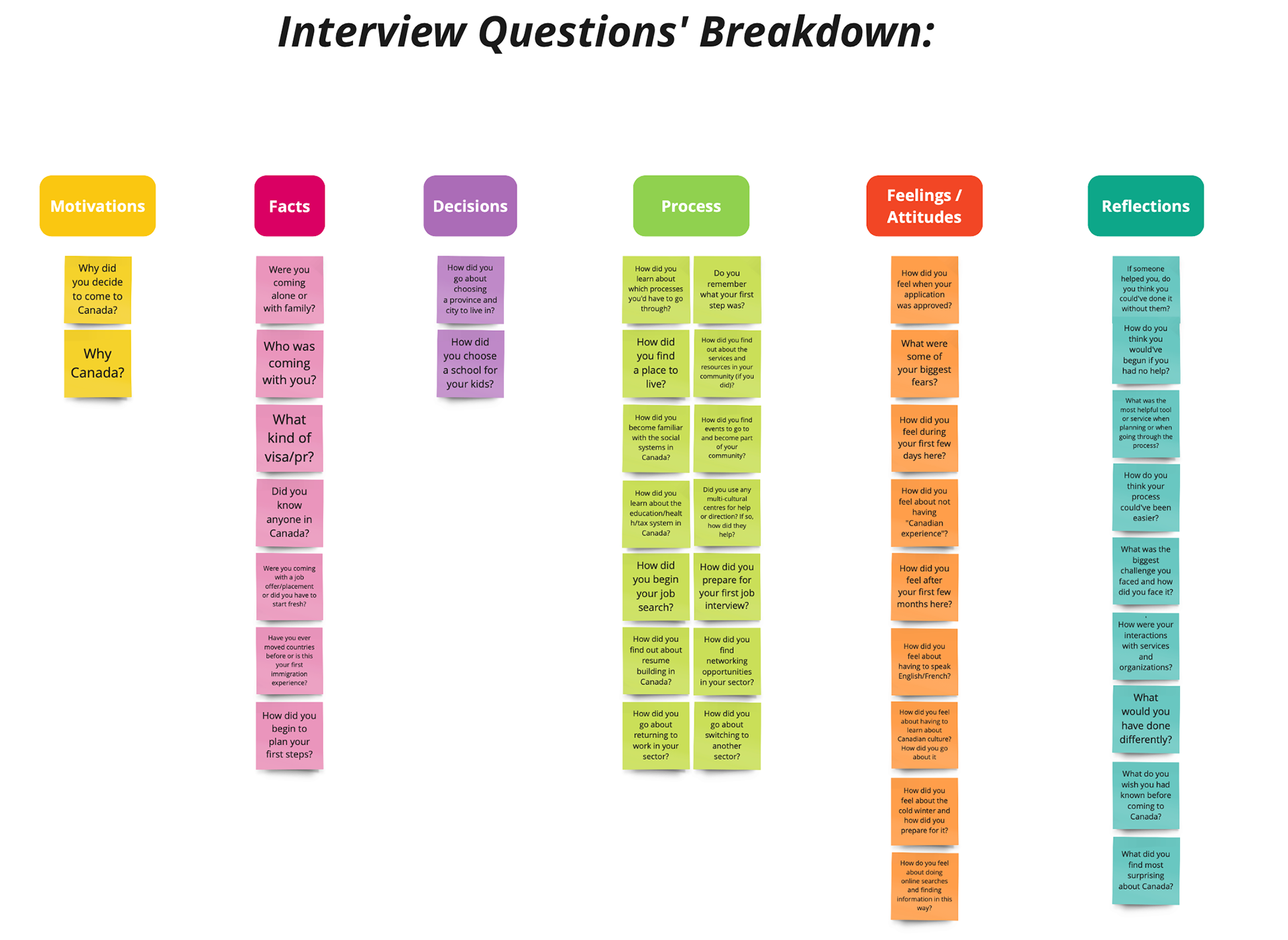 I then reorganized the questions in a way that would flow better as a conversation. The reframed structure progresses from basic information about them, to what steps they began taking and how they went about this, as well as a focus on the government processes they had to understand and go through. I also asked some points of reflection towards the end, such as:

How do you think the process could've been easier?

and

What do you wish you had known before coming to Canada?

, in hopes of understanding some gaps and design opportunities.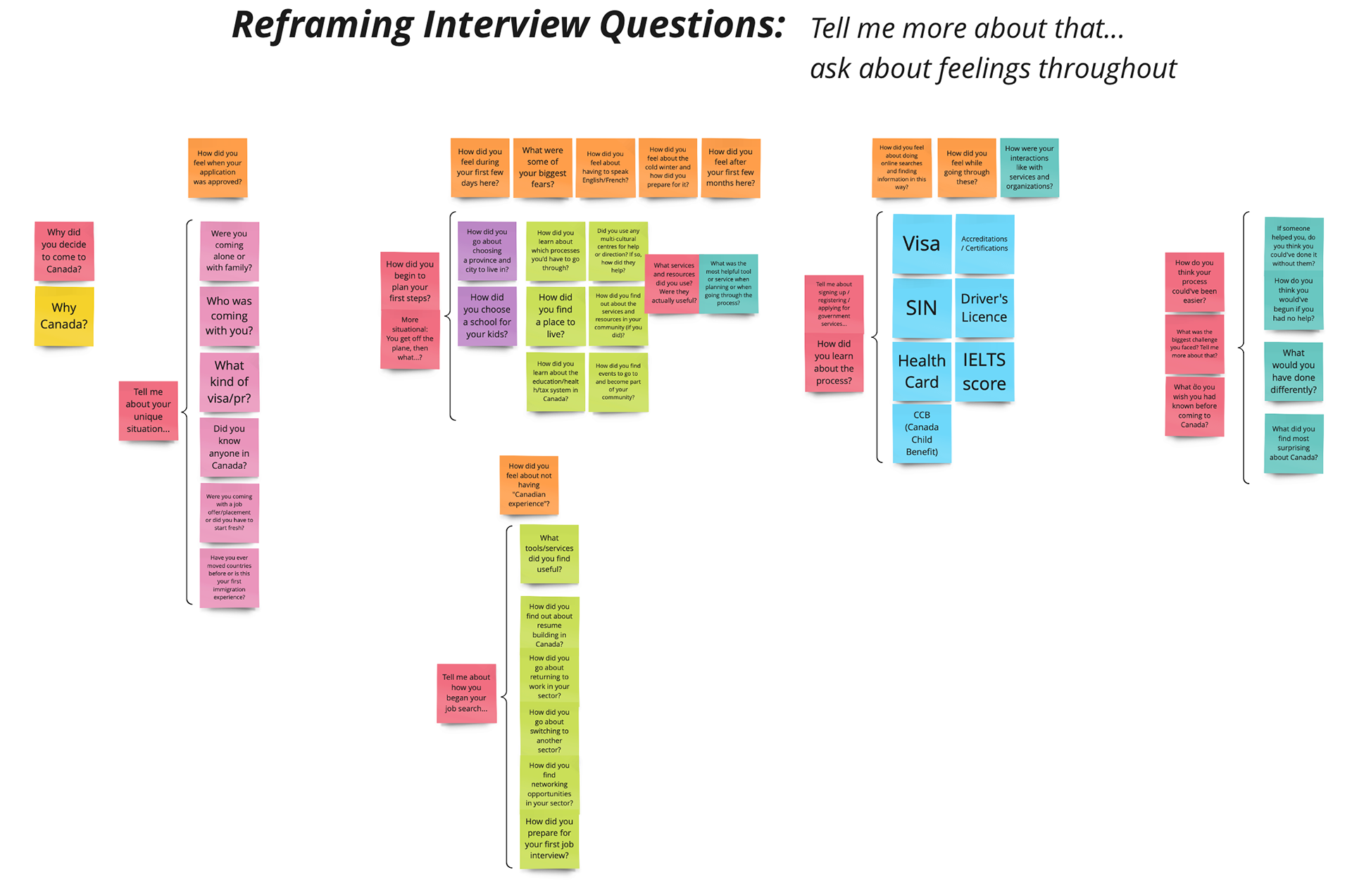 I then began recruiting people to interview. Some came with a family, others alone; some were being sponsored by someone else, others were seeking asylum from the conflict in their home country. It was important for me to listen to their experience and the challenges they faced in order to design a more holistic experience.
Below is an example of how I recorded their answers and thoughts throughout interviews; using the structure I created helped me organize their answers and find patterns later on.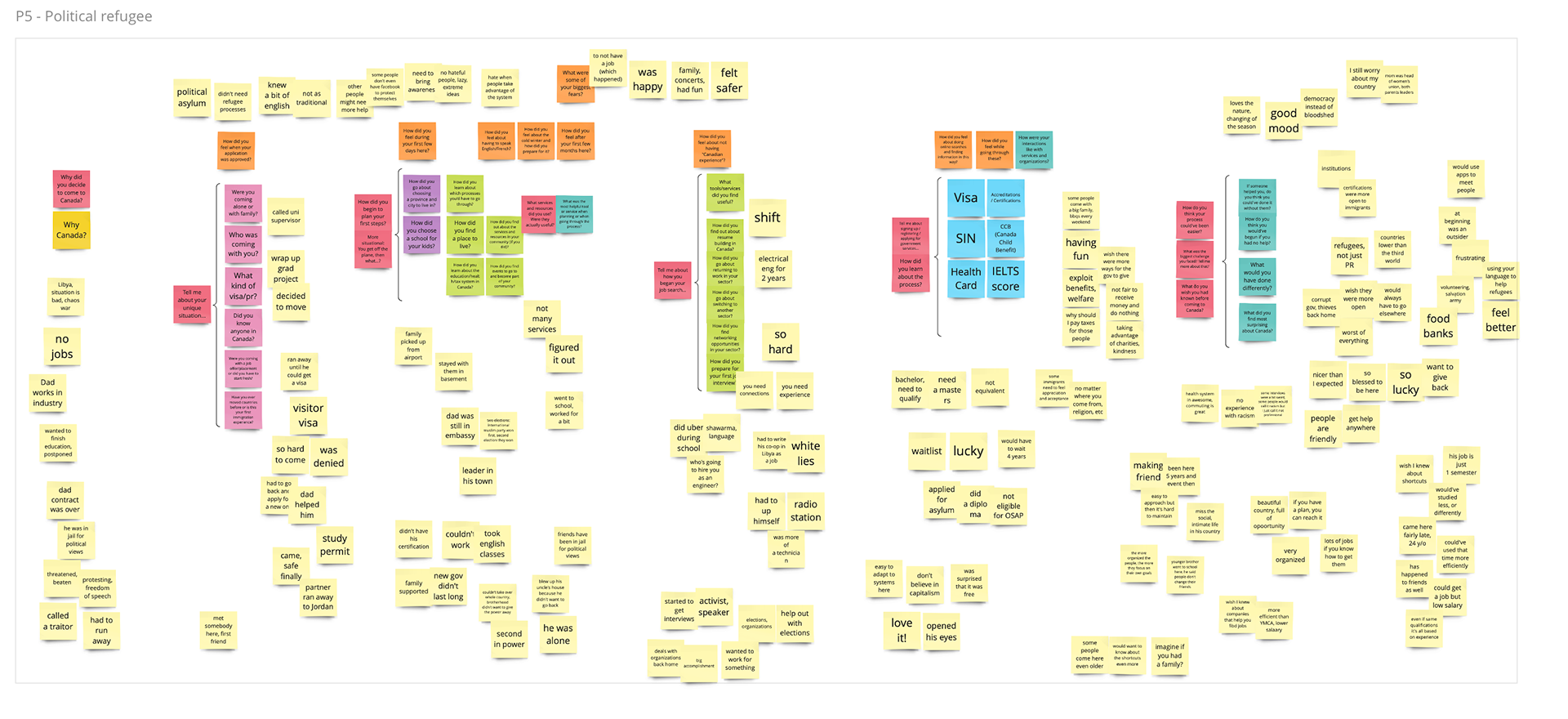 It was so captivating to learn from their experiences. Even though their circumstances were so unique, there were still certain commonalities, especially in the processes that they mostly struggled with:

I started by collecting their individual struggles and coding them, and then put them on a scale to get a better sense of which ones were most recurring.


One interesting thing I noticed is that what they expressed with most emotion was the wish to attain social stability. It was something that came up throughout multiple points of the process.

It seemed that the most important factor for people coming to Canada is to feel like they belong, that they can be part of a community, and that they can build connections that will help them along the way.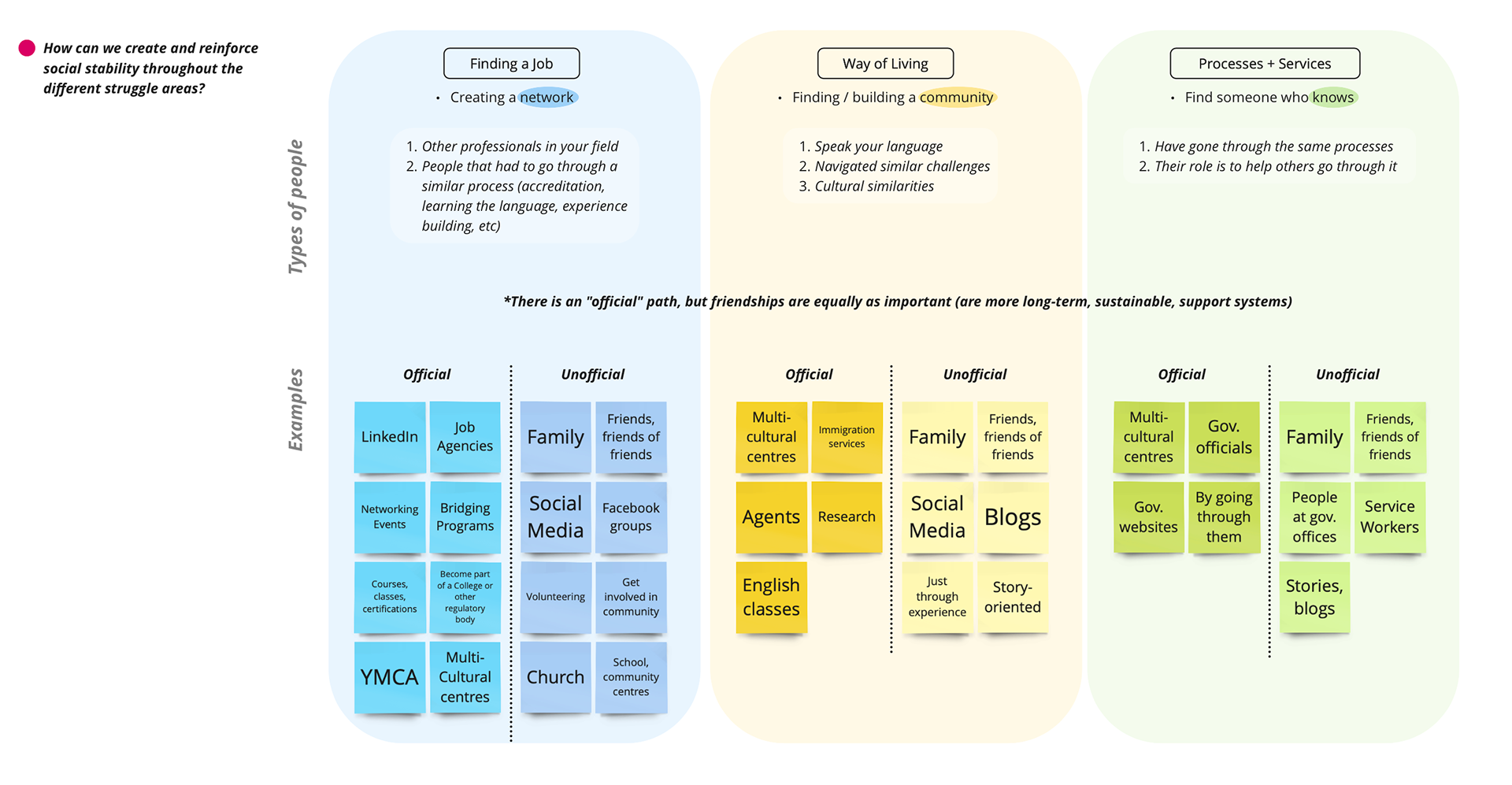 Coming back to the wide range of people that come to Canada, I began to map out how they were similar or different. I placed them on a number of comparative spectrums, in which some trends and patterns begin to appear: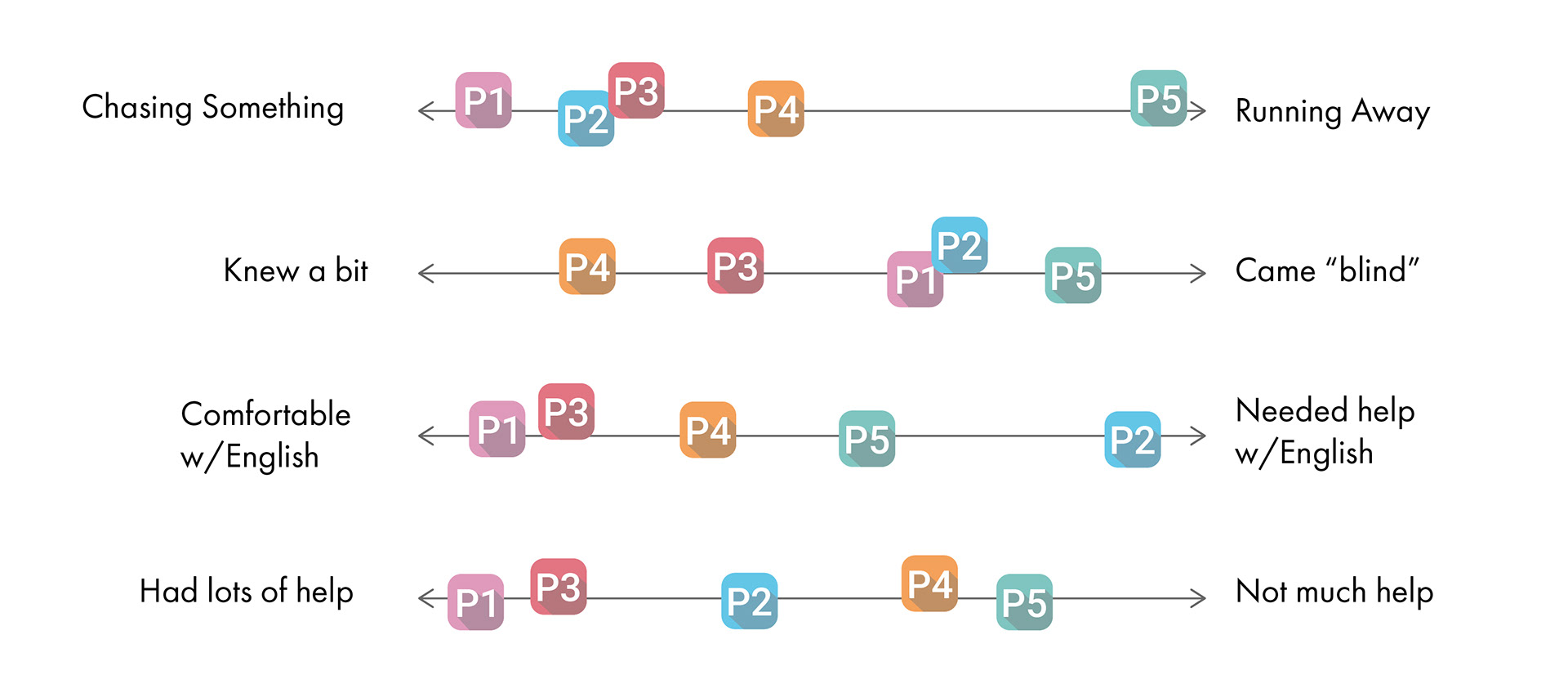 Using the different categories, I then visualized their overall experience by representing whether they felt that the process was easy or challenging, and whether they expressed positive or negative feelings while speaking about a particular topic.
For instance, Person 1 mostly identified the processes to be easy, and their overall expression was mainly positive. Contrastingly, Person 5 had many obstacles along the way, and their experiences were mostly negative (i.e. they had to re-do certain processes, were unsure, felt scared). It should be noted, however, that Person 5 expressed the most happiness and gratitude in being here – this mapping only really shows that those who received more help found the process easier, while those who found it challenging wished they had received more help and guidance along the way.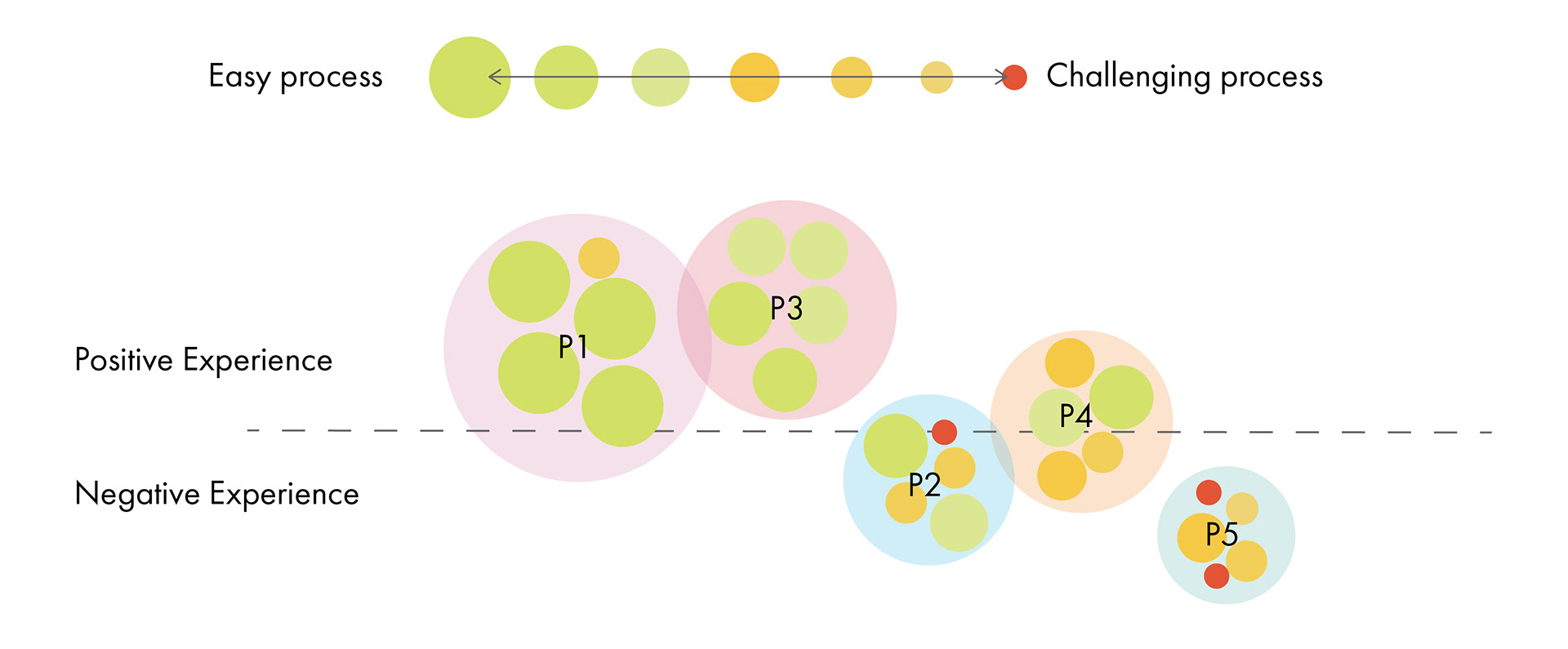 I then interpreted this categorization as 3 distinct personas to show the different and common needs.
I decided to look at the journey of immigrating to Canada as, well, a journey! There are different types, each with its own challenges and rewards...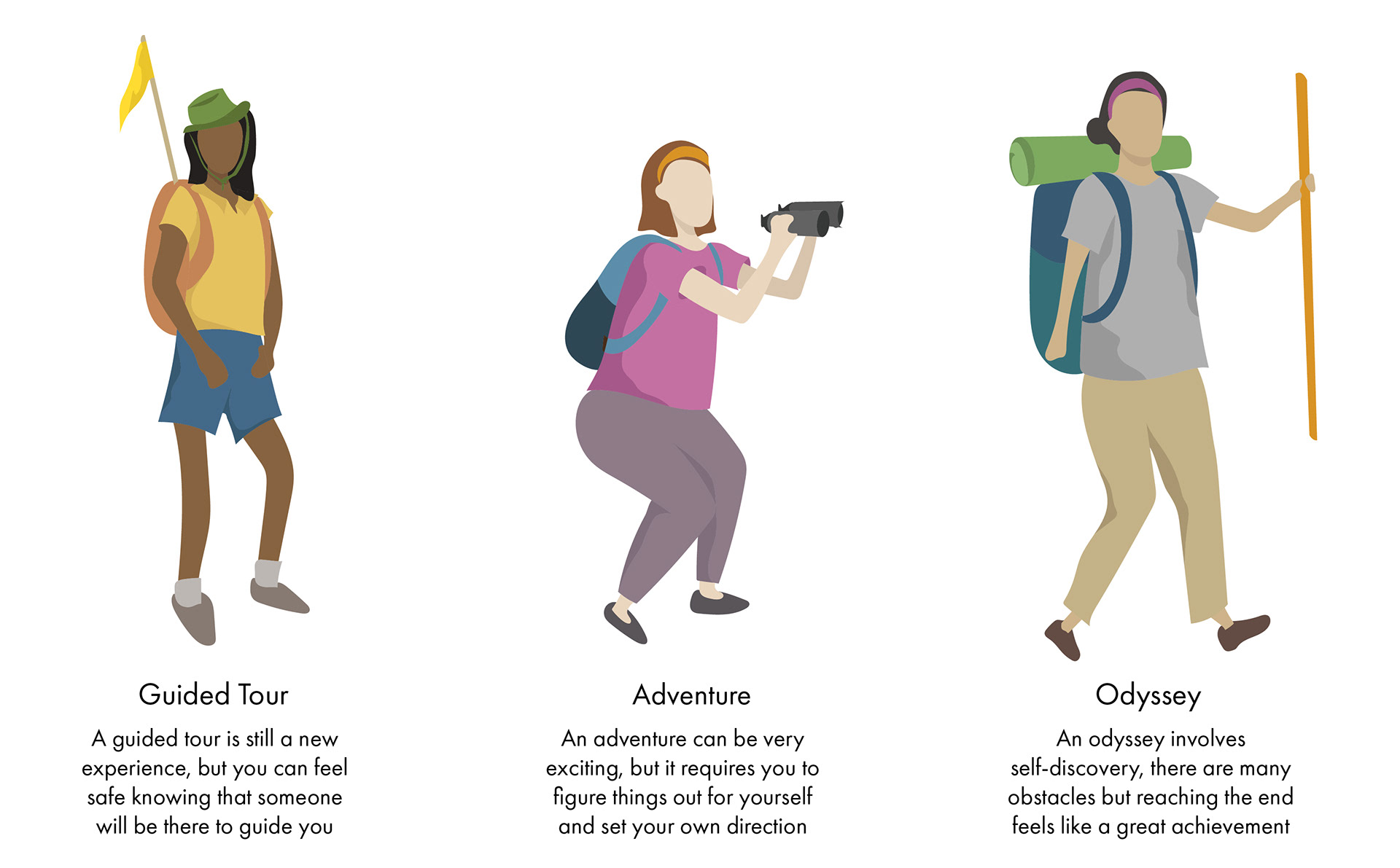 brainstorming & 
development
It was now time to start designing. I began by brainstorming different ways that certain gaps could be filled. A solution started to take shape in the form of a mobile app that can help with different problem areas.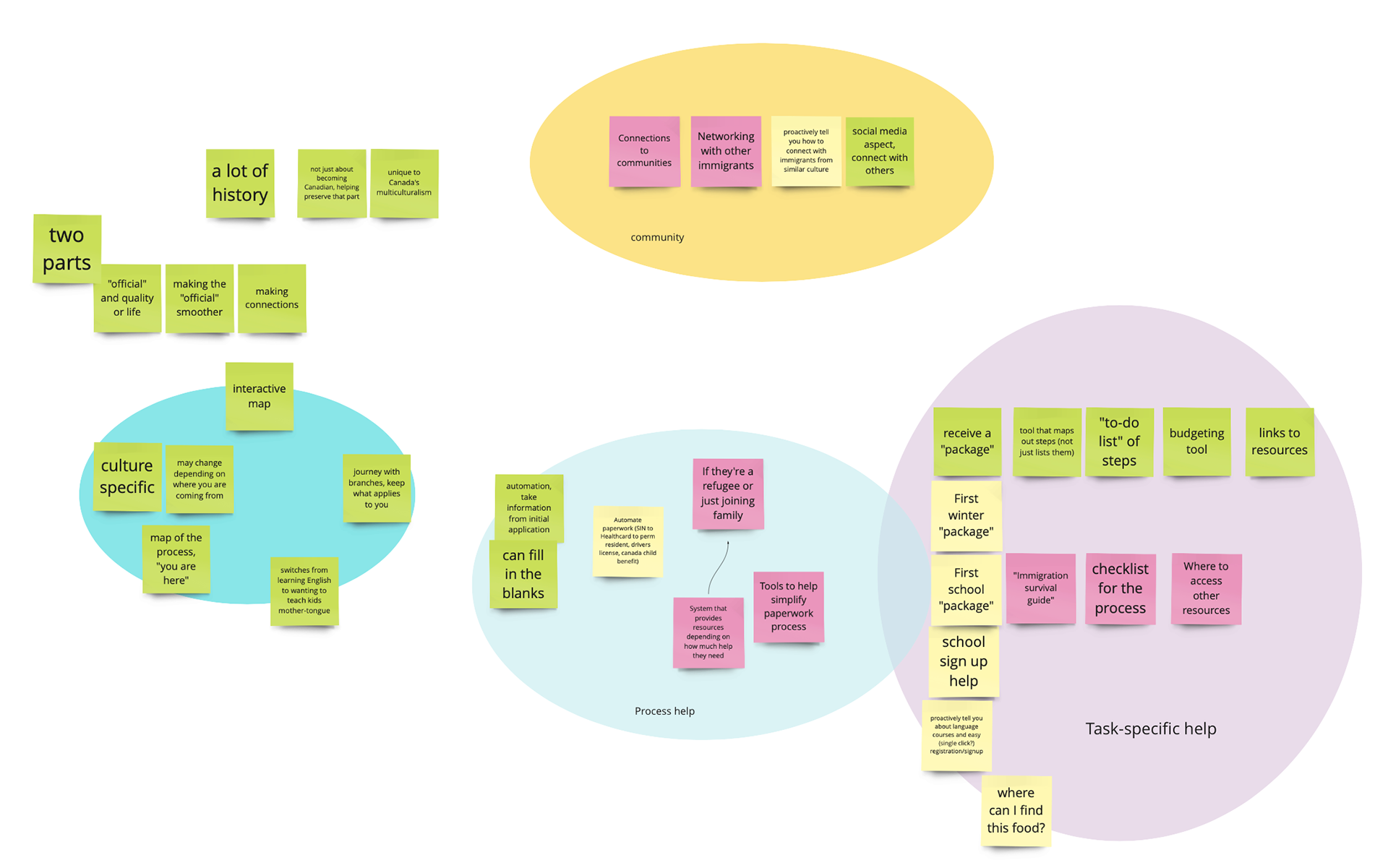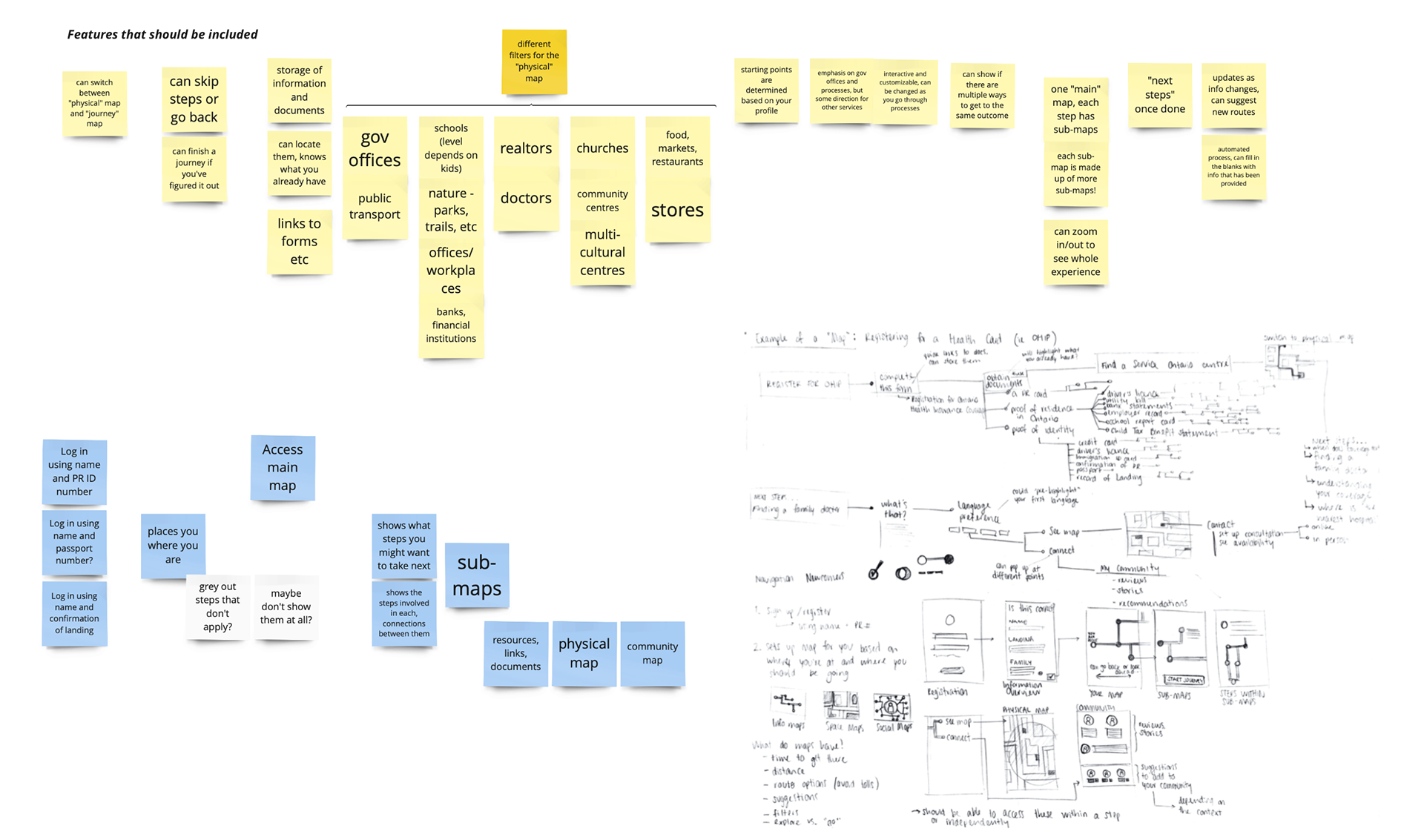 Some rough, initial wireframing allowed me to see where processes could be simplified and streamlined for a better and easier experience.

And then some more not-so-rough wireframing allowed me to refine the interactions and map out the information architecture.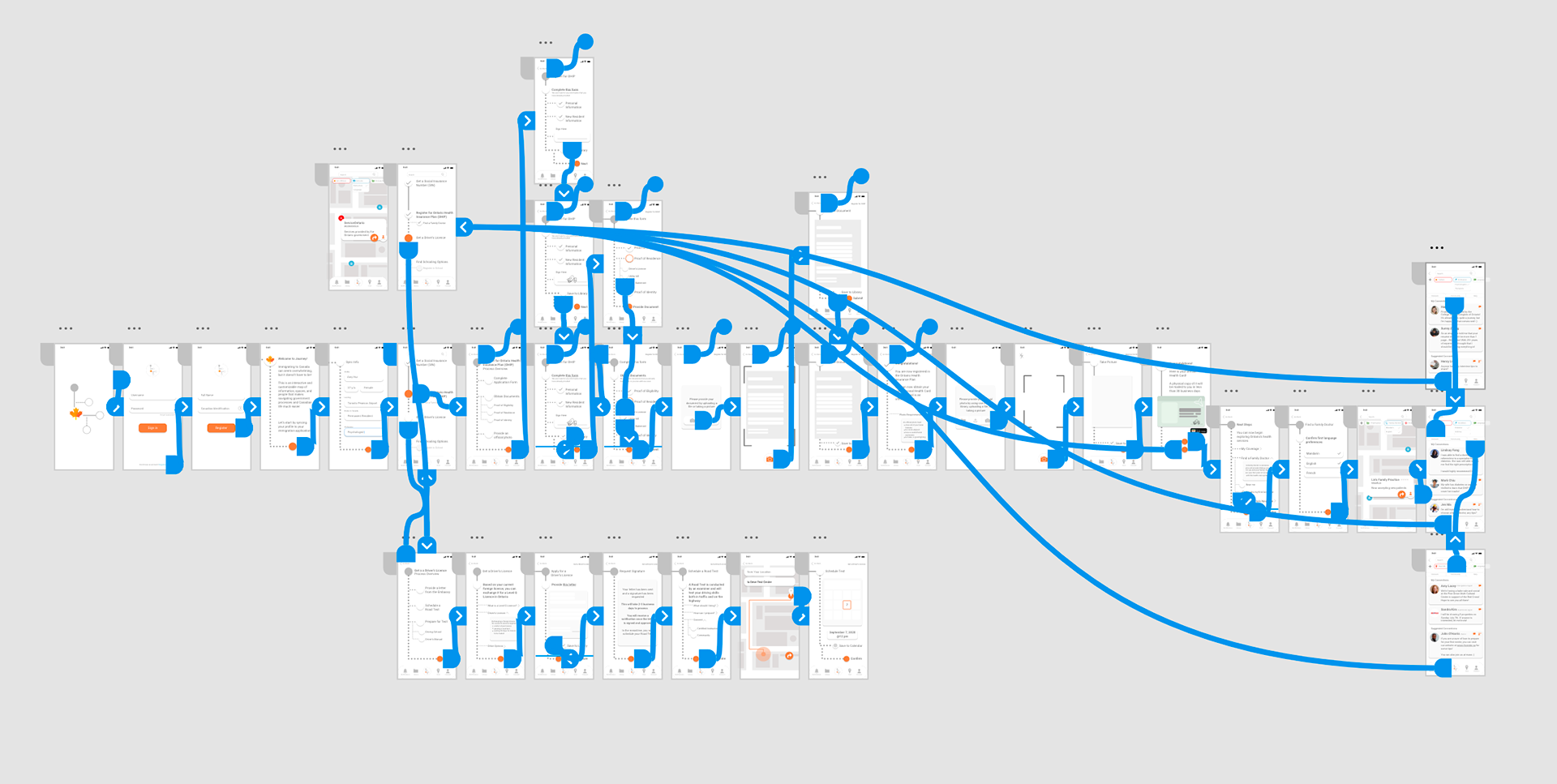 All of this research, synthesis, and design pointed me in a direction for a digital solution that can help newcomers in their experience.
The design solution is a mobile app in which all processes are mapped out and can be completed. It includes functions such as an interactive map to find places (gov offices, schools, etc), a library of documents, automated processes, pre-filled information, and the ability to connect with other newcomers, share stories, and help one another.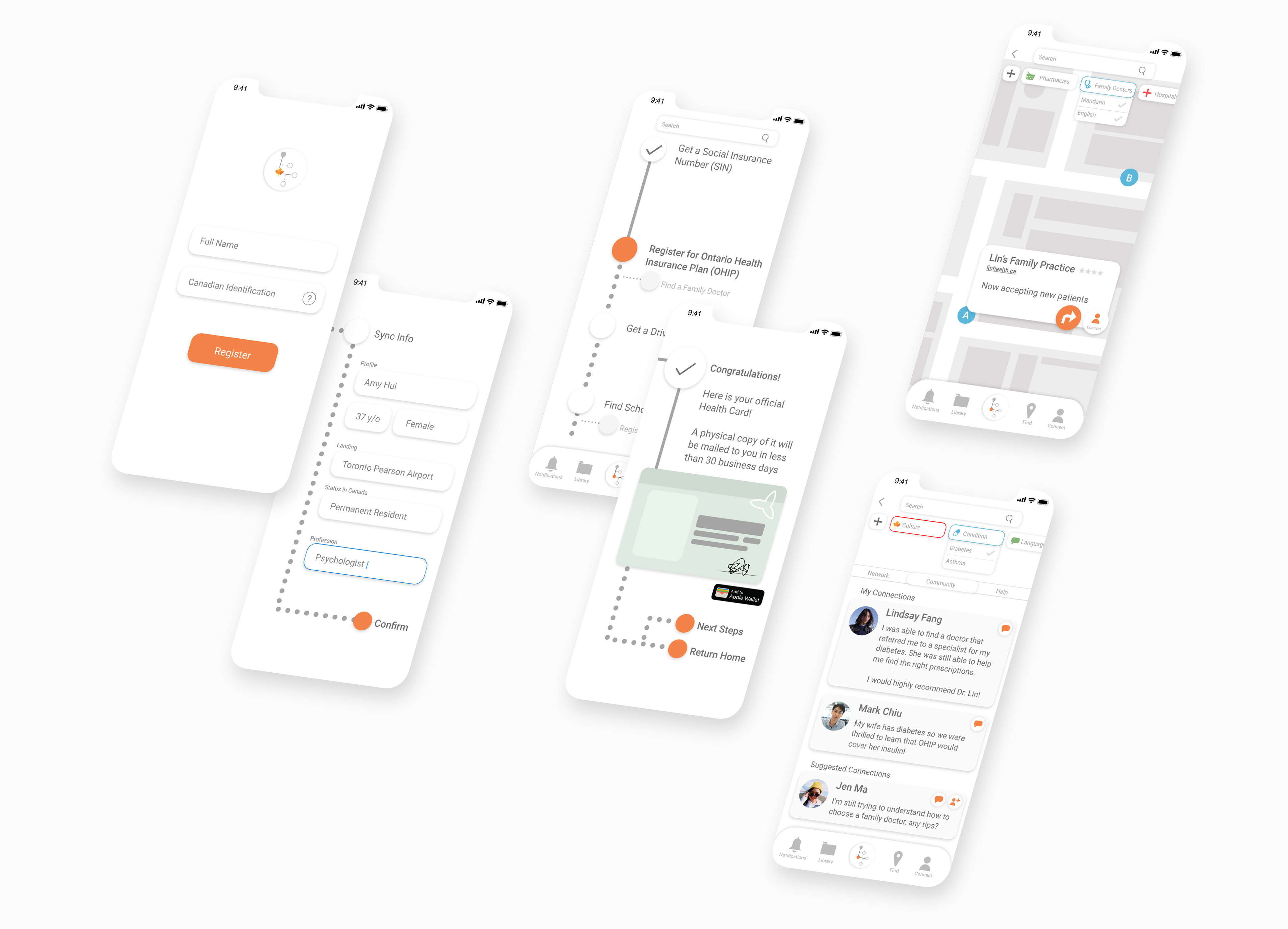 my learnings 
I learned to shake off my shyness and get proactive about reaching out to people, asking them a lot of hard, well prepared questions, and improvising new ones as we spoke. I learned to not just make notes and move on, but to 
really
listen, and to think deeper into people's answers; to really understand their motivations, values, fears...so overall, to design in a more human way.