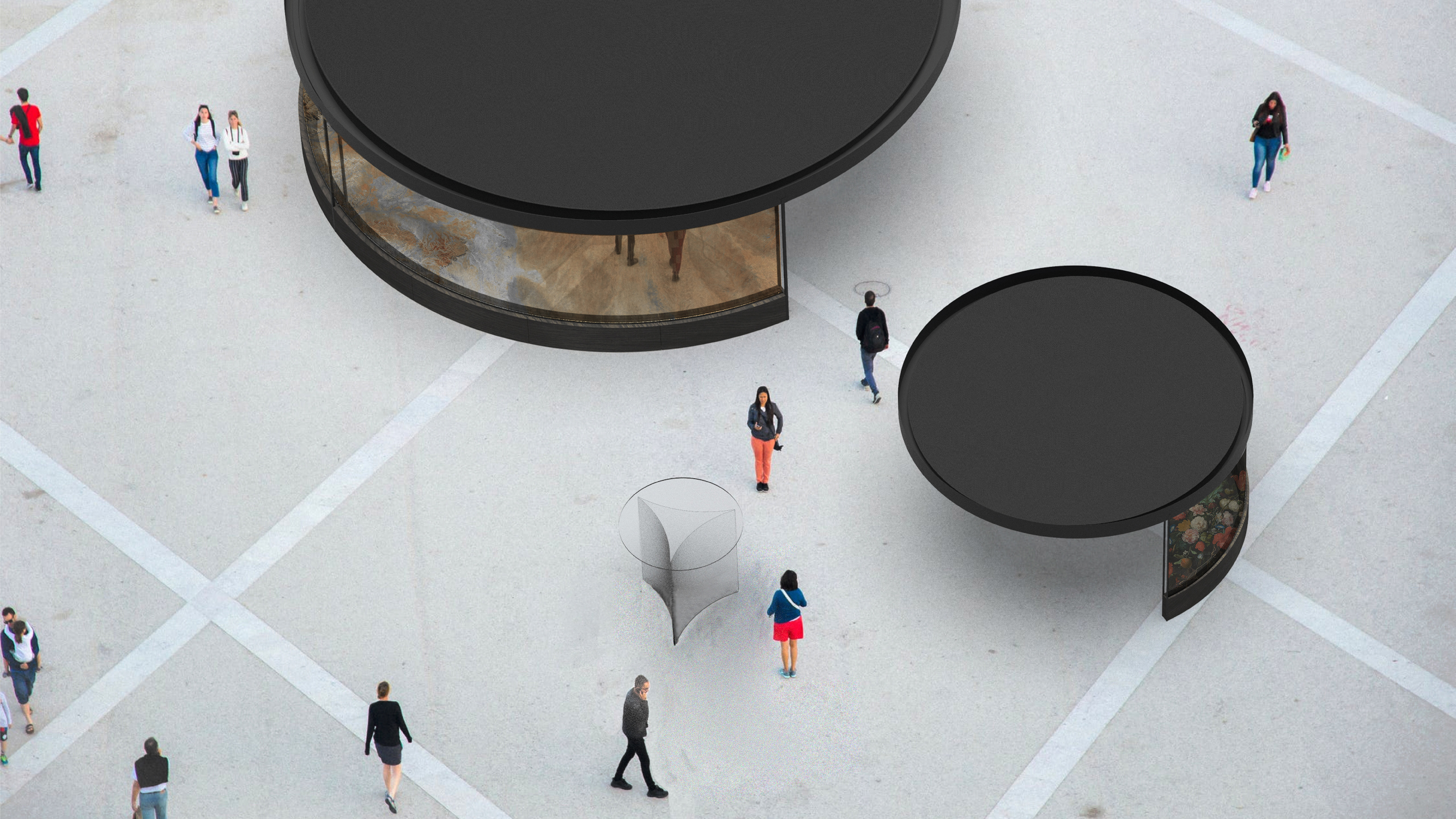 cohesion
is an adaptable, outdoor museum experience aimed at bringing people together safely during and post the COVID-19 pandemic. It is my Capstone project, completed in close collaboration with the Canada Science and Technology Museum. It was awarded the Wim Gilles Memorial Award for 'Form Giving'. 
focus
participatory design research, exhibition design
research team
maxine arbez cheung,  mijung choi, christina kim, jordan linton


how might we bring people together at a time when they are being told to stay apart? and what role can museums play?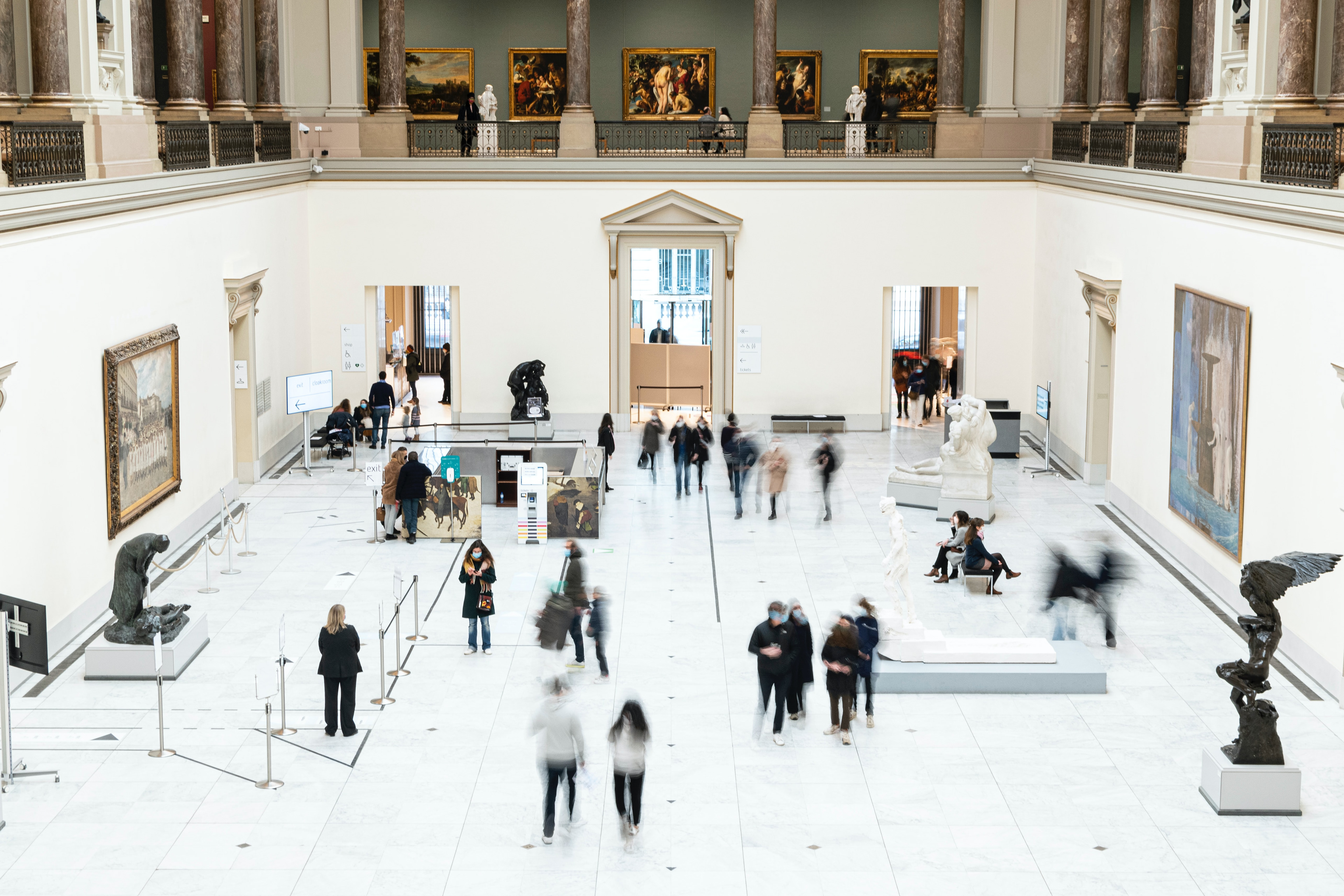 currently...
Museums are struggling both in maintaining their doors open and instilling public trust. COVID-19 has affected many areas of the museum experience. Thin
gs are rapidly changing, and
cultural institutions have had to strategize, plan, and fail
during this process. 
Even before the pandemic, public-health experts were concerned about what they refer to as a "loneliness epidemic". Social isolation as a driver of loneliness has been reinforced during the current situation.
Roughly a third of American adults report feeling lonelier than usual since lockdowns and stay-at-home orders were instated. 
Some of the current solutions include: limited capacity, reduced staff, physical distancing indicators, removal of high-touch interactive elements, stringent cleaning protocols, shift to online forms of engagement, and more.
A UNESCO survey reveals that most museums have had to close at some point, and that
a shocking third of them may never open again
As a result,
3 out of 5
report losing an average of
$31 000 a week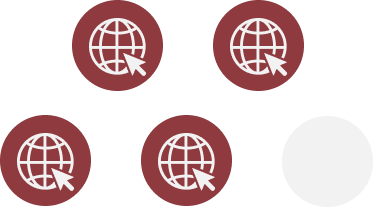 In order to combat this,
4 out of 5
report increasing their
online presence
remote field research
This project was completed in the midst of the COVID-19 global pandemic, making traditional field research methods limited. Insights were rarely found in books and academic papers, but rather in Podcasts, Webinars, and mostly Zoom conversations with real people.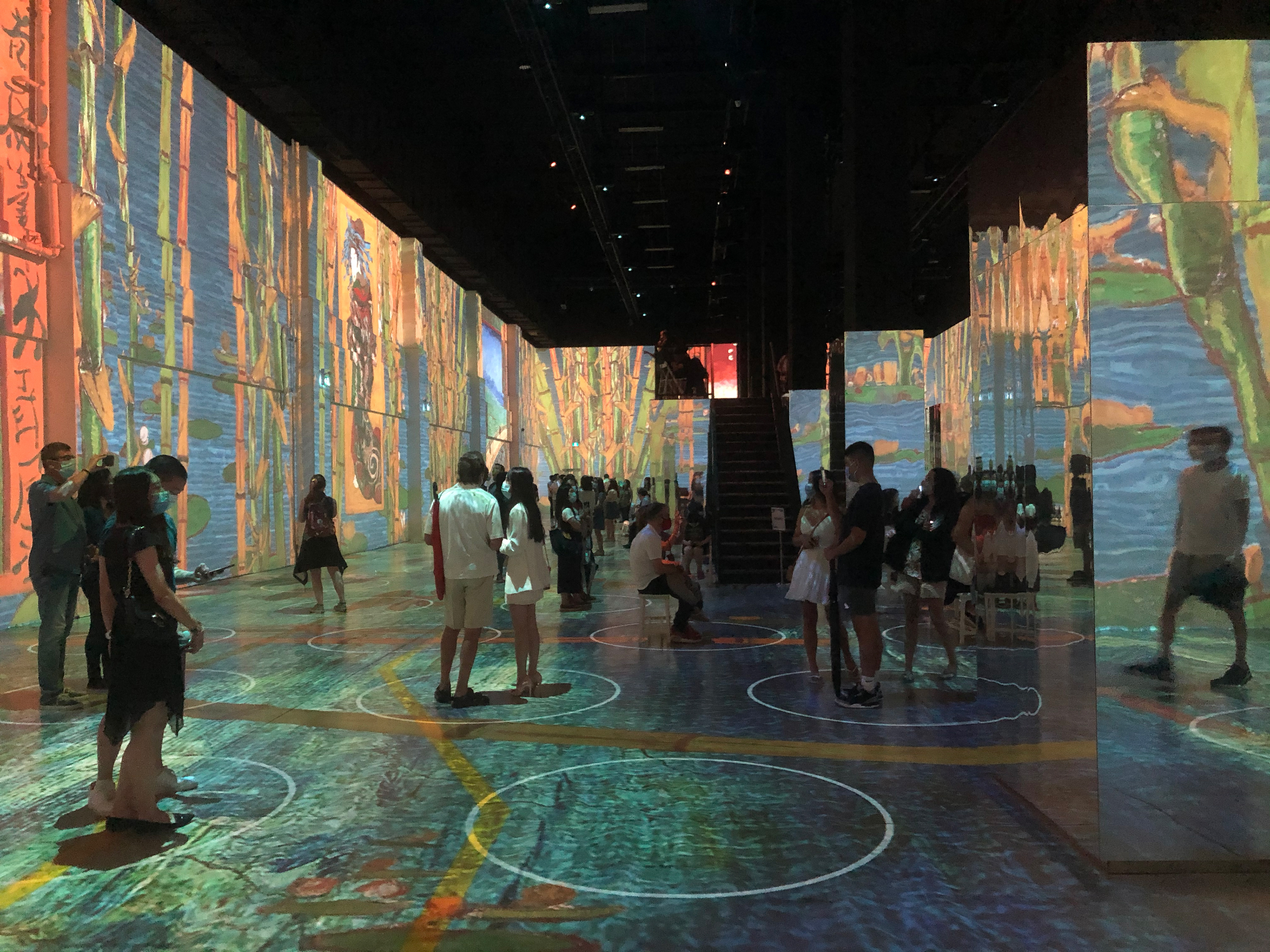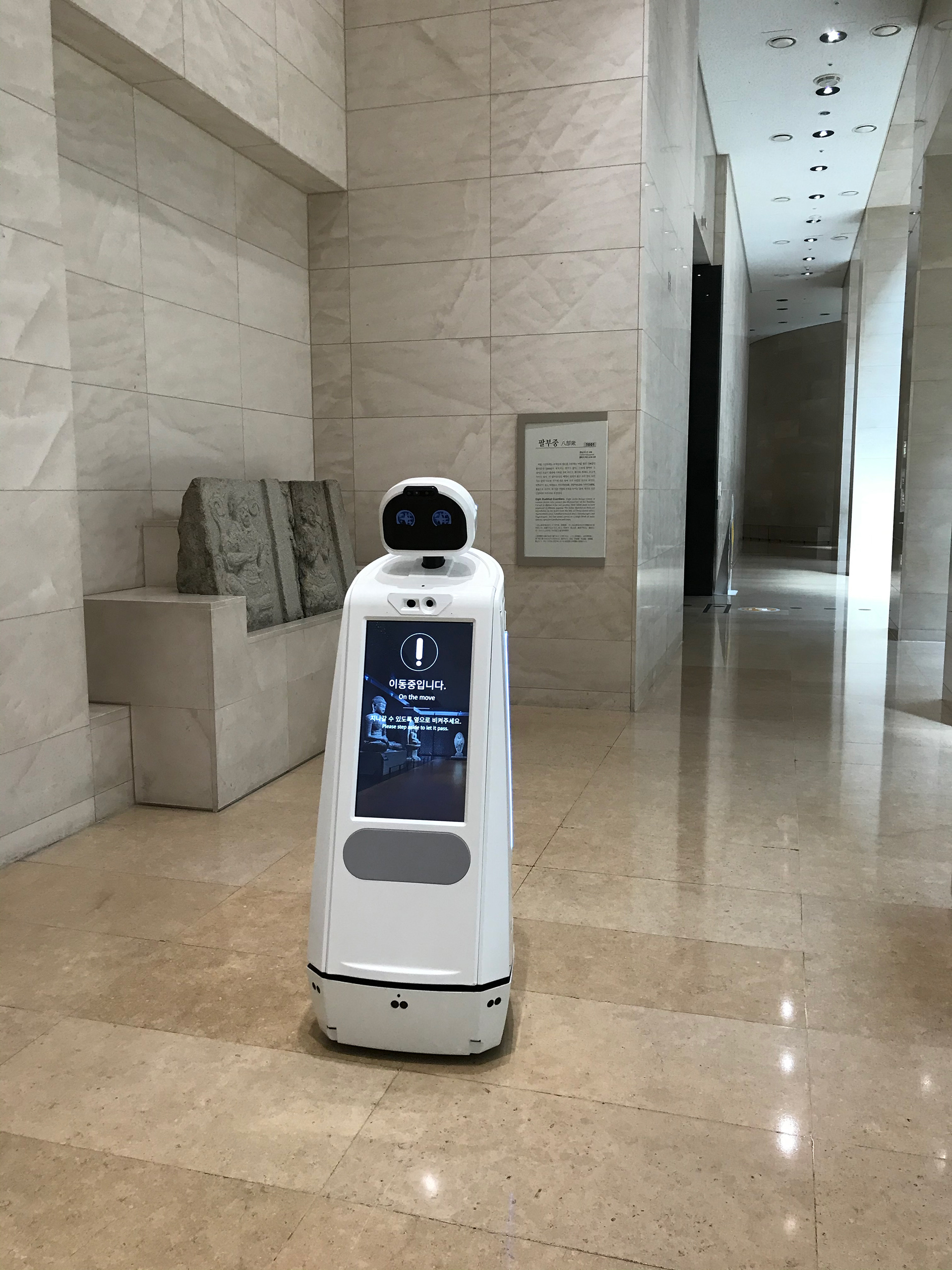 A lot of these insights were synthesized into a
journey map
of the experience. This allowed us to see key points that had been affected, as well as where there might be areas for improvement.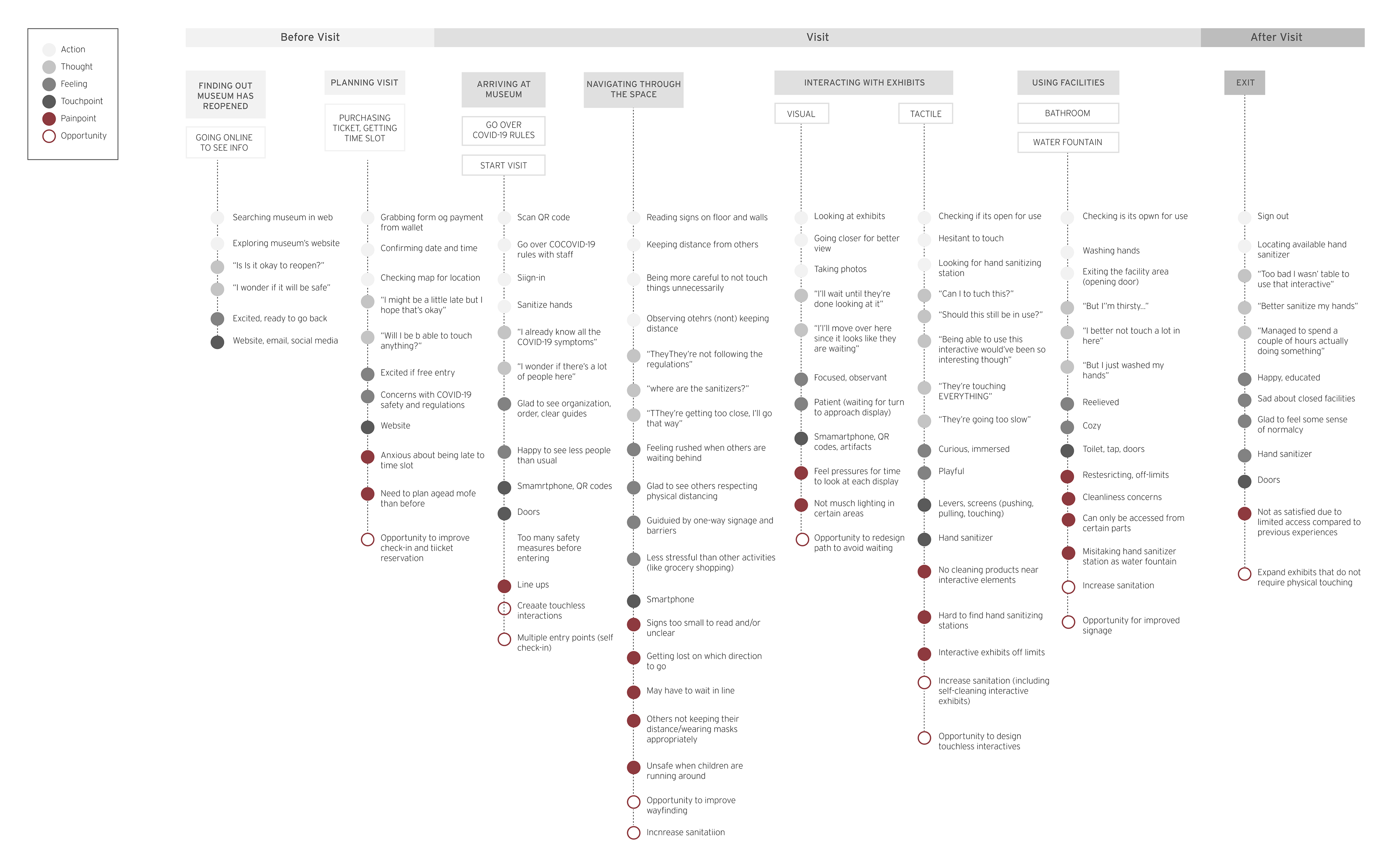 Other
design research tools
were used to synthesize our findings, and to visualize the current experience. Maps, spectrums, and charts pointed to how a vast range of stakeholders are being affected, the problems in ergonomics, but also the opportunities for different institutions and for different types of visitor experiences.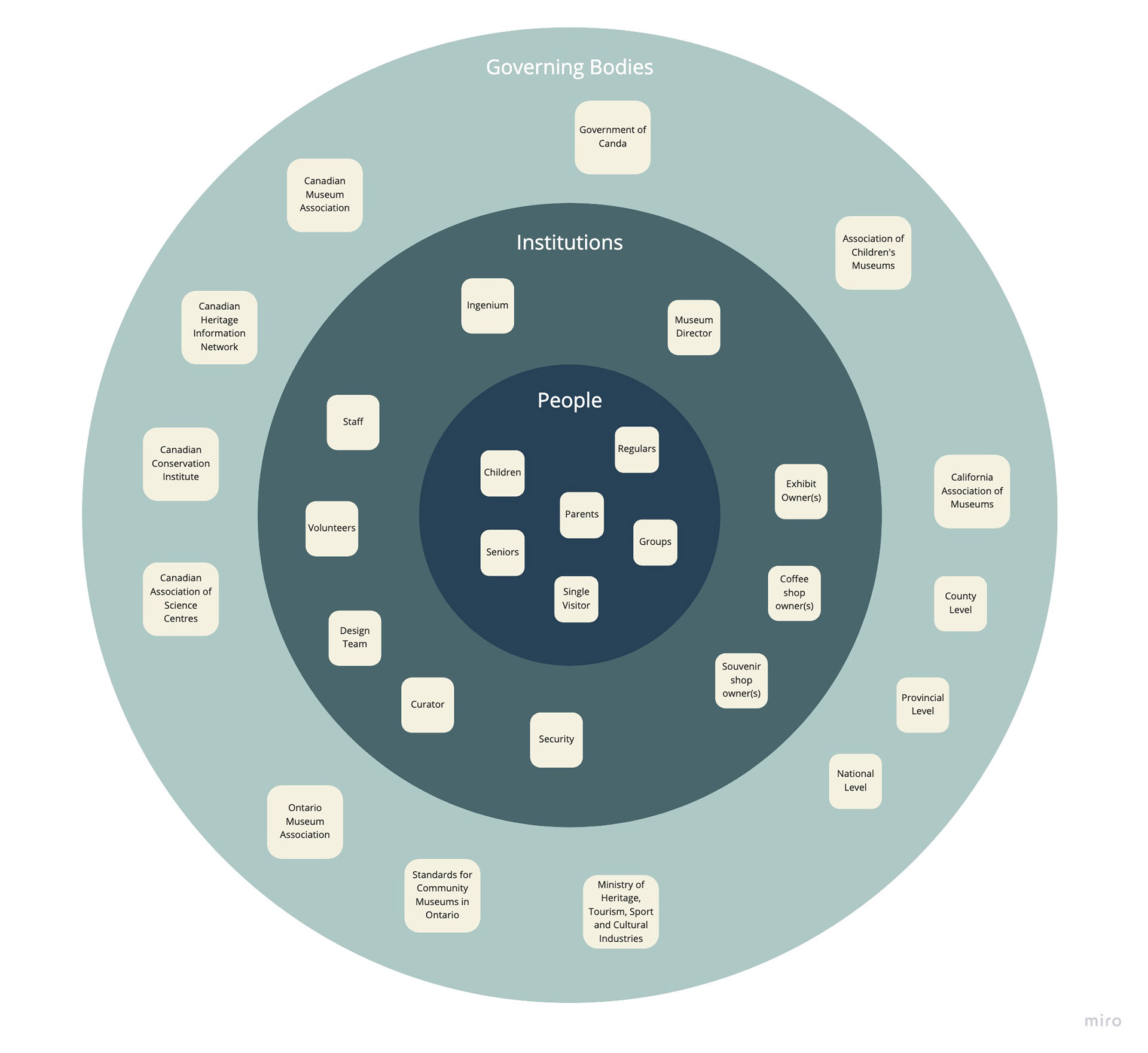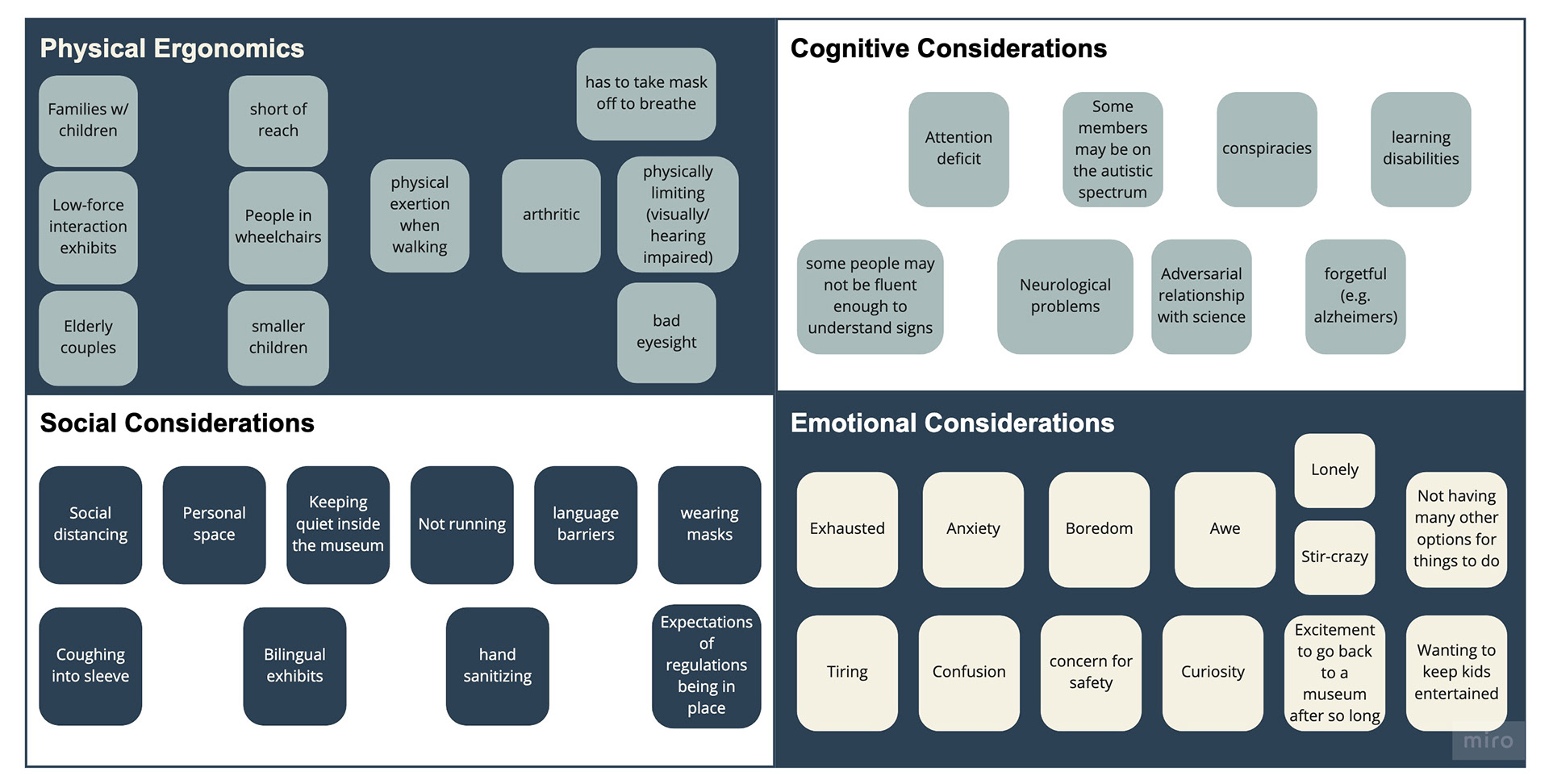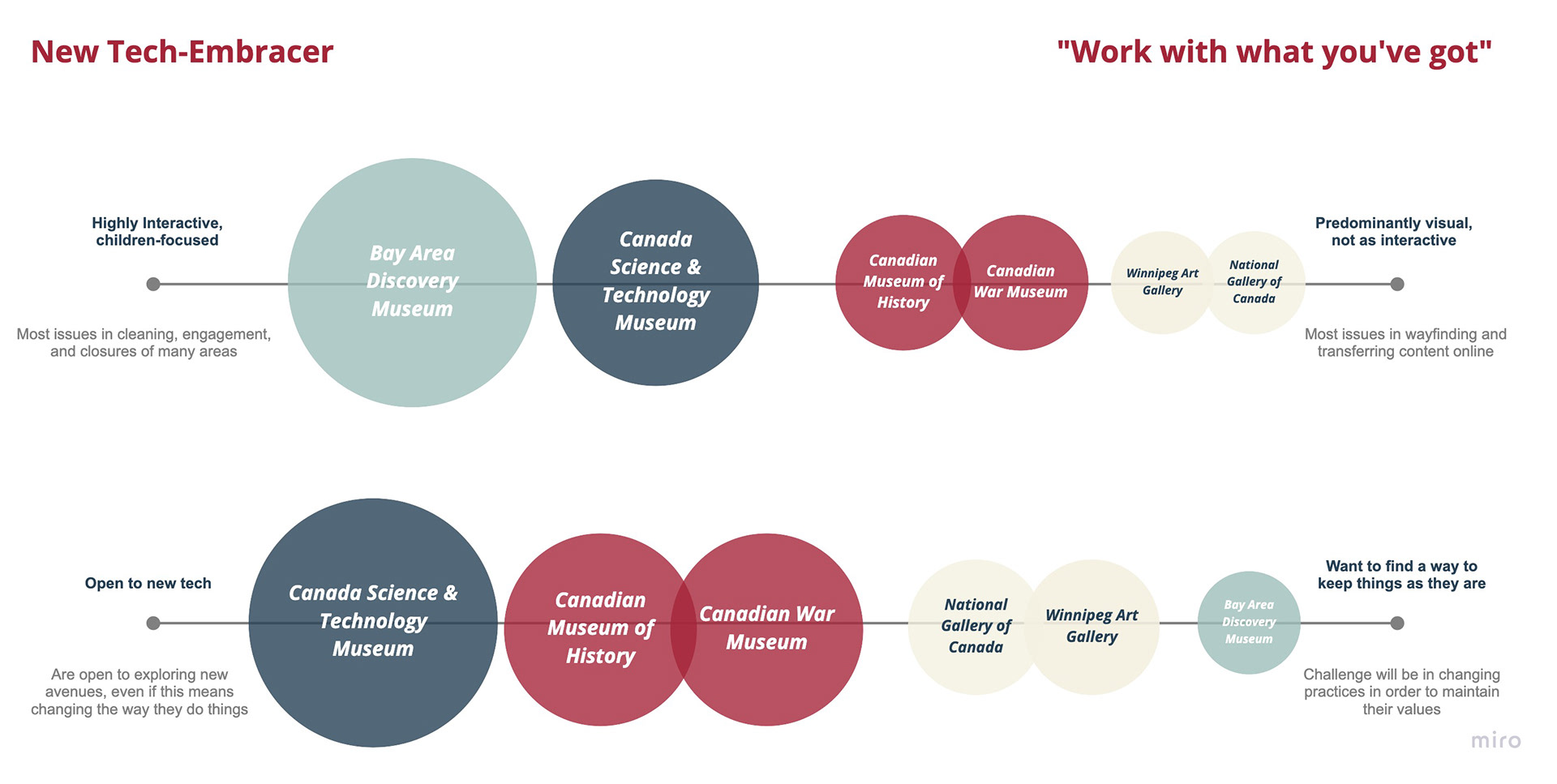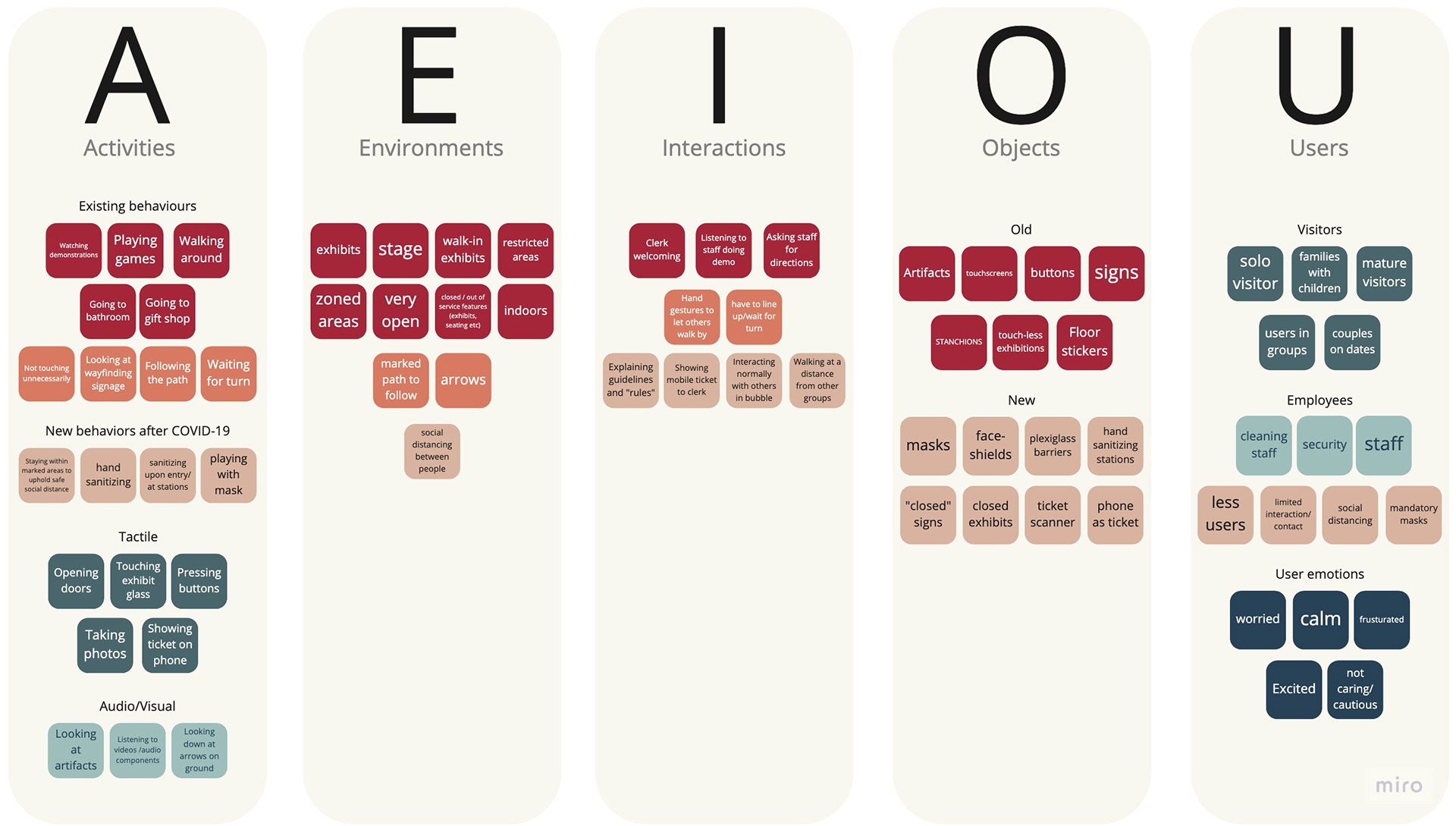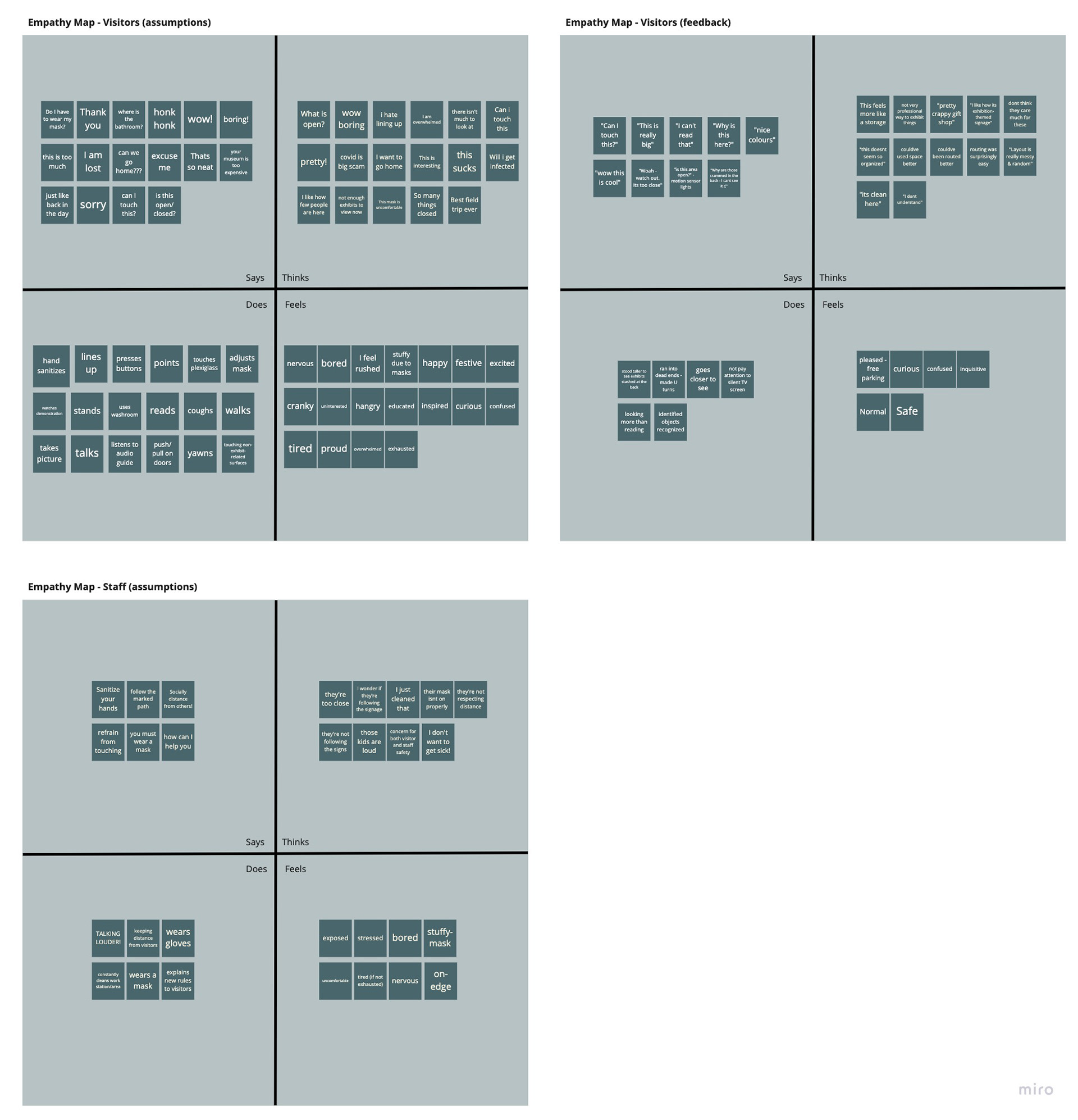 opportunity for design
There is an opportunity to challenge institutions to
rethink their traditional definition of exhibitions
, their location, format, forms of interaction, and objects on display. These new formats can
reduce barriers
for more people to get interested and see value in museums, as well as help institutions get
more involved with the community
and the causes that are important to them. When it comes to interaction, there is now a push to move past the "empty interactions" traditionally facilitated by touch-based technology, like push buttons and flip labels, and
embrace the emergence of "gesture-controlled interactives."
design development
From initial sketches, scenario building, and synthesis exercises, three key areas of focus emerged: shared interactions, space & display, community engagement/outreach
It quickly became clear that these areas were not mutually exclusive, but rather could be integrated and further explored as one.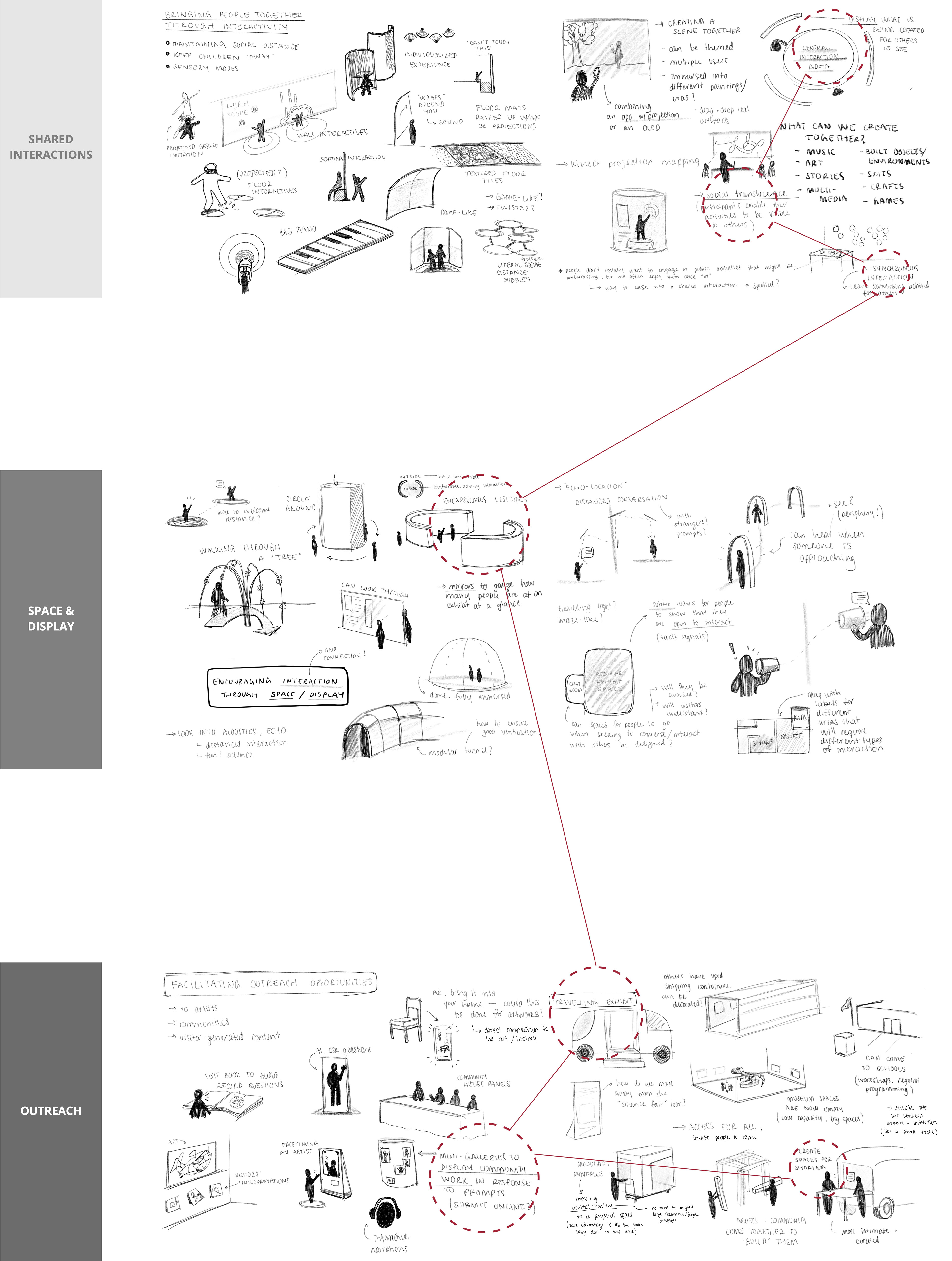 In the proposed concept, museums can involve the community in the curation process by allowing them to submit their own work. This also amplifies the voices of local artists, and gives communities a sense of ownership over their shared heritage and culture.

The exhibit system is then transported to the location, and the community could once again get involved in personalizing the space.

Through projectors and gesture-tracking sensors, content is displayed and made interactive, and visitors can come and enjoy an outdoor, immersive experience.

A key insight that emerged was how space and display design plays an important role in how museum content can be experienced, and whether people will feel comfortable while together, since the way an exhibit is designed and arranged can completely change the forms of interaction. The concept then began to shift towards an outdoor exhibit.
Spatial layouts that had separate areas for different types of interaction began to be explored. Paper scale models coupled with SketchUp environments were used to develop
six distinct spatial concepts
, all incorporating these principles in unique ways.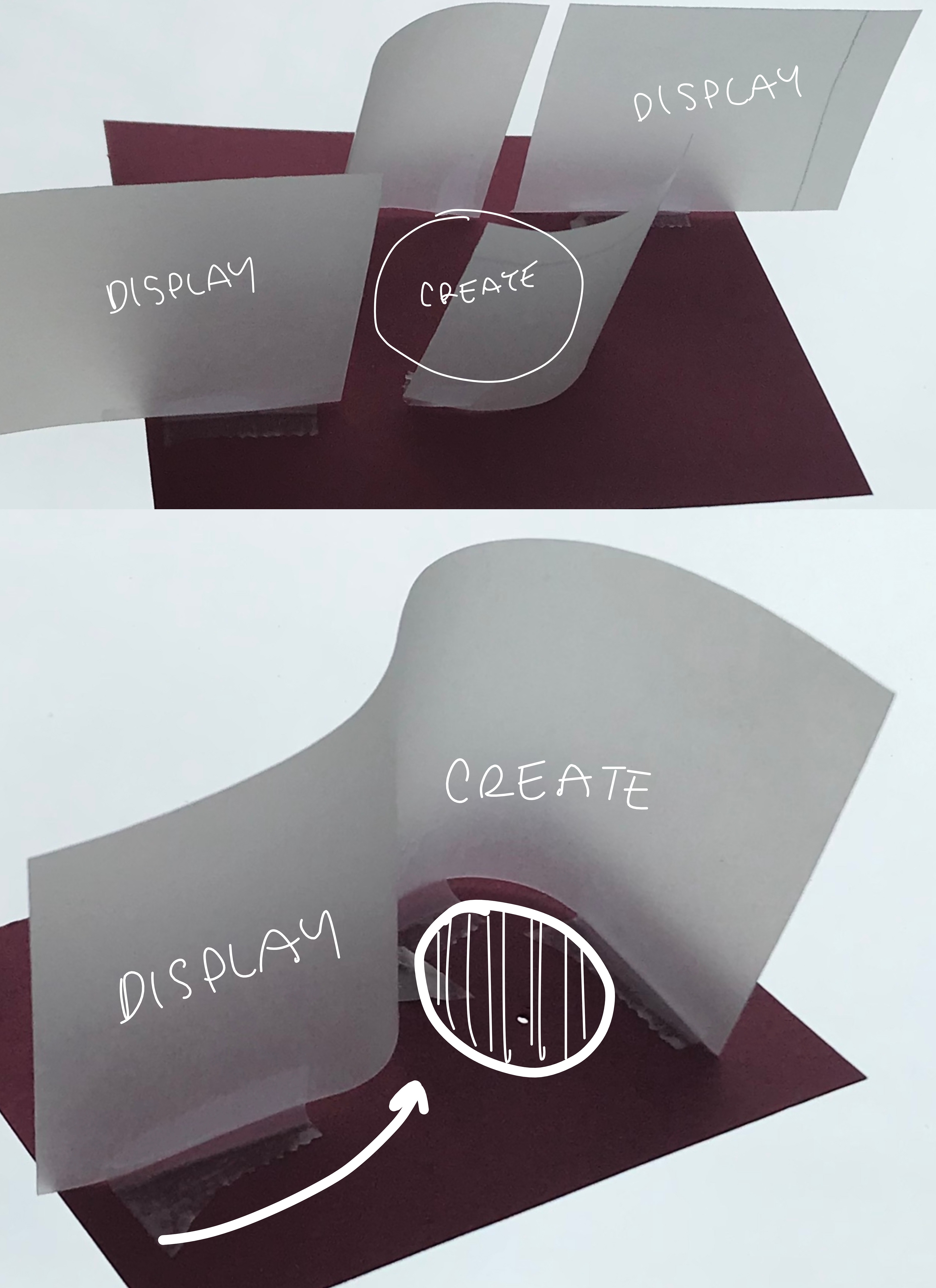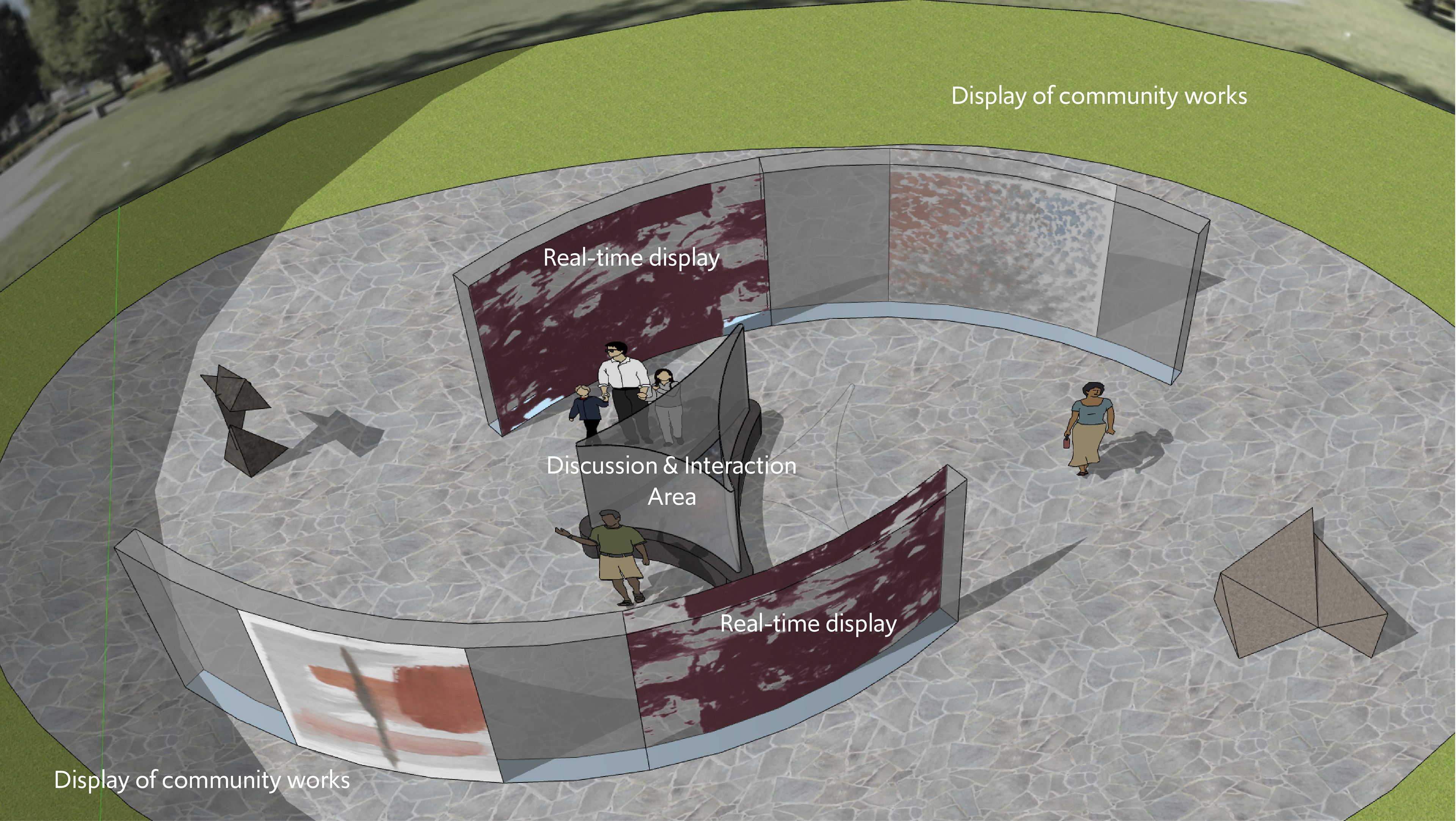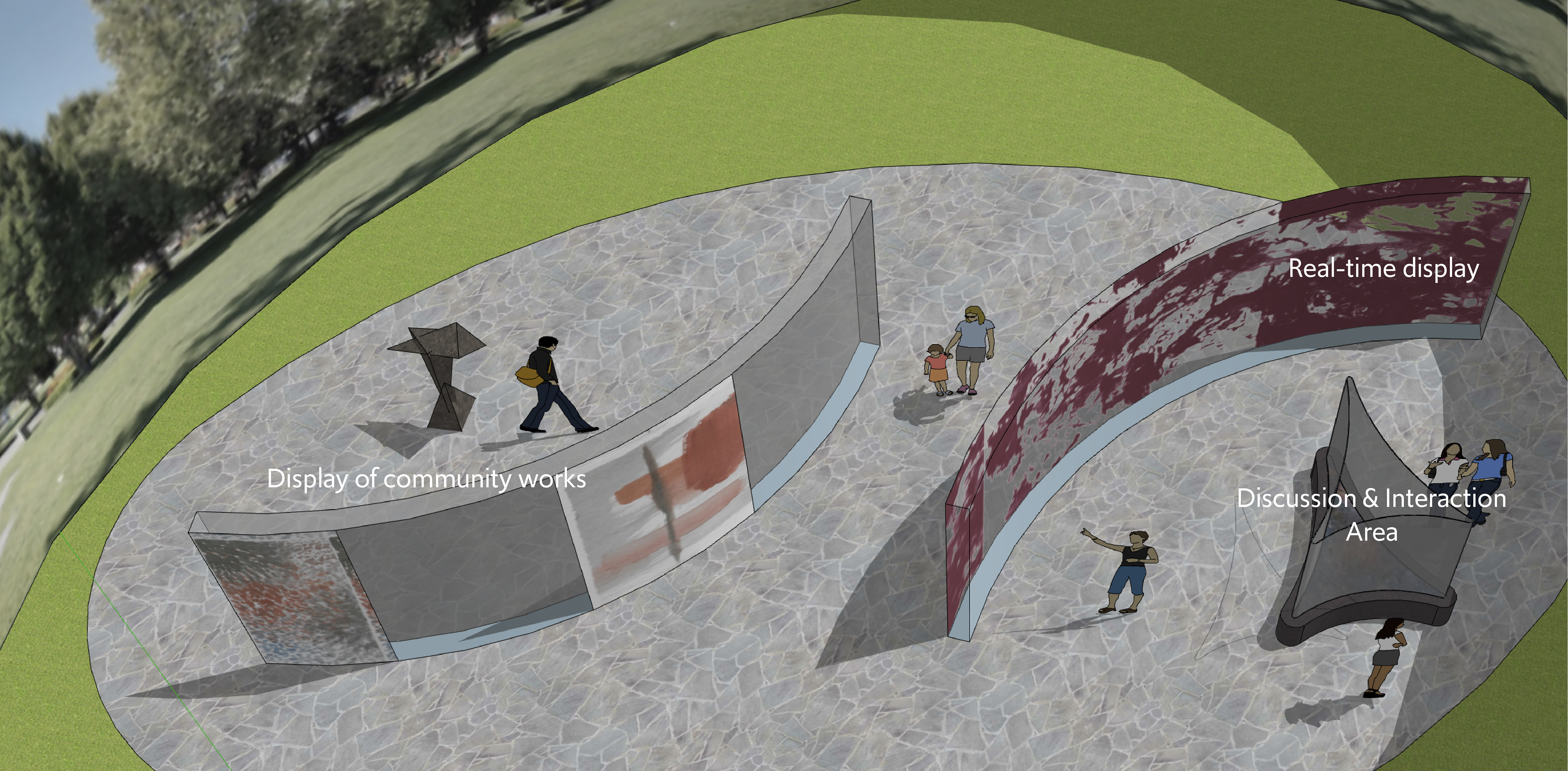 participatory testing & evaluation
I conducted a set of tests that explore people's opinions, motivations, and concerns regarding initial concepts. I did this in two ways: through an
online survey
, as well as an 
observation study
with members of my household. 
More than anything, testing revealed a wide range of opinions and behaviours regarding how people feel in public spaces, pointing
away
from a one-size-fits-all approach. Some of the key insights from these tests were: 
people generally feel more comfortable in open areas, they feel that a curved flow between separate areas is more natural, and they prefer to have more, clear path options
.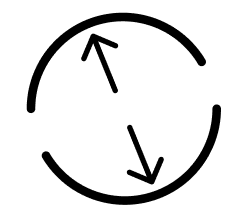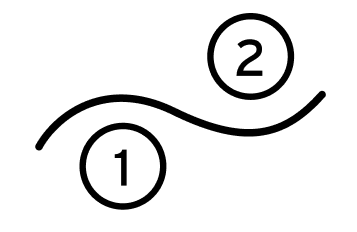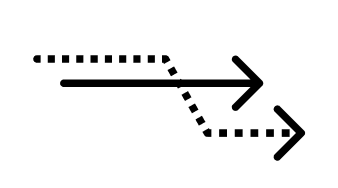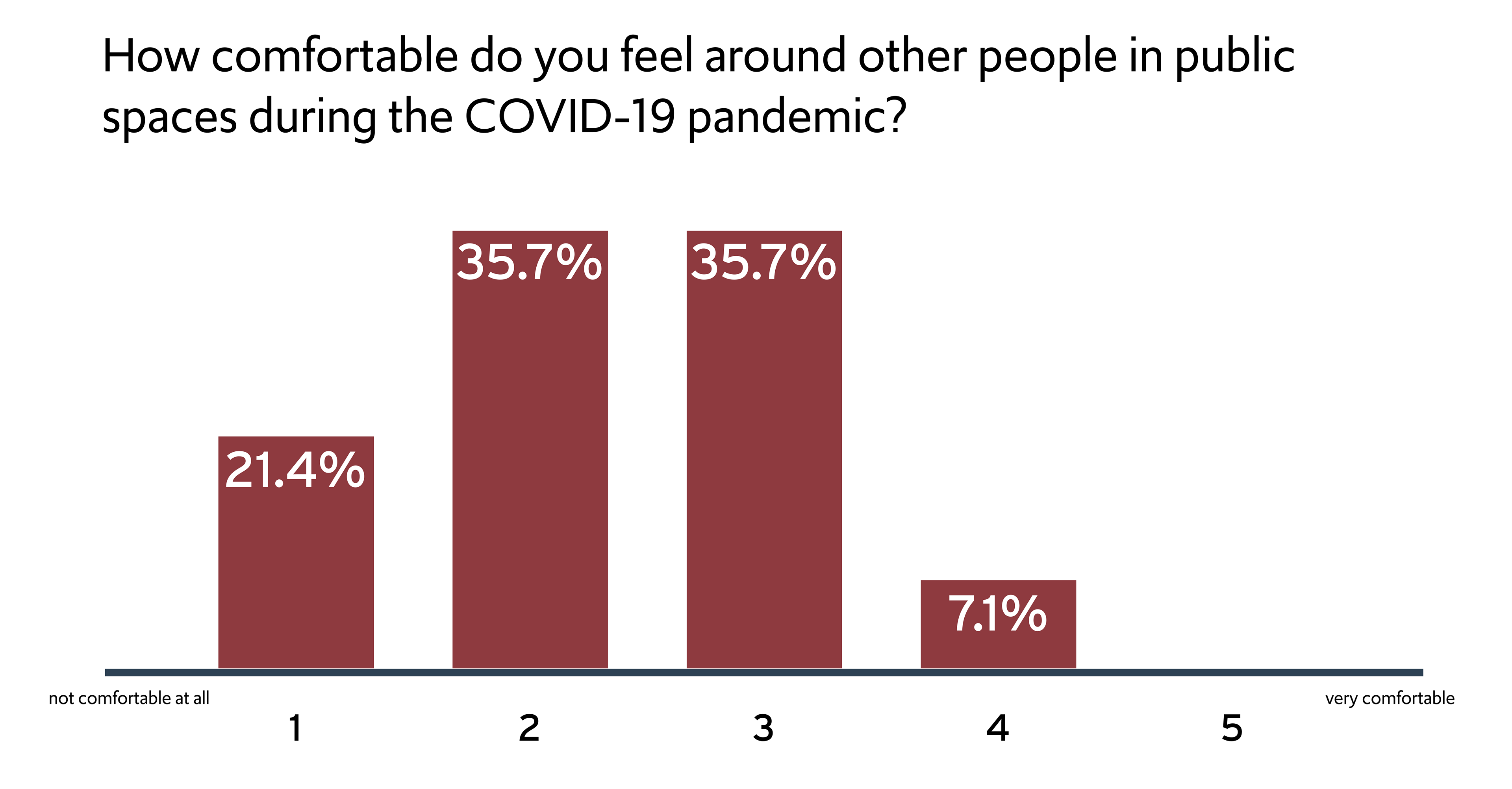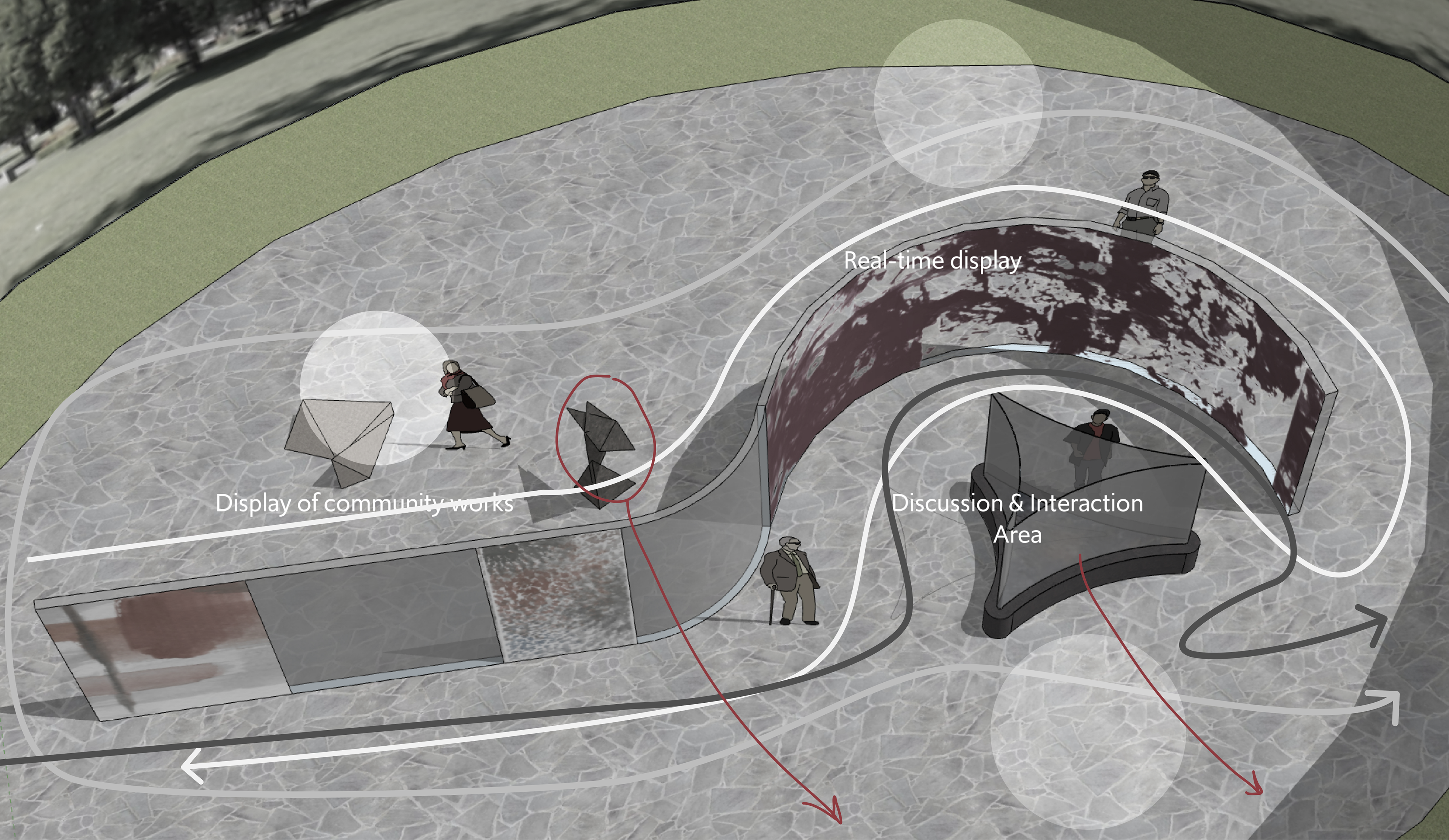 Proxemics
refers to human behaviour in space. Because of COVID-19, people seem to have an increased awareness of their 'personal space' – a 'psychological bubble' that surrounds us wherever we go.
As a form of backwards analysis, I returned to the 'best' and 'worst' spatial layouts and tested how effective they were at allowing a comfortable 2m physical distance for all visitors, and a wider distance closer to  'social' distance for those who feel less comfortable around others. This exercise made it clear that successful concepts would better take this into consideration and allow for
more comfortable person-to-person interactions
in the space.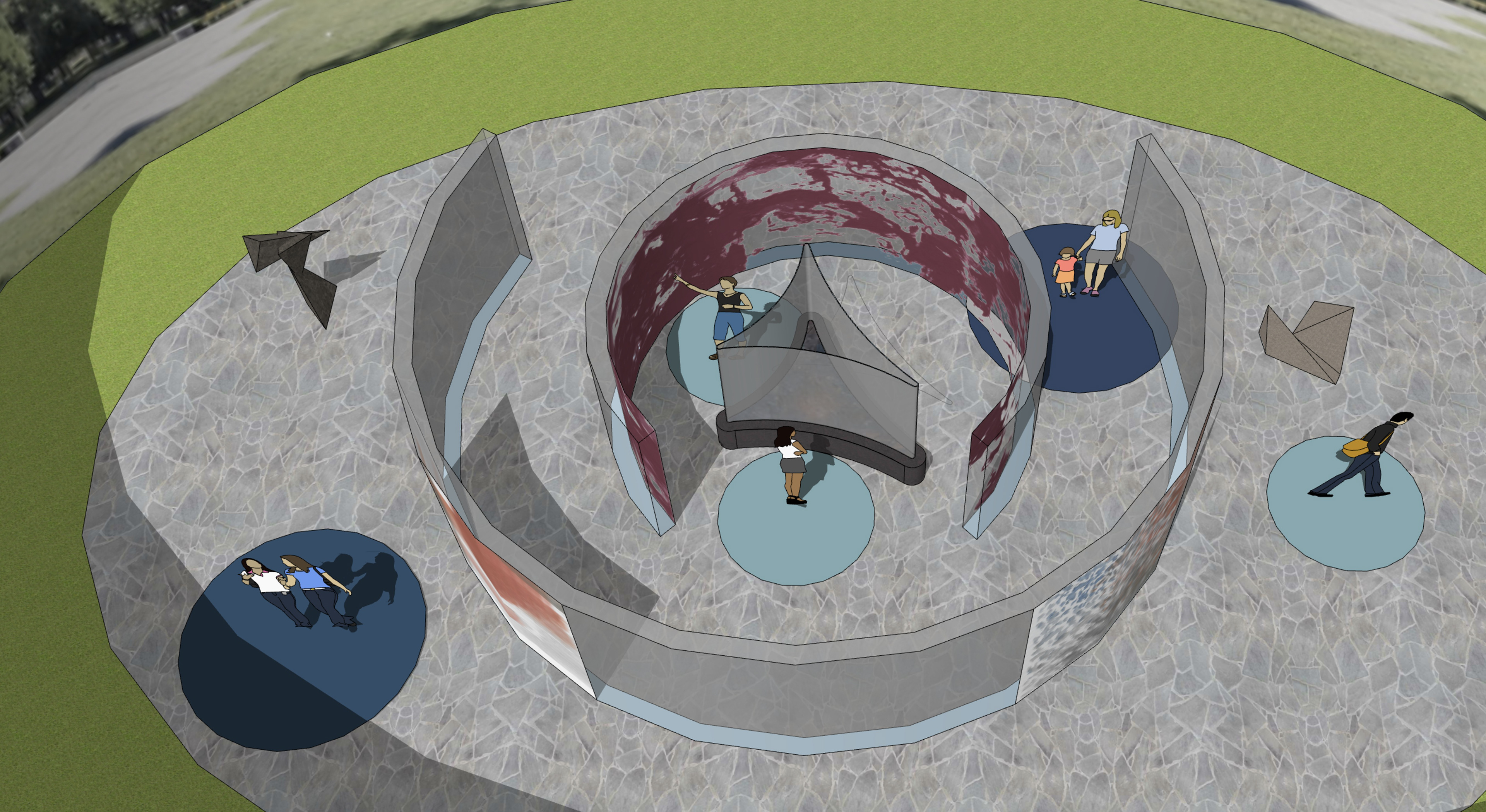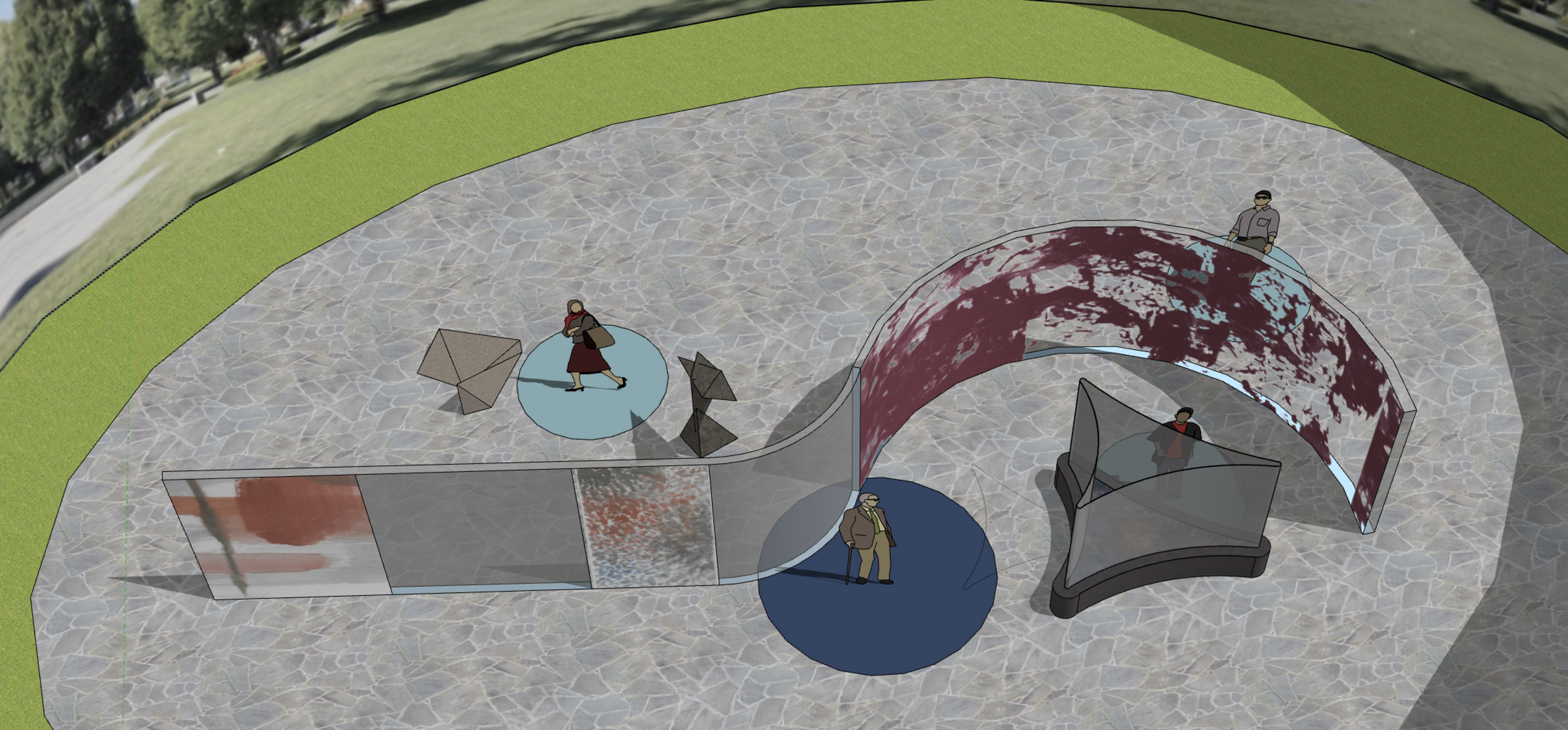 Another important aspect of testing was to explore and understand the proposed gesture-based technology. An
observational study
was conducted using a
Leap Motion Controller
connected to a projected screen. Participants were not given any direct instruction, they just approached a prototype and began exploring the device. Video-recordings of the interactions allowed me to identify common behaviours, points of frustration, and what participants did to get around those.
Generally, participants were confused, frustrated, and unsure of how to interact with the system. All three were eventually able to use it, but the time it took for each varied from 
30 seconds to 3.5 minutes
. For this reason, I pivoted to use a different, more widely recognized technology—the
Microsoft Kinect
. The advantages of this technology over a hand-gesture one are that
it can detect full-body motion and has less constraints for it to work effectively, thus making it more intuitive and universally accessible.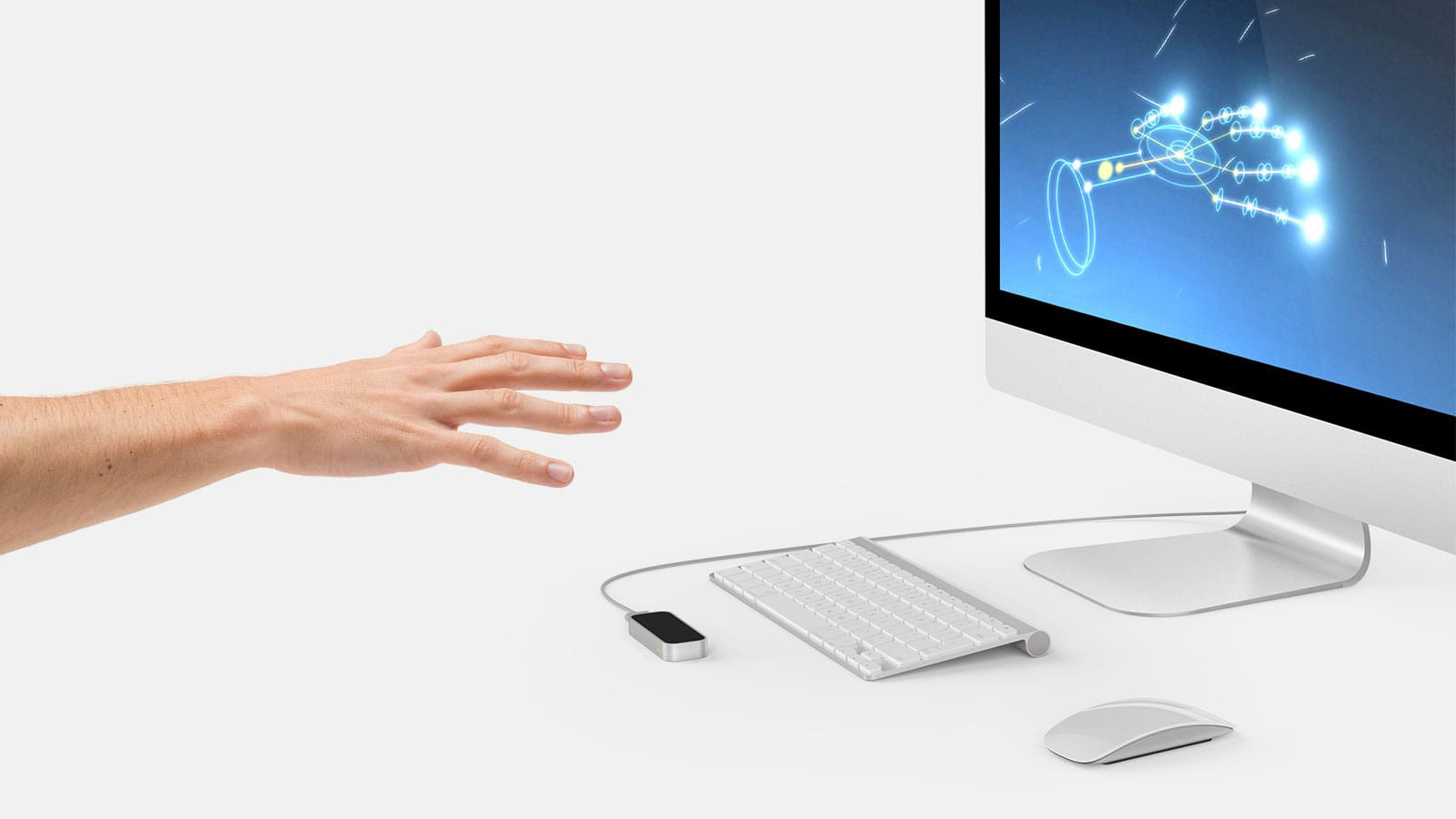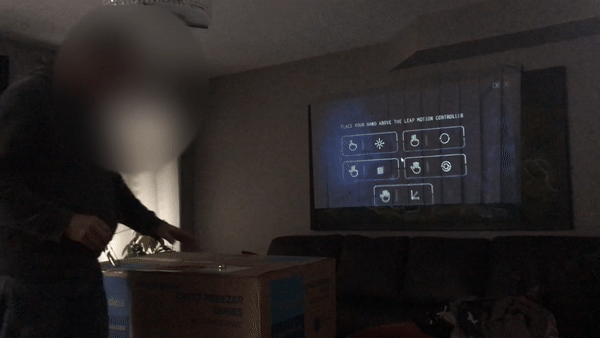 material testing
Using projection can be a way for content to change, update, and adapt based on the exhibit, but there are some challenges with this method, such as the feasibility of using a projector outdoors and in daylight. Different materials were tested using the same sample image, revealing that 
mesh fabrics have potential to work even better than designated projector screens
, while being cheaper, transparent, and more widely available.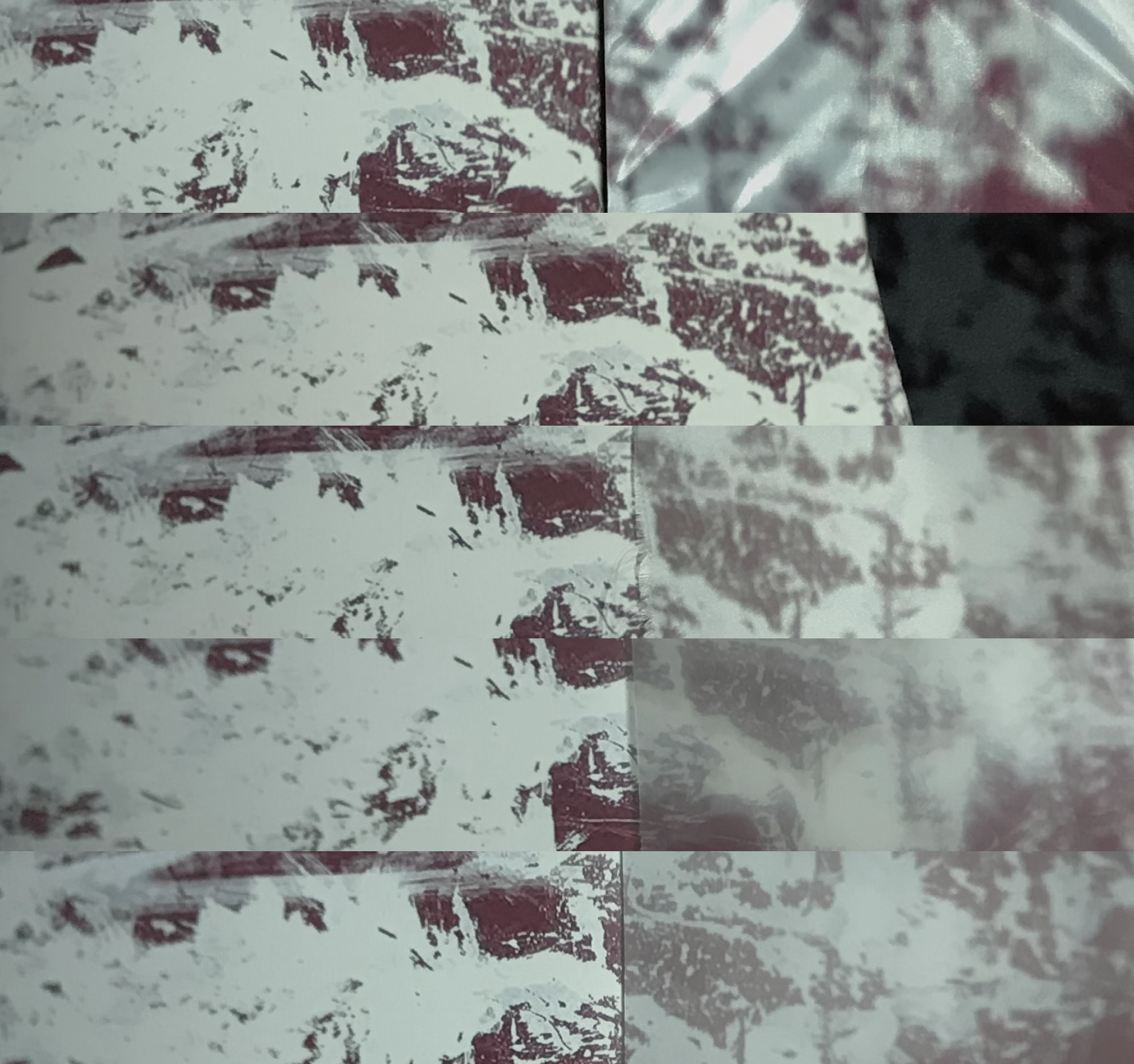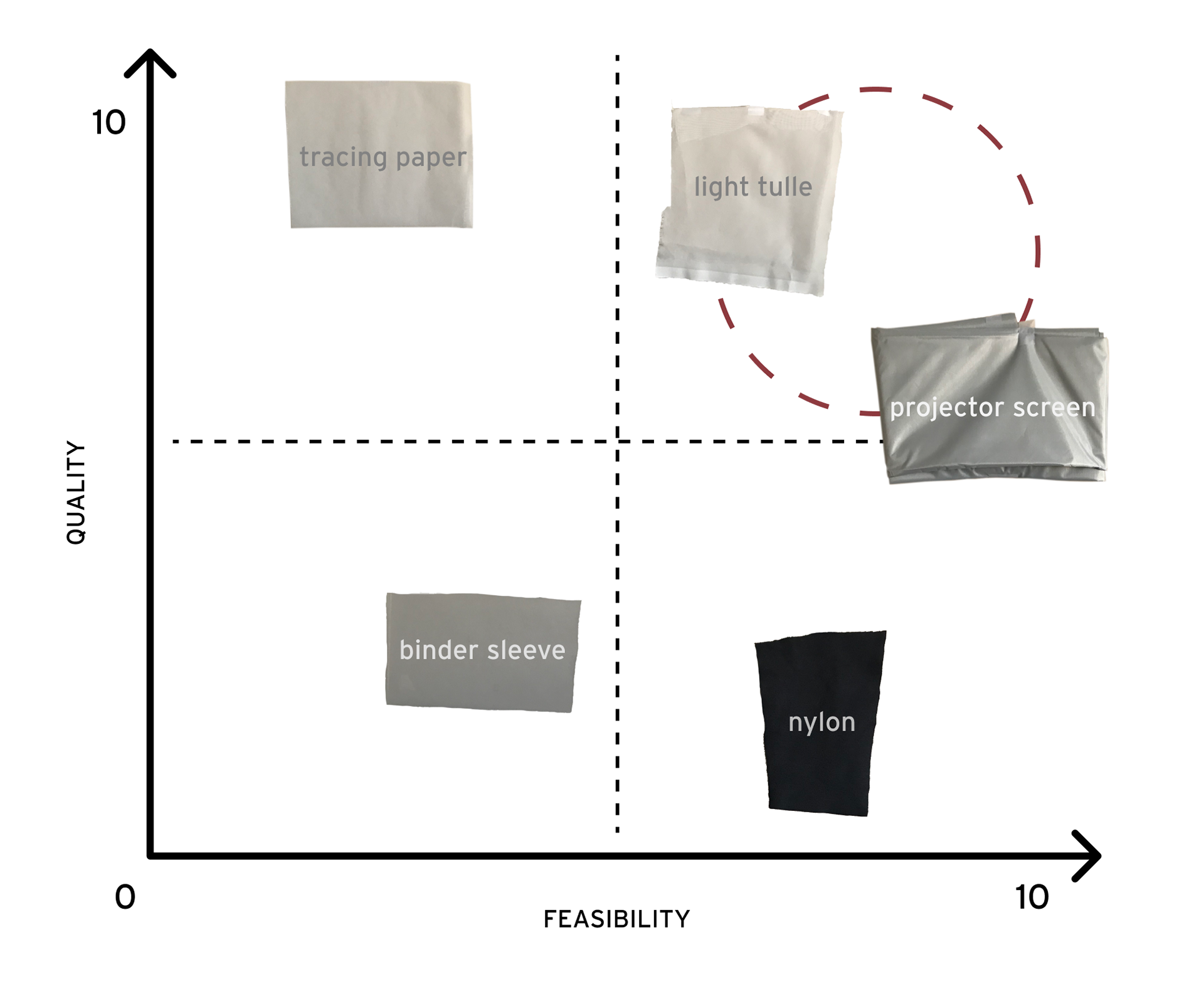 service planning
An ongoing
service blueprint
allowed me to step out of the design detailing and to consider bigger questions, such as: who would be involved in the process of installing this? what about in running the exhibit? is there a need for 'employees'? or can it be a self-sufficient experience?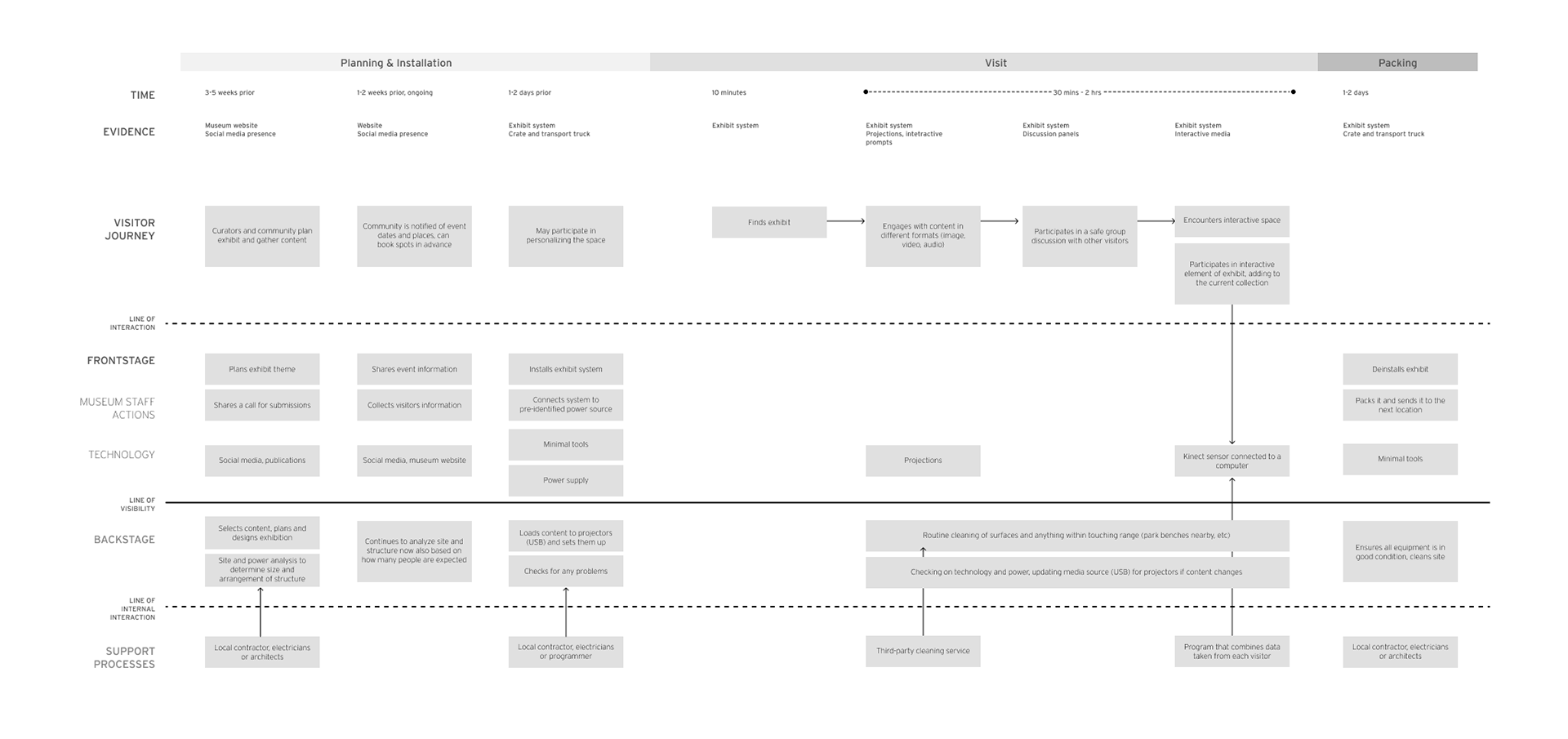 final design proposal: COHESION
an adaptable, outdoor museum experience that focuses on showcasing community work and bringing people together safely by projecting visitor-generated content and facilitating touch-less interaction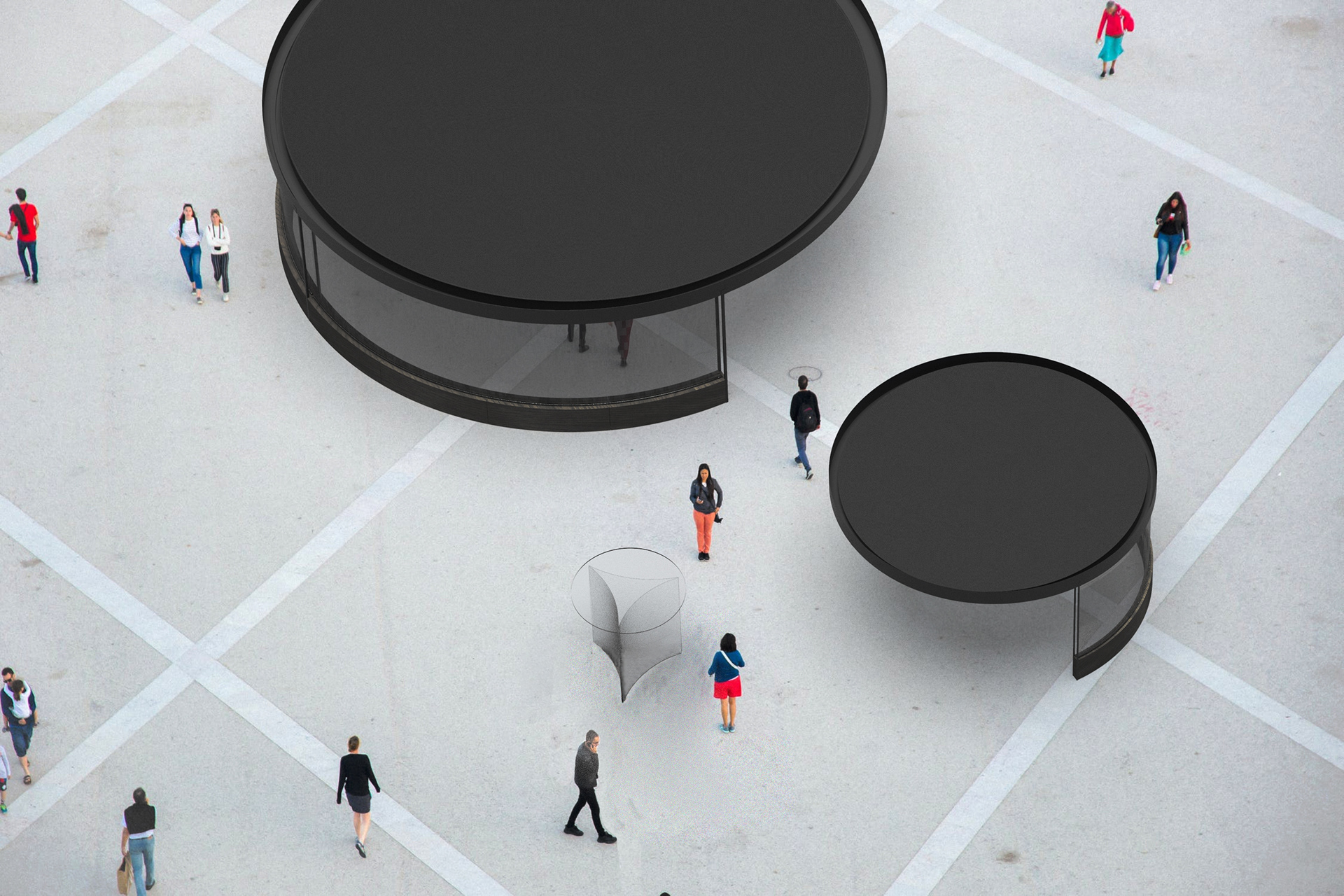 something for everyone
Cohesion is designed to provide clear separation between areas that require different levels of interaction, thus ensuring that people who feel less comfortable around others are never in situations where they feel forced to be too close to them. This also allows people to move freely between areas, while still giving them clear paths and the ability to avoid the ones they do not wish to get close to.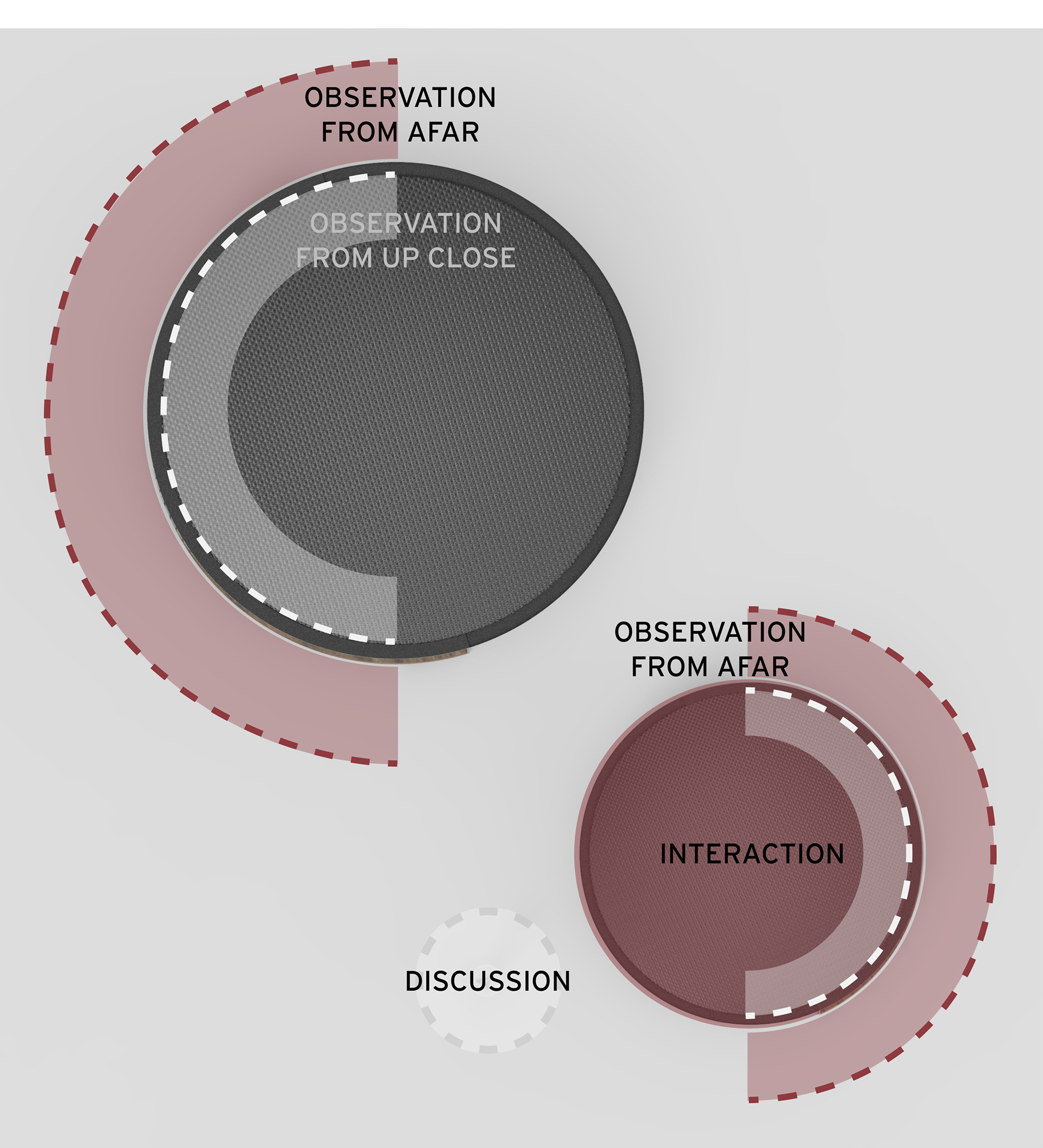 adapt to your needs
Every museum is different, and so is every site. With so much uncertainty in the world, it is important that design solutions remain flexible and can adapt to changing circumstances.
Cohesion is designed to fit into any space that it is put into
, be it the museum courtyard, a public park, or an open field in a rural area. The three independent structures can be rearranged to fit 
The pavilion can get its power in three different ways, making it fully adaptable, and even self- sufficient if needed.
(1) A cable can be run directly to a nearby institution or public generator
(2) Solar power can be generated by installing 350W panels on the structure's roof. A solar generator and/or battery can be stored inside the bottom base. Alternatively, a gas generator can also be stored in this base, with no extra cost for panels
(3) Solar or gas generators can also be stored at a separate location (like a shed or van) for convenience, maintenance, or noise reduction. A cable can be run to this secondary location

findable in different locations
If a museum feels forced to close their doors, they can install this pavilion outside their institution for visitors to still get a glimpse of the museum experience, only in an outdoor, safe format.
It can also be set-up in remote locations, allowing communities that otherwise would not have access to a museum still enjoy the experience, bridging the existing gap between institutions and the community.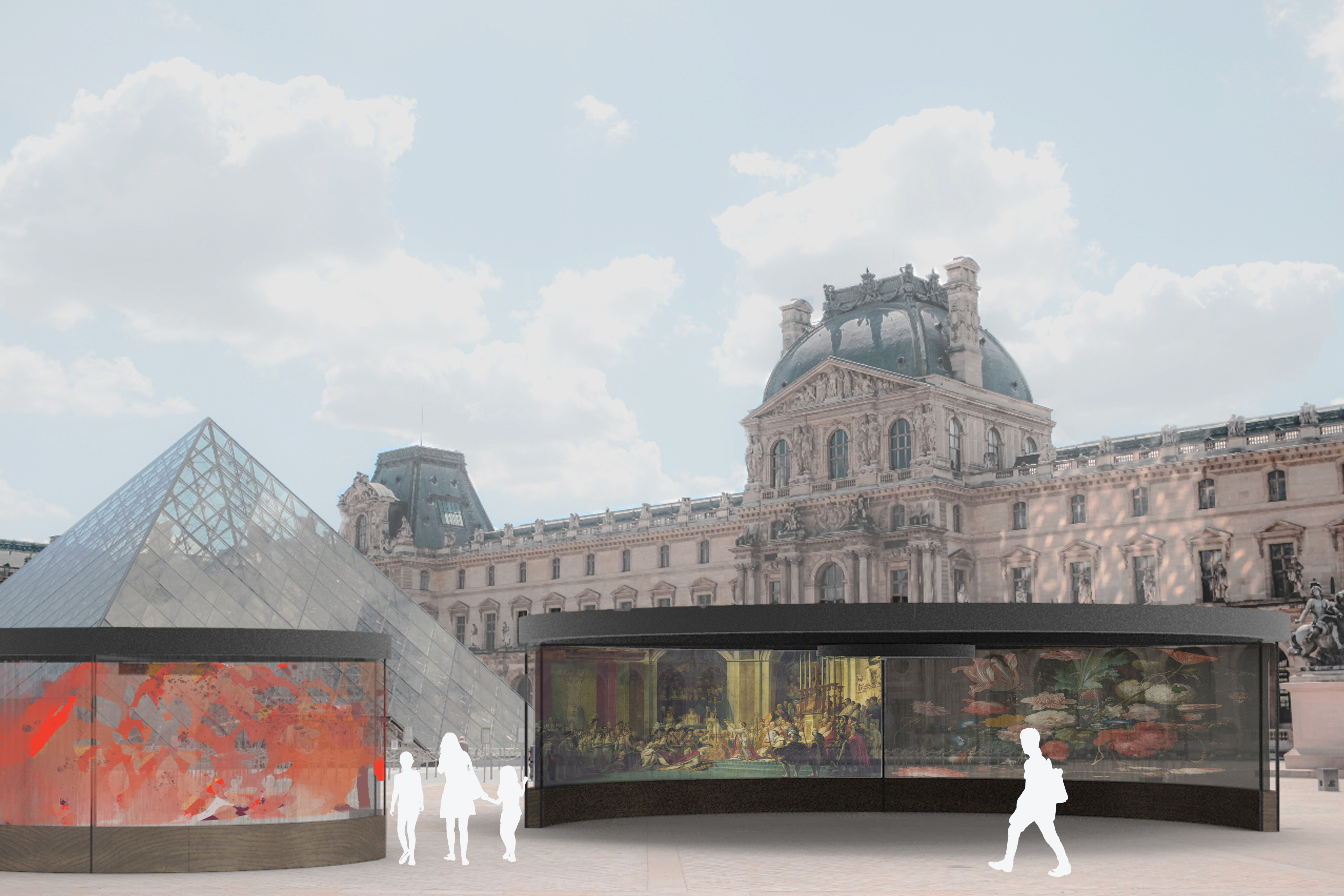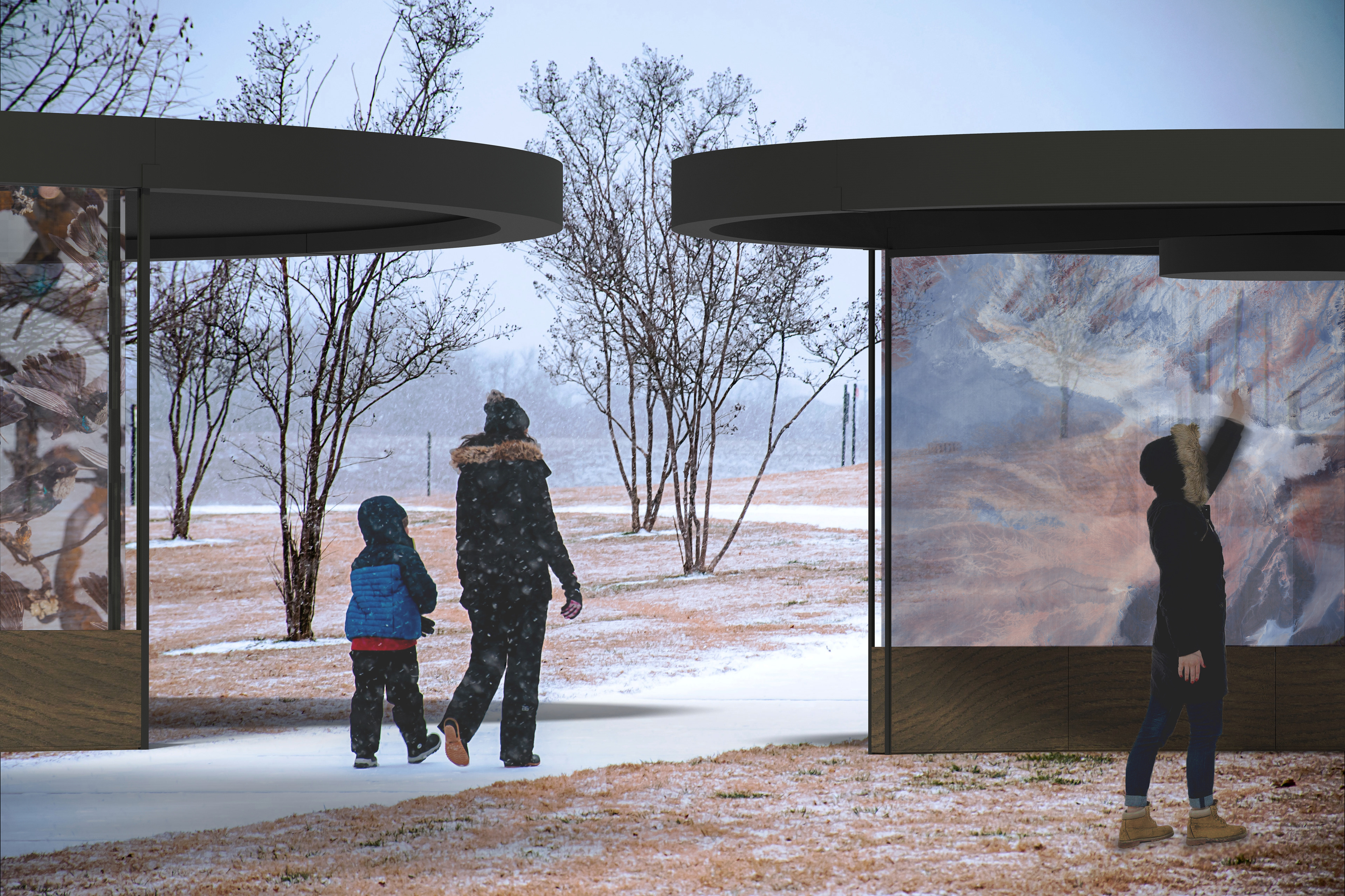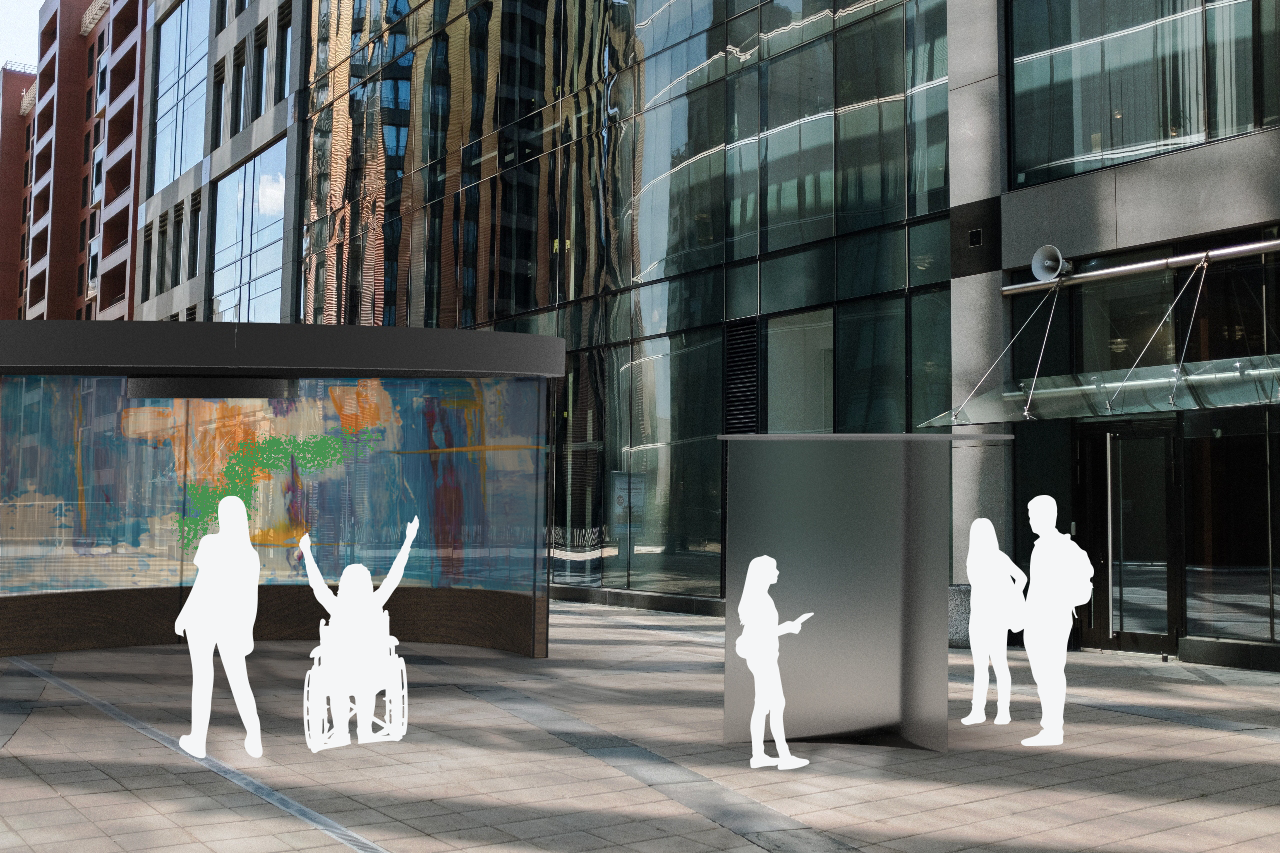 community engagement
Cohesion utilizes the power of social media to more informally jump-start community initiatives and facilitate opportunities for co-creation and visitor engagement.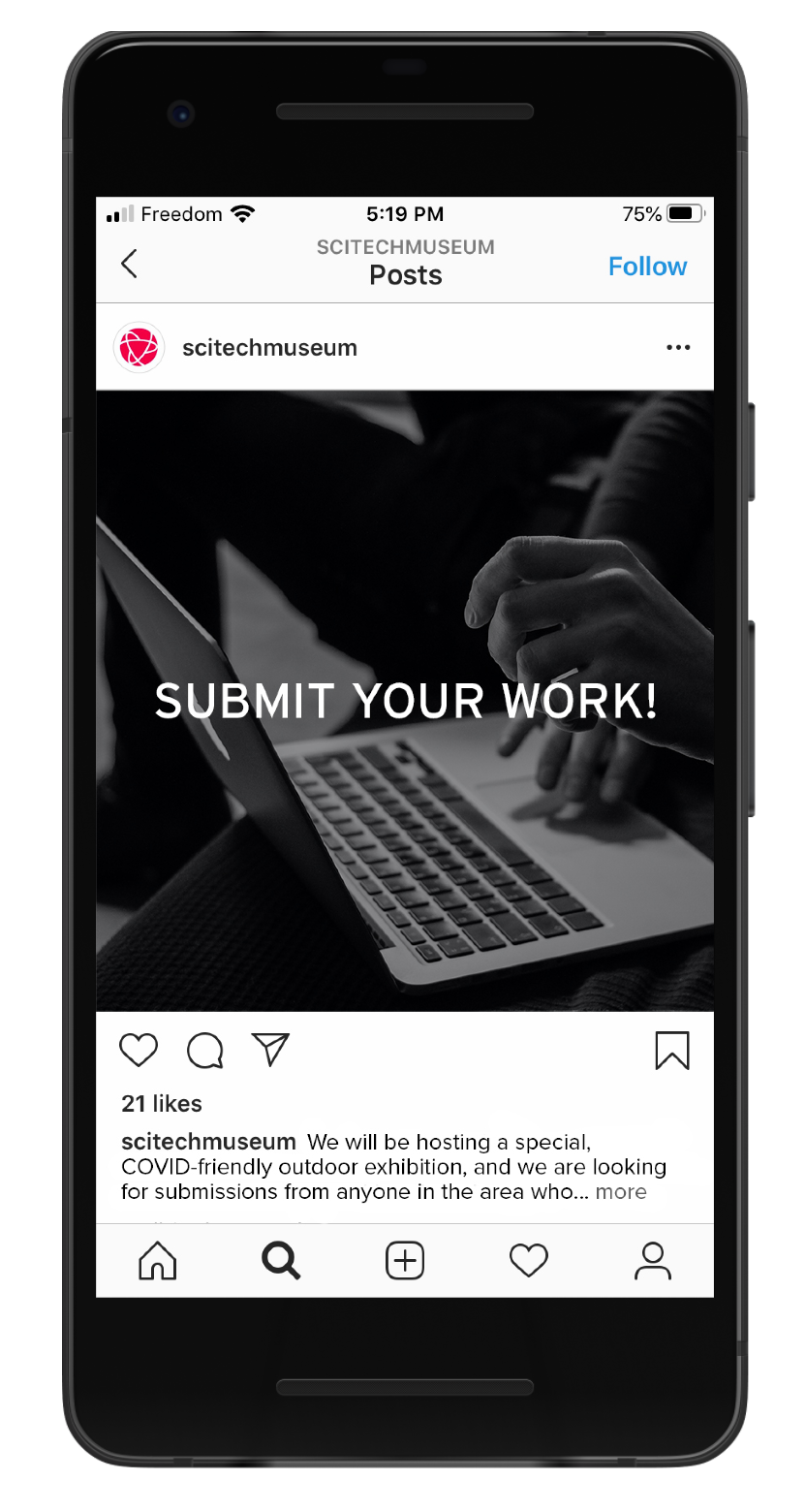 touch-less interaction
As with many public spaces, high-touch areas in museums have become a point of anxiety for many visitors, and have been predominantly off-limits since the start of the pandemic. Because of this, museums are now looking at alternatives that will maintain or even augment the current level of engagement.
Cohesion pairs large-scale projections with motion tracking, resulting in an
immersive, touch-less form of interaction
with exhibition content. By installing Kinect v2 Motion Sensors into the base of the pavilion, visitors can seamlessly wave, dance, point, and move their body in order to engage with what they see on screen.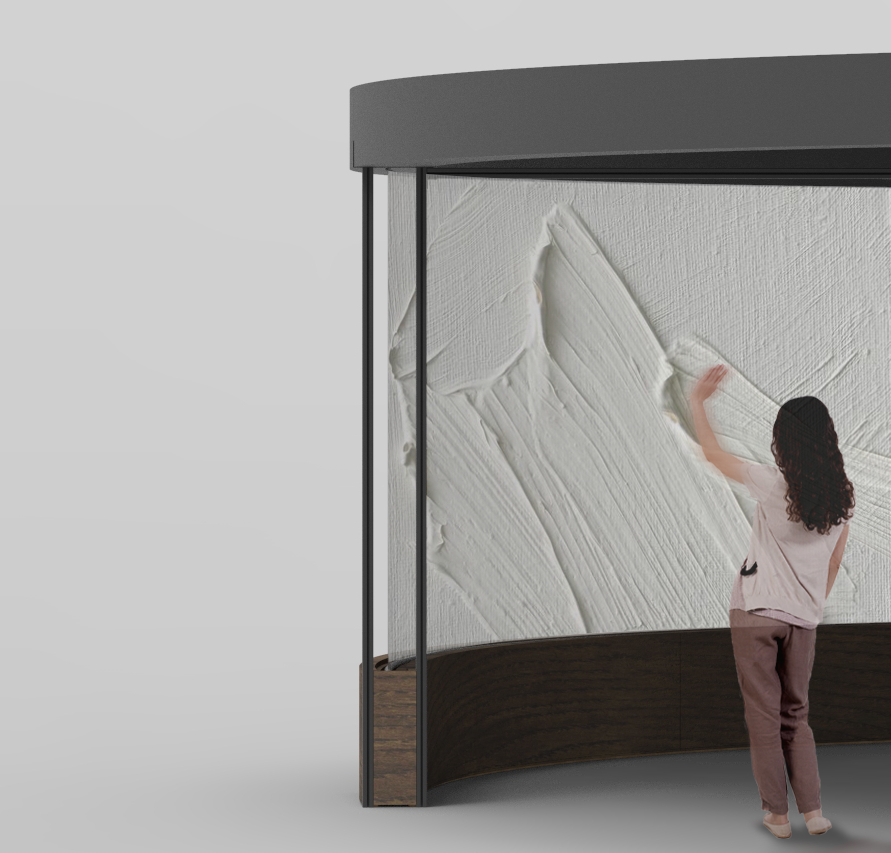 easy installation
Because this pavilion is meant to be moved around and adapted to different sites, it is important that the building process is fast, cost-effective, and easy to undo. The structure has been designed to be installed in a series of steps for each key area: base, metal framing, screen, and roof.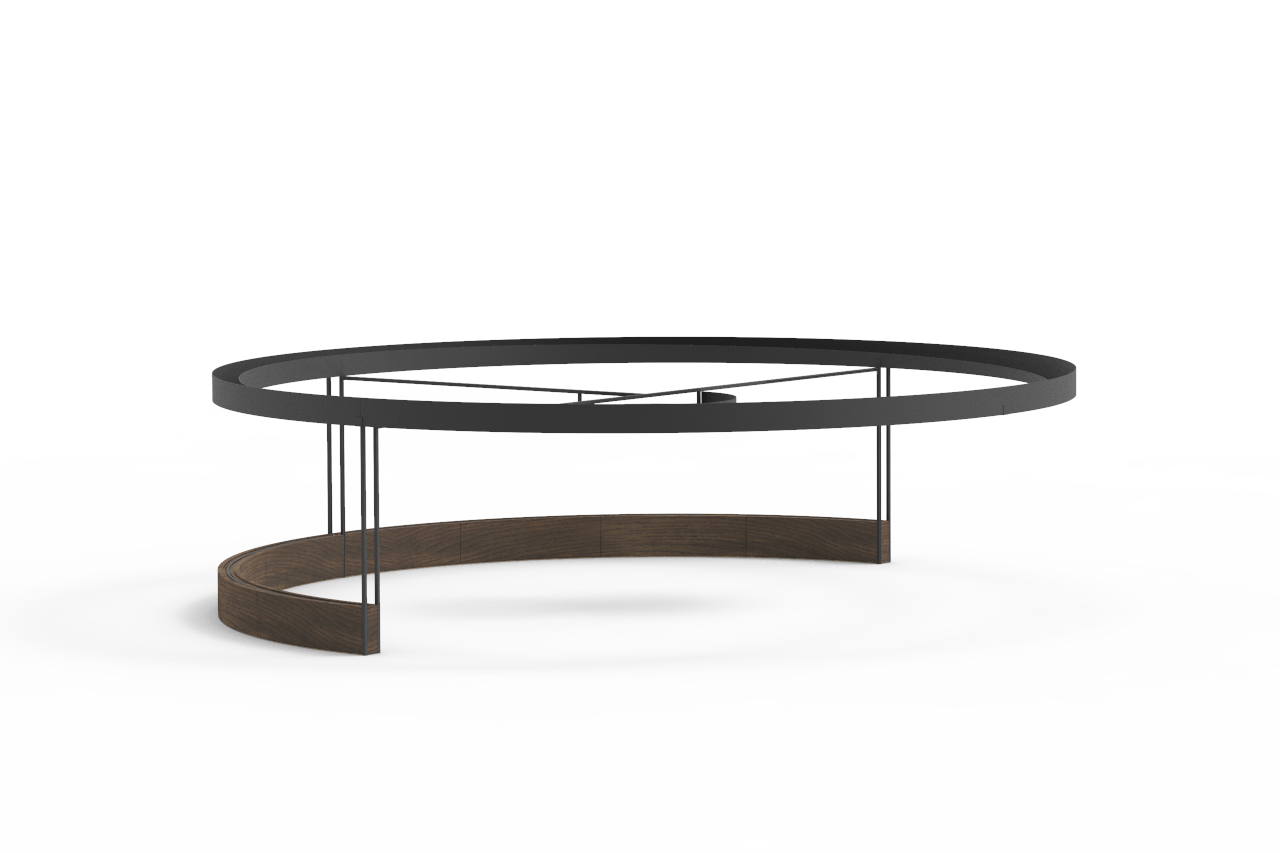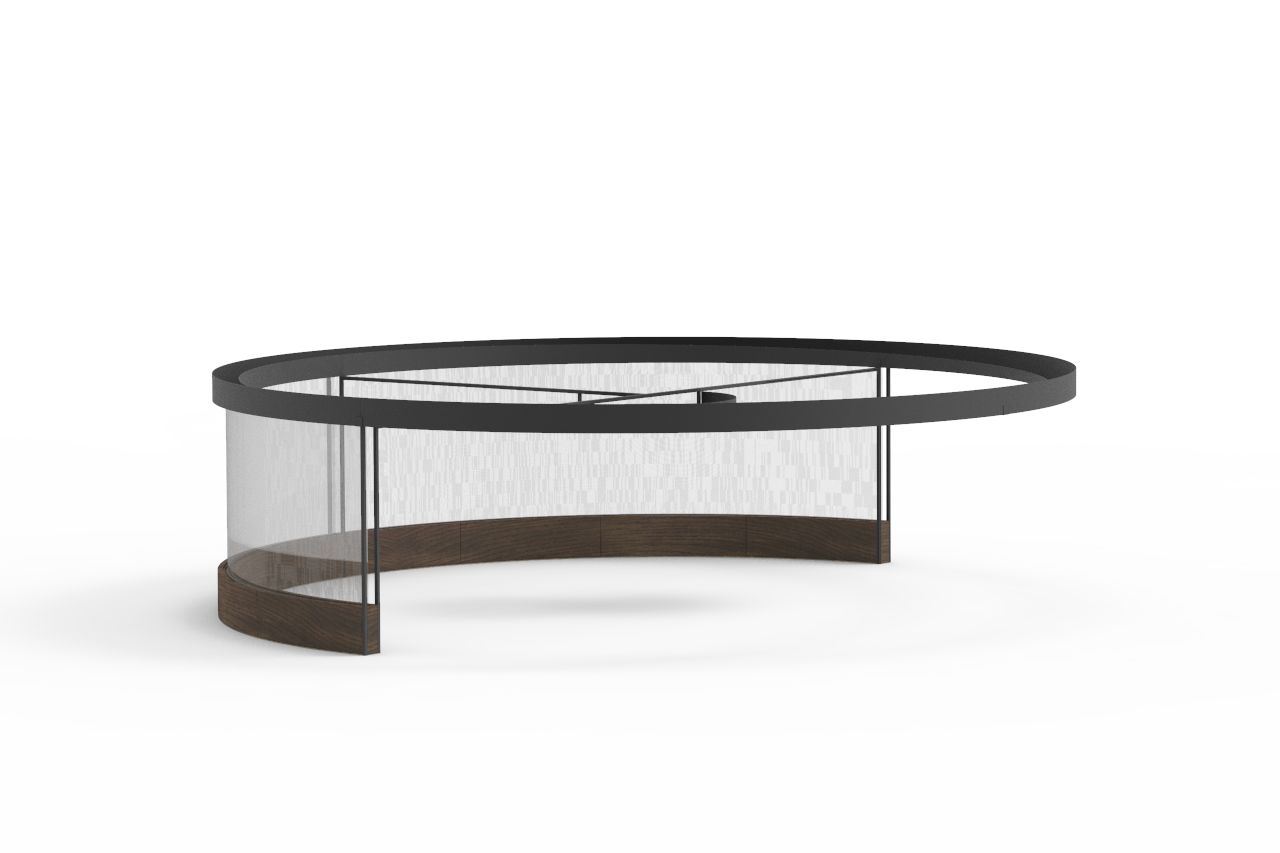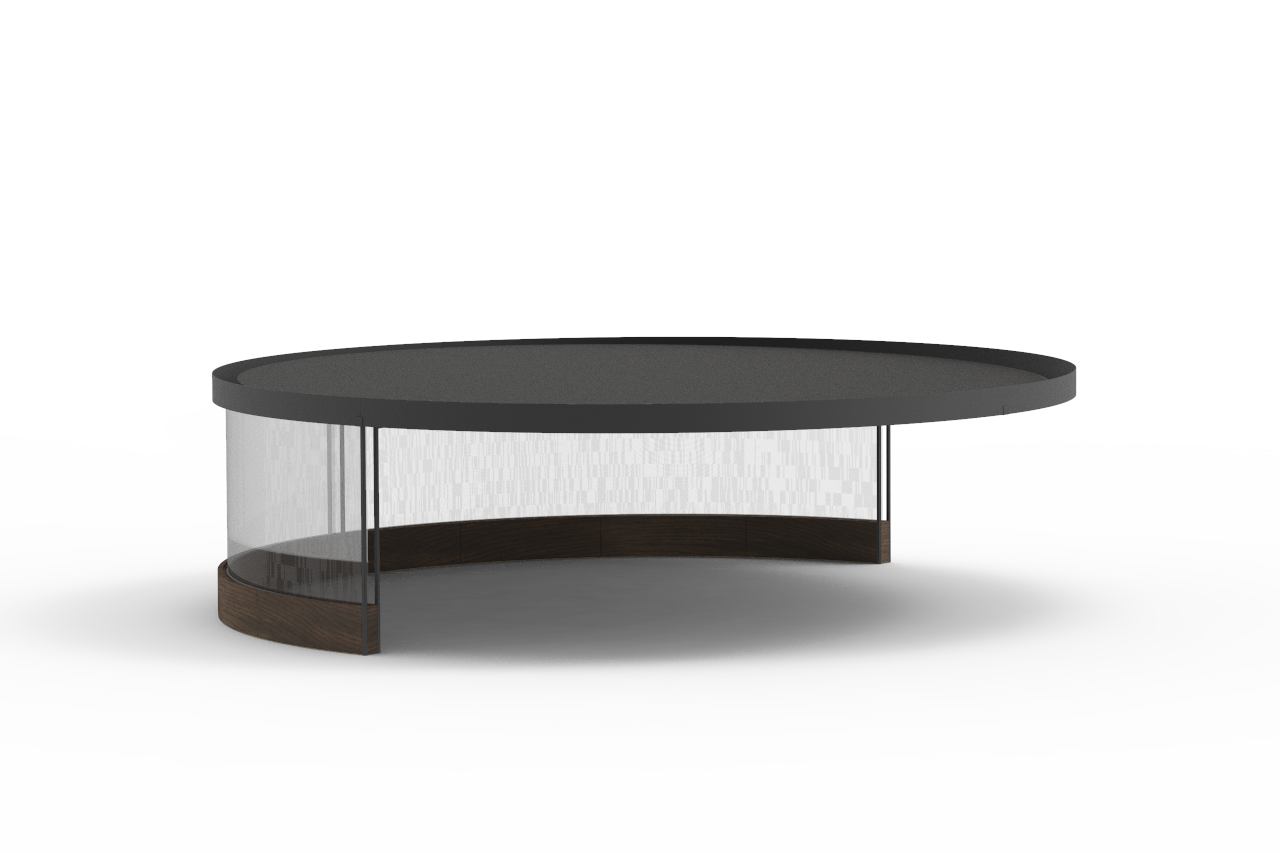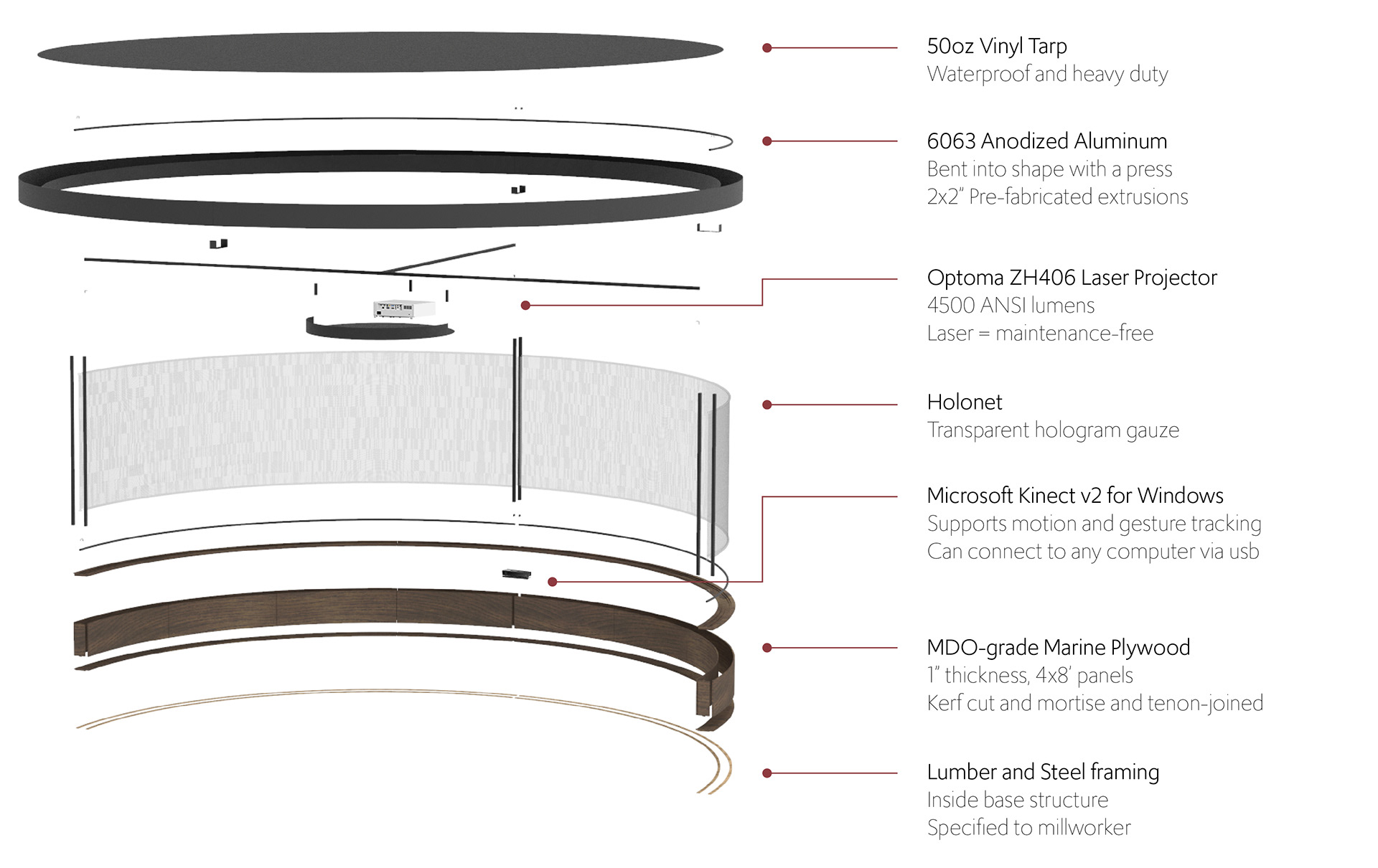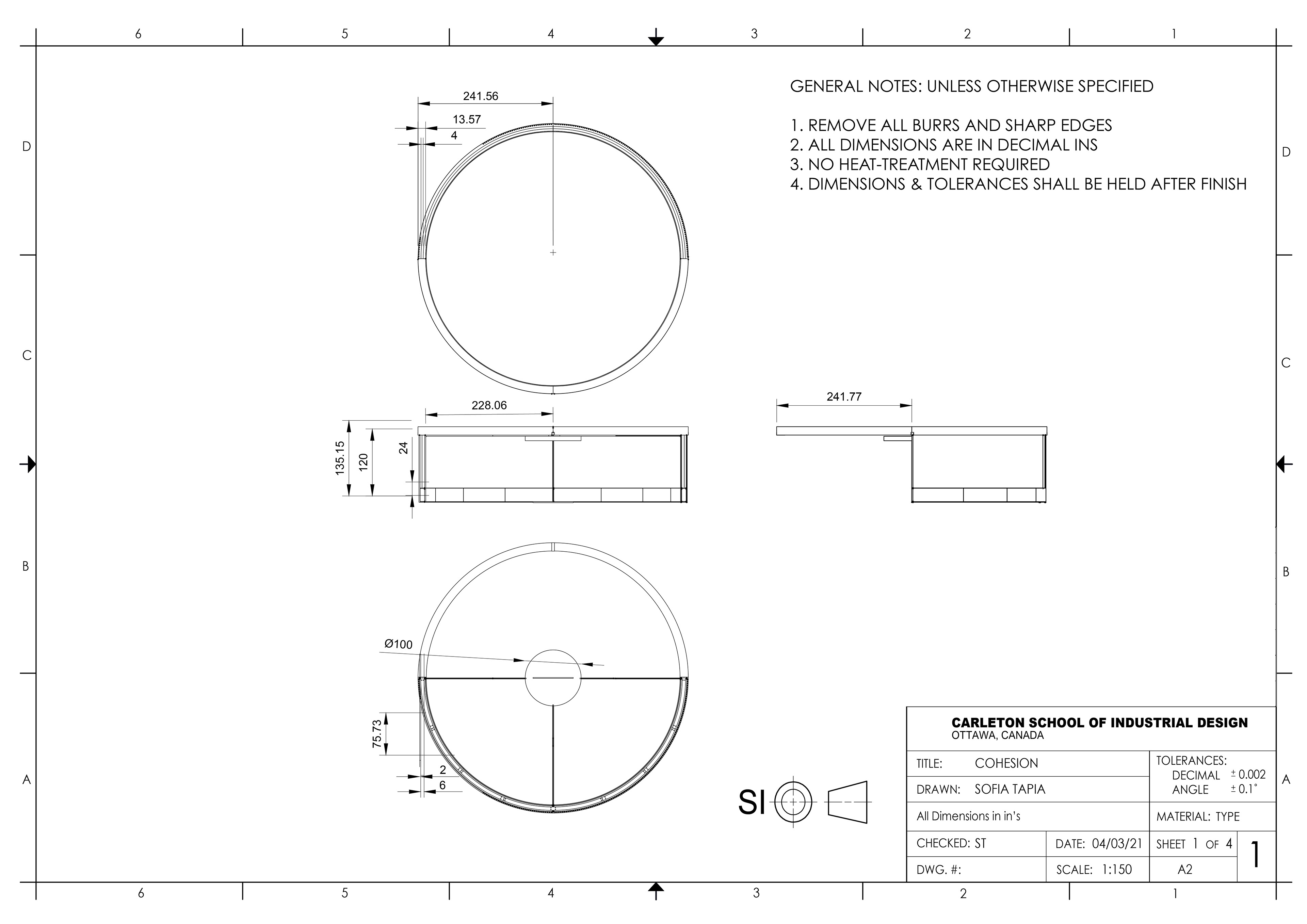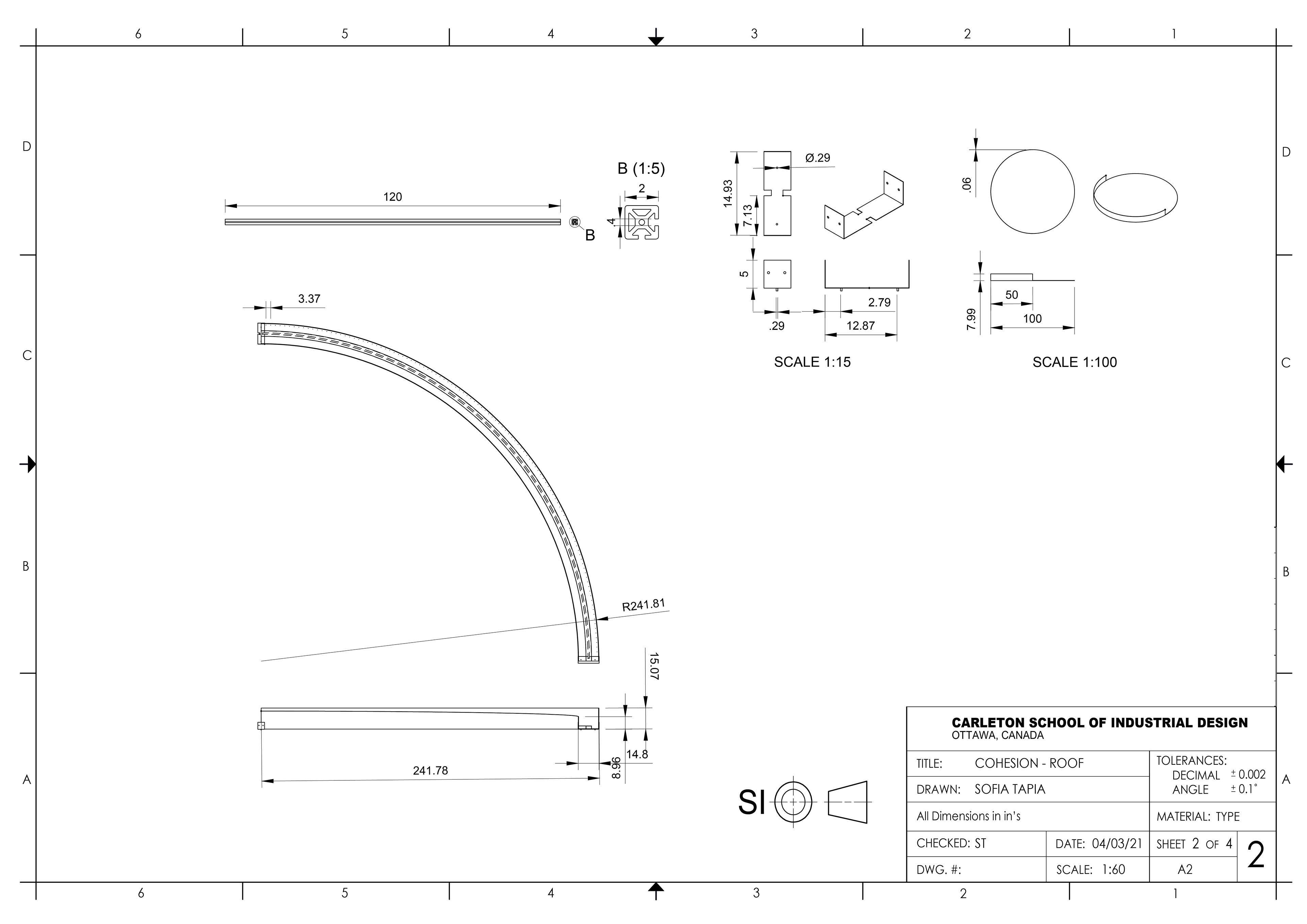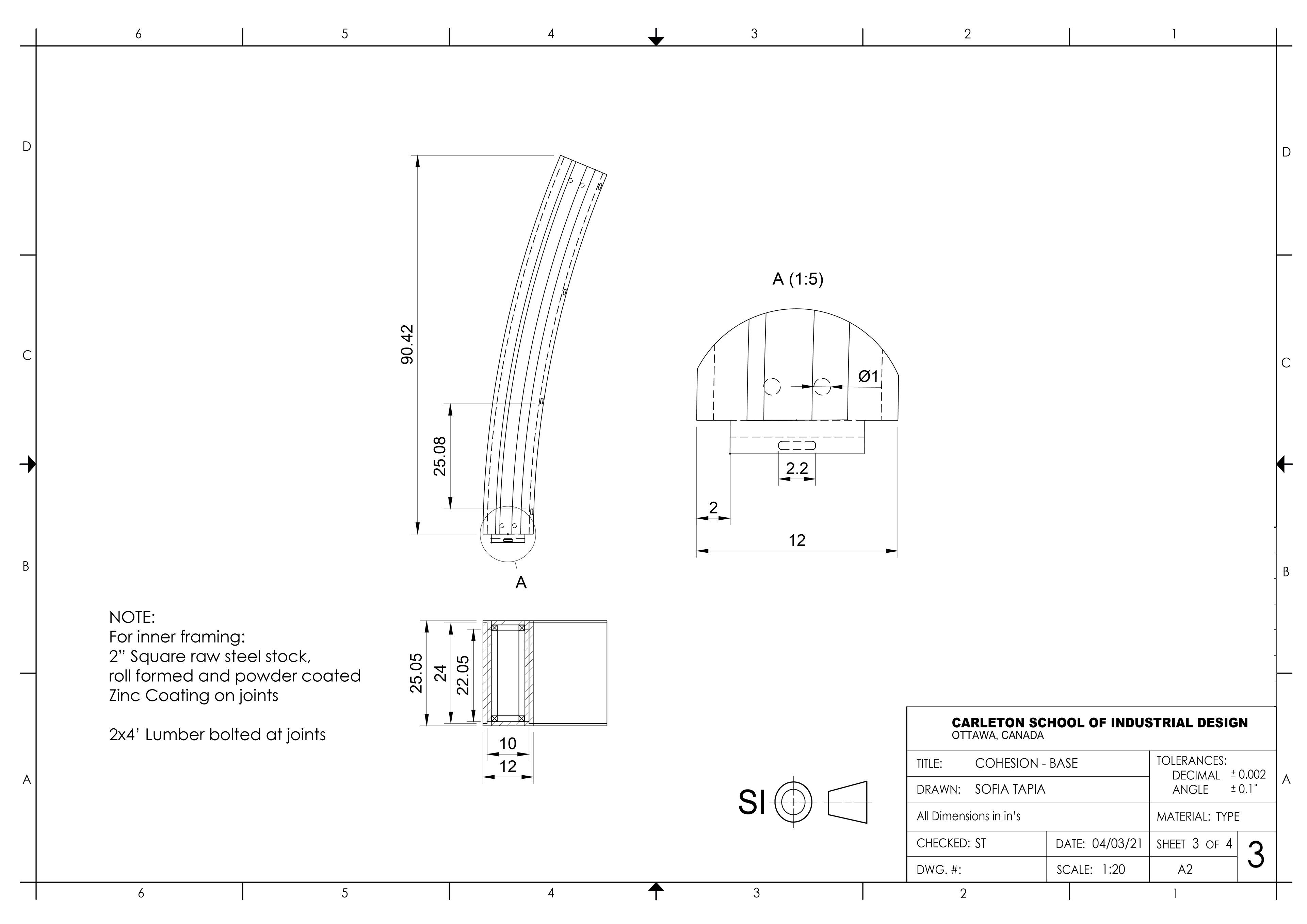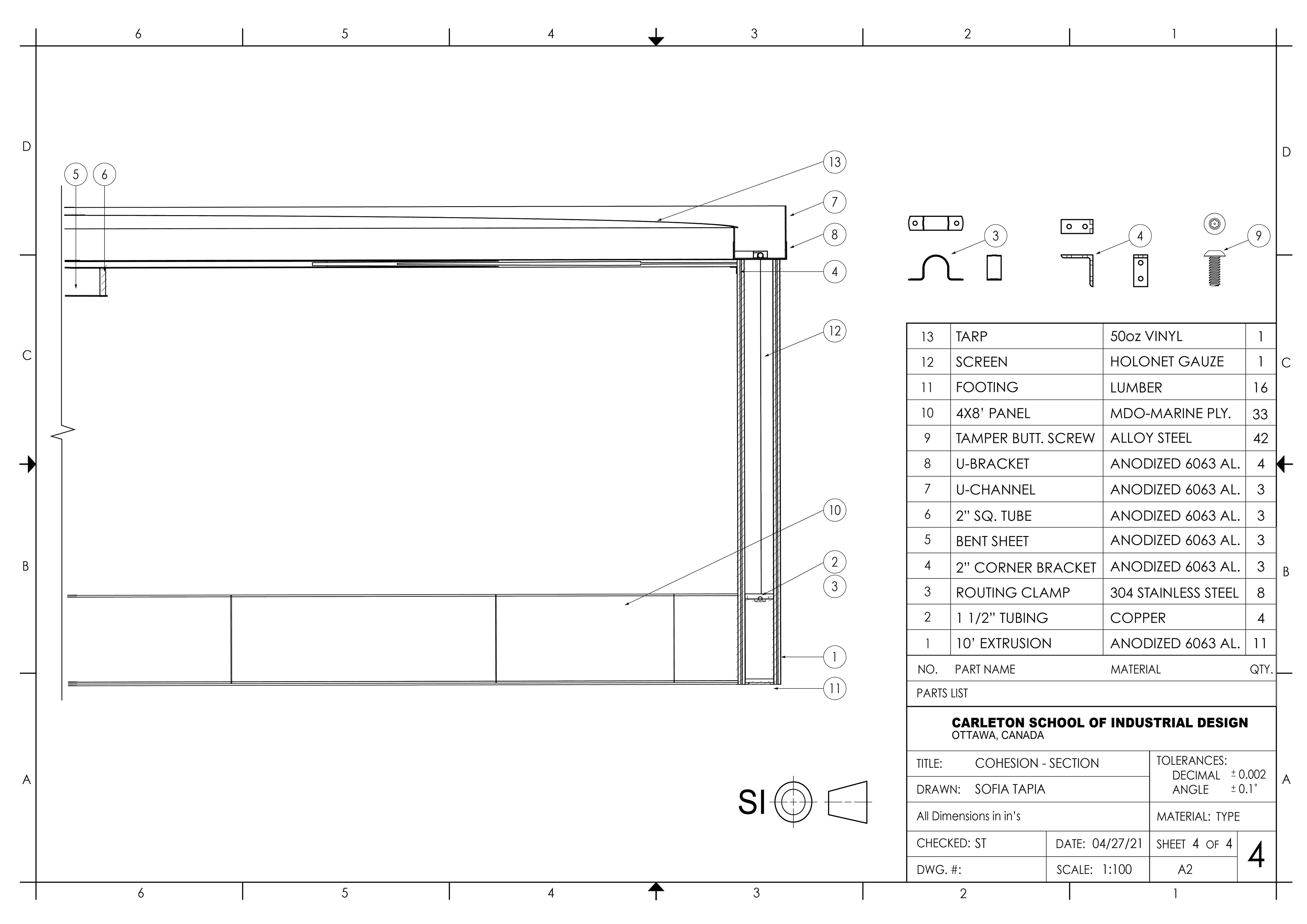 beautiful functionality
Cohesion is installed outdoors, and is therefore exposed to the elements on a daily basis. Additionally, in order to minimize the need for maintenance and part replacement, it is important that the structure is designed with these constraints in mind. Careful consideration has been taken to ensure that the pavilion is able to stand on its own and perform adequately for the duration of the exhibition.
I also consulted with experts in this field to ensure that industry standards were being met.
The base has an inner steel and lumber structure weighted down by sandbags, and is covered by marine-grade plywood panels to ensure a tight, water-resistant seal. A sloped waterproof tarp covers the structure, and water build-up can then be drained by way of a drainage hole array that extends along the edge of the roof, creating a
"rain curtain"
around the structure. This effect not only ensures proper drainage and water management, but it makes Cohesion appear interesting and monumental in all conditions.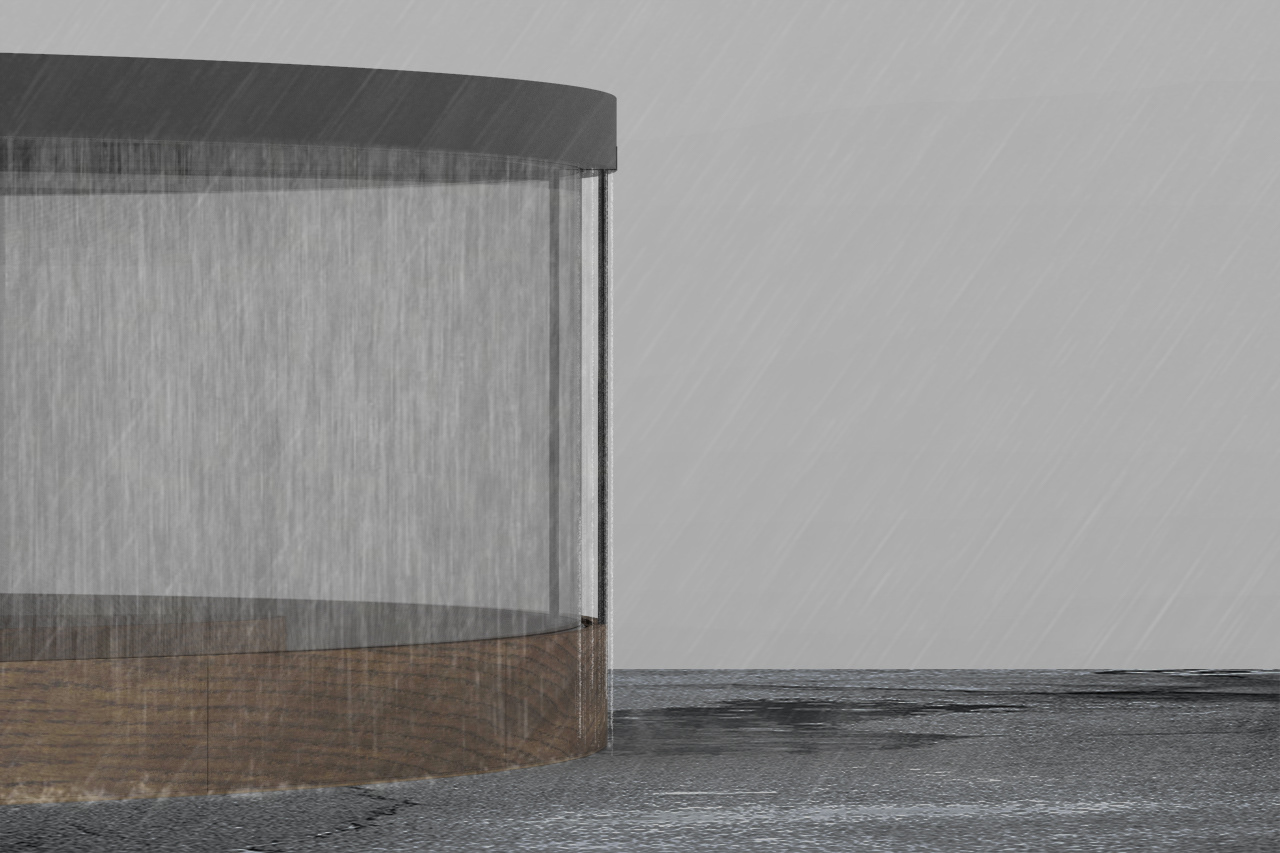 my learnings
I learned the process of discovering design opportunities through
a lot
of research, not just from assumptions or a quick survey of existing solutions, but rather a deep dive into the problems, and an even deeper dive into the reasons behind those problems. I learned to collaborate with others, with non-designers, and with industry professionals, and to absorb the knowledge gained and turn it into actionable insights. I also learned a great deal about museum experiences, and how the design of spaces and interactions can make all the difference.