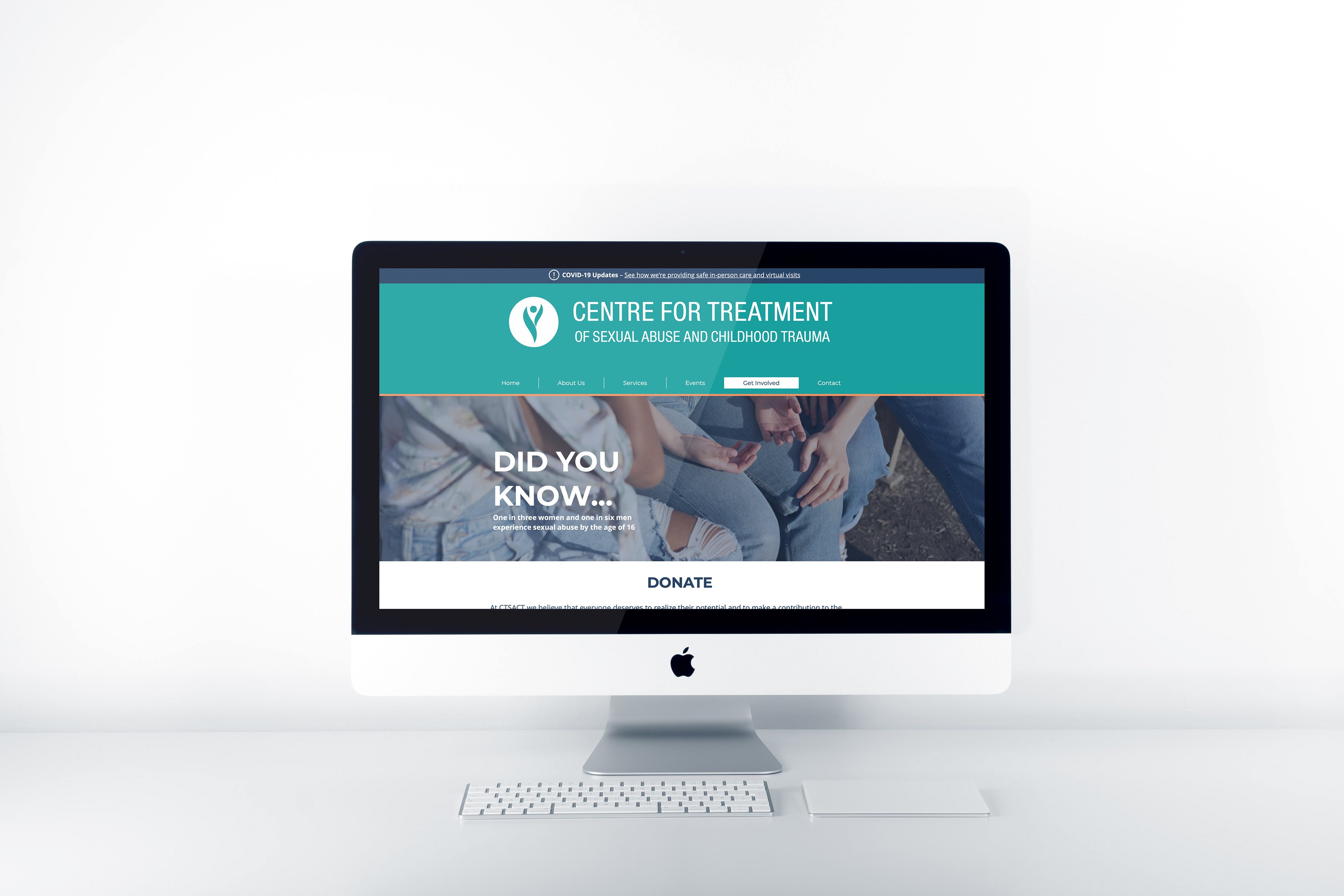 ctsact
is the Centre for Treatment of Sexual Abuse and Childhood Trauma. As part of Creator's Corner, a student-led initiative to provide design services to Non-Profit Organizations, I worked with a team of 3 other people on re-designing their website. The re-design encompassed everything from a restructured information architecture, to an updated visual identity. The final launched site can be viewed
here
.
focus
ux + ui design, website building, working alongside developers
current site
A deep-dive into the site's content and organization allowed us to understand the general order of what the client wanted on there, but we were also able to notice inconsistencies, problems with navigation, as well as an outdated look and feel.
Some of our main tasks included re-organizing the navigation bar into less, more meaningful categories, grouping similar items together into single pages, and creating a more visual and engaging look and feel.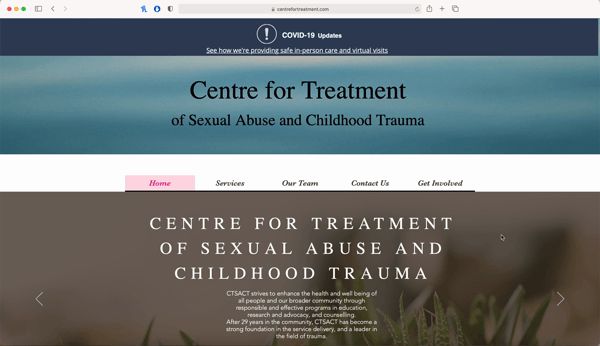 wireframing/new information architecture
As a team, we worked together to make sense of all the information available, and re-structured it in a cleaner, and more intuitive way. This process involved laying out every page on the current site and grouping relevant pages together in order to then determine an order and hierarchy that would make sense to those viewing the site.
From this new order, we determined key pages that would now hold all that information, and began by wireframing a simplified version of each on Figma to ensure all items were accounted for.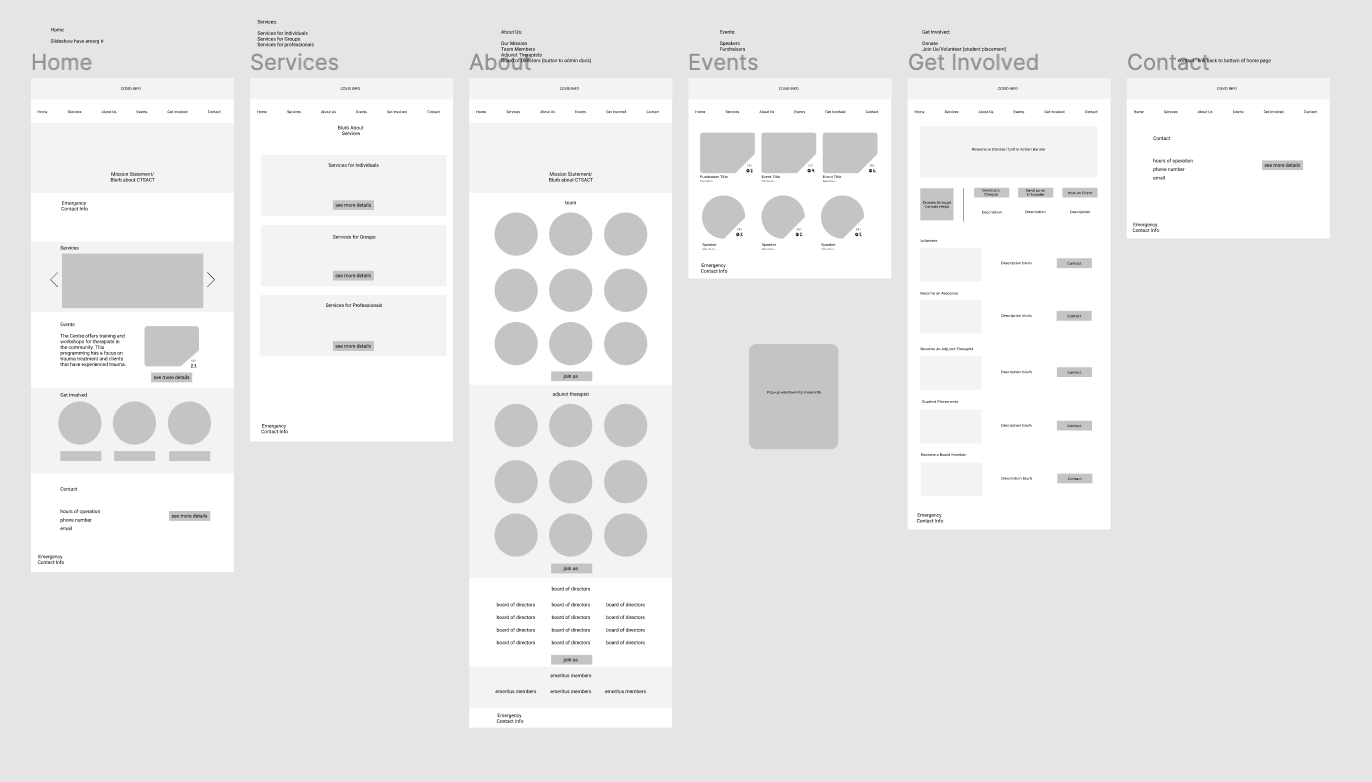 visual identity
CTSACT does not currently have a cohesive visual language, but rather only a logo emblem and a primary teal colour that they use for social media posts. From this, we established some basic brand guidelines that could be applied to the new website and to their social media content moving forward.

individual focus
In order to work more effectively, we divided each main page among each member. My main focus then became the 'Get Involved' page, for which I created more refined wireframes and translated content into the wix site.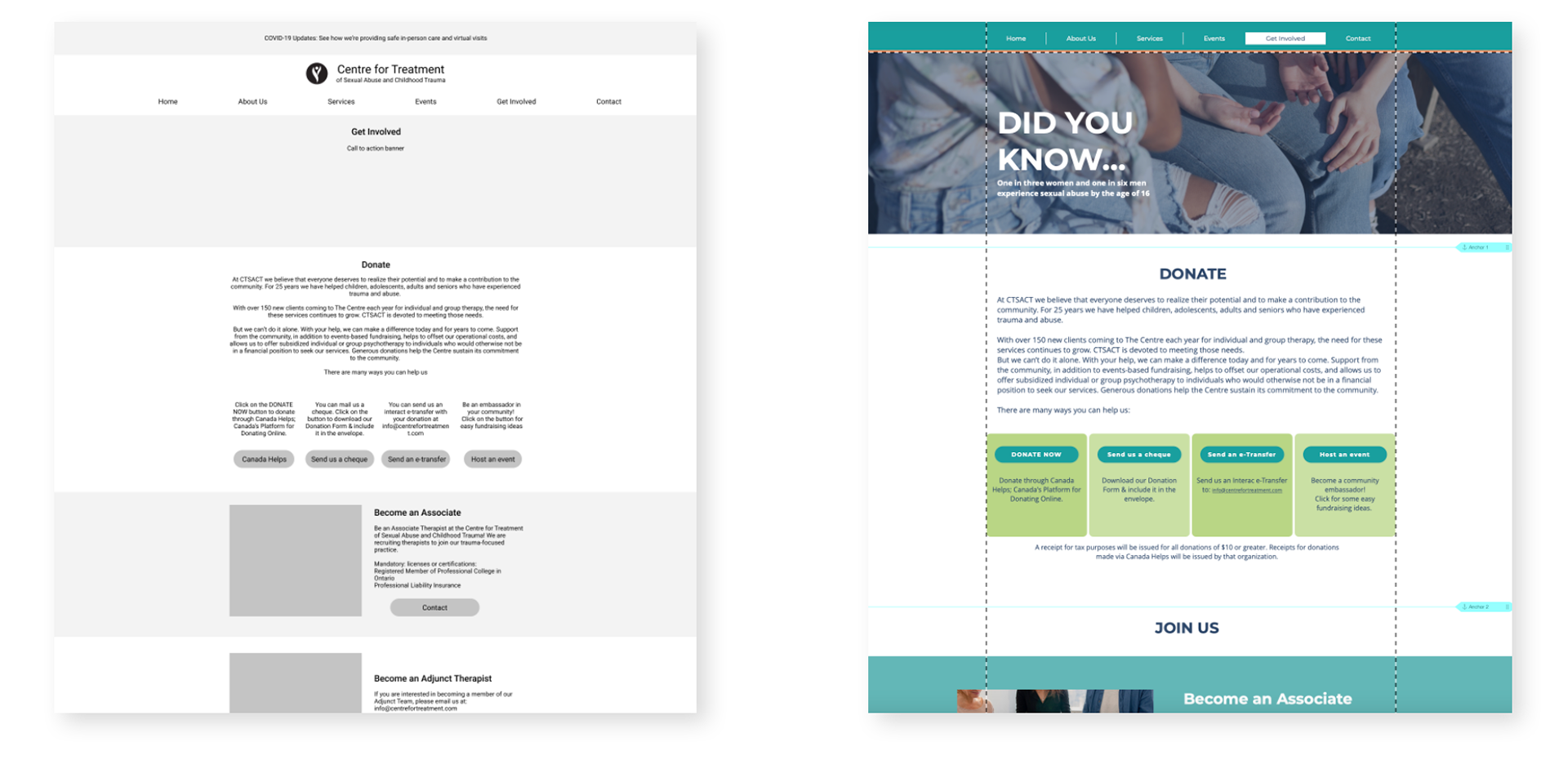 final site
I also took on revising the final outcome, adding interactive elements, and ensuring that the visual identity was consistent throughout. Although my main focus was the 'Get Involved' page, I ended up assisting with the 'About Us' and 'Events' pages, as well as completing the Home page fully.
After the development team stepped in to finalize some of the interactions,  the site is now live! You can visit it
here
.
home page
A brief greeting to the Centre for Treatment, its services, and important information are now available on the home page. Key contact information is at the bottom, linking to a more extensive contact page.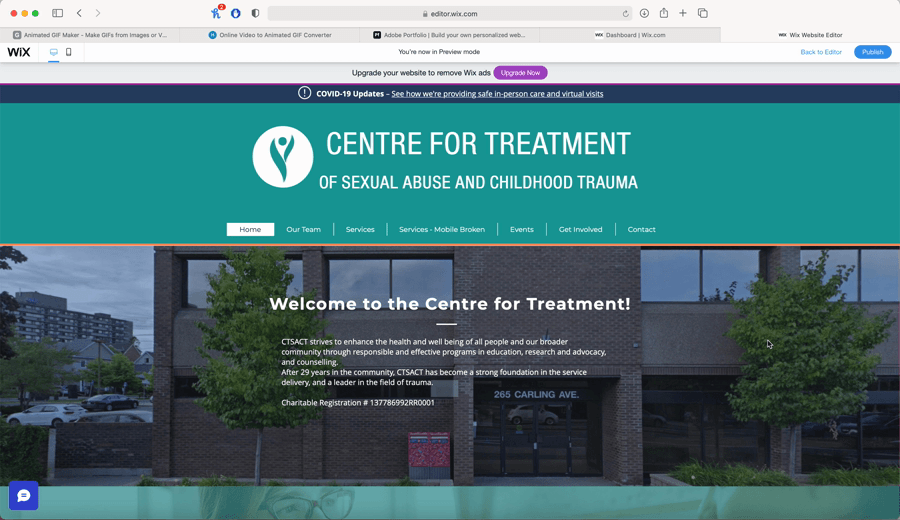 the team
We separated the different groups of therapists in the navigation, and each now has its unique section on the page. More info on each member can be accessed by clicking on their picture or name.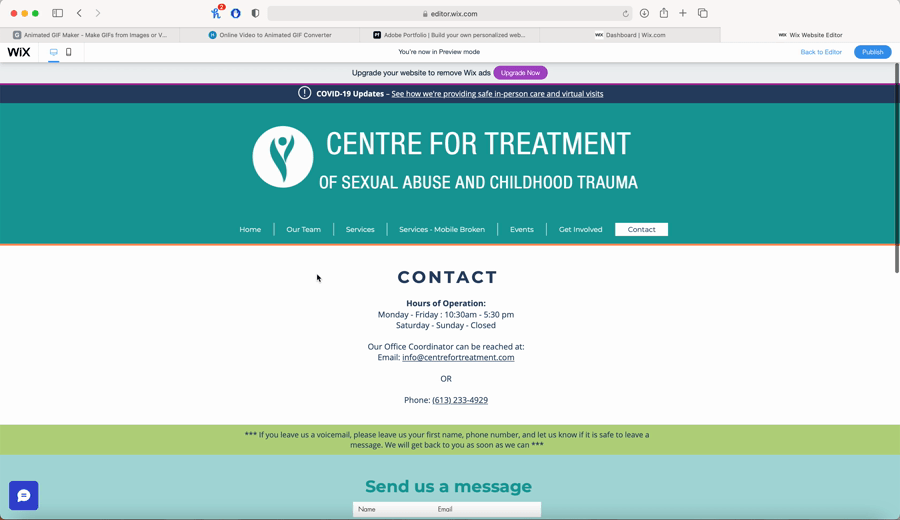 services
Each different service offered is shown in brief, and each can be expanded to show more information. This interaction is something that the developers are currently working on.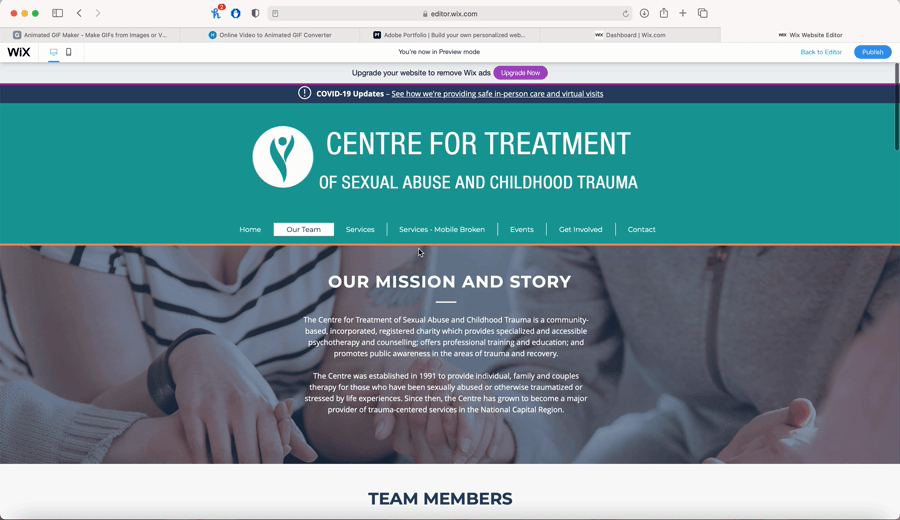 events
These were separated into the Centre's speaker series, and a highlight of local fundraisers and other events. Users can learn more and register through a separate events platform.
get involved
We compiled every way in which people can get involved with the Centre, from donating, to volunteering, to becoming a therapist or board member, and placed them in separate sections with respective links to more information.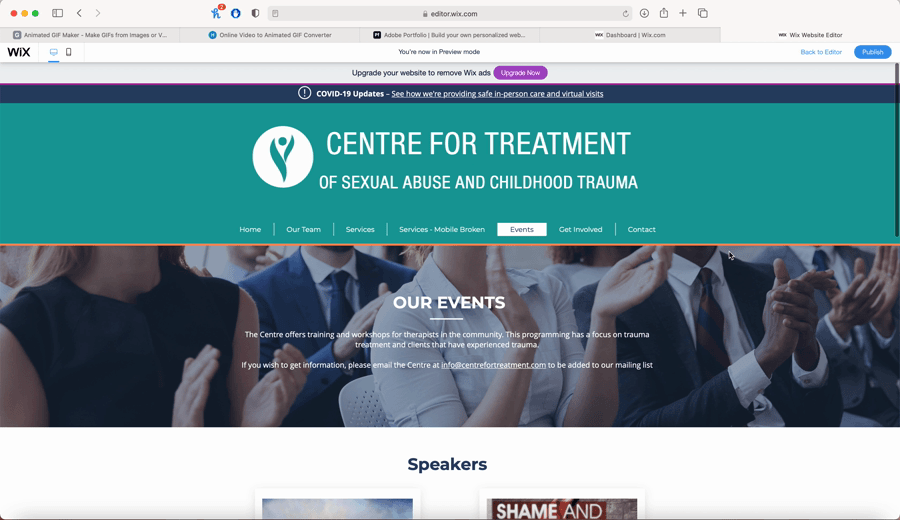 my learnings
I learned to work with real clients, on an on-going basis. I learned to listen to their needs and wants, but to find a balance and also take risks and try things that they may not know they needed/wanted. I learned to work with developers and other designers with different experience levels, and to organize, lead, and collaborate when appropriate. I experienced the end-to-end process, and can now say that my contributions will be experienced by real people!